(Editors' Note: This article covers a micro-cap stock. Please be aware of the risks associated with these stocks.)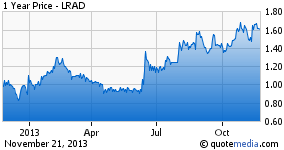 I became interested in LRAD Corporation (NASDAQ:LRAD) as a result of a successful intervention by activist investor Iroquois Capital that resulted in swift and positive changes. Several excellent articles were published at the time these events occurred in the early part of 2013. But I am a results-oriented person and I am very pleased with the progress the company has made in a very short period of time. To summarize: 1) there has been a significant uptick in business momentum in the last six months, 2) the company has a announced a $3 million share buyback program to increase shareholder value - and they can afford it because of the $15 million debt-free cash they currently have, 3) the company has hired a Director of Investor Relations to raise investor and public awareness about the progress being made.
LRAD engages in the design, development, and commercialization of directed sound technologies and products in North America, Europe, the Middle East, and Asia. The company's directed acoustic products beam, focus, and control sound over short and long distances. Its products include Long Range Acoustic Device , which creates directed acoustic beam to communicate at operational ranges in high ambient noise environments; and SoundSaber, a thin film magnetic speaker technology that provides high clarity throughout the audio range for public address, high-end sound, and mass notification applications. The company's LRAD products are used in military applications; and SoundSaber hardened panels are used in acoustic environments, such as hangar bays, industrial buildings, airports, and other facilities. LRAD Corporation sells its products directly to government, military, large end-users, and defense-related companies.
The LRAD systems were developed in response to the deadly attack on the USS Cole over 12 years ago. The systems are deployed in more than 60 countries and by international naval forces and other military organizations. The systems are used at distances up to 3,500 meters in anti-terrorism/force protection missions by broadcasting powerful deterrent tones and live or pre-recorded multi-language warnings, commands, and instructions with unprecedented clarity and range. The ability to communicate clearly over a safe distance creates large standoff zones and allows intent to be made clear. This allows uncertain situations to be resolved peacefully.
As a result of the May 2013 events, LRAD announced that its board of directors had approved a $3 million share buyback program. There has also been a significant shift in positive business momentum with the signing of several contracts that collectively add up to more than $20 million. To put this in perspective, consider that these contracts exceed 2012 revenues for the whole year.
LRAD will release its 4Q and FY 2014 financial results after the close on Thursday, November 21, 2013. I expect the 4Q results to be significantly better than the 3Q 2013 and up slightly compared to the strong and profitable 4Q 2012. With the recent business momentum it is likely that comments about the 2014 prospects will be bullish and enthusiastic.
LRAD is a safe investment with potentially significant upside if the company maintains or improves its current business momentum. The pristine balance sheet and the $3 million share buyback program are reasons why I think the downside is minimal. But as with any investment in the stock market, there are risks involved in buying LRAD stock. Investors considering buying this, or any other stock, should always read carefully the risks and uncertainties as spelled out in the company's 10-K and 10-Q filings.
Disclosure: I am long LRAD. I wrote this article myself, and it expresses my own opinions. I am not receiving compensation for it (other than from Seeking Alpha). I have no business relationship with any company whose stock is mentioned in this article.