Garmin (NASDAQ:GRMN) is not just a seller of automotive navigation devices any more. According to the company's third quarter earnings report (see the report), published on October 30, 2013, less than half its net sales came from the automotive and mobile segment. The company recognized the market for automotive and mobile products was going to show a sharp decline and diversified their product portfolio a while ago. The company added several fast growing markets to their customer base, including marine, aviation and fitness. The third quarter net sales from these 'new' markets posted impressive growth rates:
Marine segment: 15% y-o-y increase in net sales
Aviation segment: 24% y-o-y increase in net sales
Fitness segment: 25% y-o-y increase in net sales
Fitness segment
I will focus on the fitness segment, which has the highest potential regarding y-o-y increase in net sales (see this article). As an active cyclist I experience every week the increasing number of runners and cyclist out on the road. For example: the Maratona dles Dolomiti 2014, a marathon ride in Italy, attracted 39,000 subscribers. A lottery will decide which 9,000 of them will be granted to start next summer. Also, I noticed many more Garmin cycling computers on the road than in the past. Although I do not own a Garmin cycling computer myself (yet), I can see the great advantages compared to a traditional cycling computer. Garmin fitness GPS devices provide navigation support for cyclist, additional to traditional cycling computers. Cyclists can train in unknown areas, without getting lost. Further, Garmin's GPS devices provide specific information for the athlete regarding the training. So, the sharp increase in net sales of the fitness segment did not surprise me at all.
I believe the market for fitness products will keep growing at a fast pace for a while (see this article). Garmin is already positioned to benefit from the increase in the market for sport GPS devices, because they have a balanced product portfolio and a proven track record when it comes to innovation and consumer satisfaction. The fitness segment is also a very attractive segment for Garmin, because this segment delivered the second highest average operating income (EBIT) margin of 36% over the period 2010-2012. Only the Outdoor segment posted a higher operating income margin of 45% over the same period.
Sales distribution
The total market for GPS devices will grow from 33.3 million units in 2012 to 36.8 million units in 2018, according to ABI Research. So, Garmin's net sales will show a modest growth in the next five years (2014-2018). Garmin expects net sales of $2.6 billion in 2013. Considering the expected increase in units sold, I expect net sales to be around $3 billion in 2018. Increase in net sales is not Garmin's highest growth potential. The sales from Automotive/Mobile segment will decrease further in the upcoming years. This will be compensated by other, more profitable, segments like the fitness segment. I calculated the possible sales distribution for 2018 (see graph below). I made the following assumptions:
Total sales of $3 billion in 2018
Automotive/Mobile segment to decrease by 7.5% per year
Aviation and Marine segment to increase by 5% per year
Outdoor segment to increase by 10% per year
Fitness segment sales to increase by 15-20% per year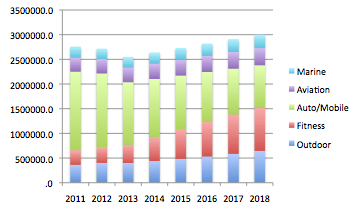 Additional sales analyses
The automotive and mobile sales are expected to decrease by 7.5% per year. The assumption is based on the fact that the total PND market will decrease from 33 million in 2011 to 17 million in 2017 (see this article), or an average annual decline of 9.5% per year. On the other hand, Garmin has several agreements with car makers (like Mercedes-Benz), which will moderate the impact of the annual decline. Therefore, I expect automotive and mobile sales to decrease by 7.5% per year.
The sales from the outdoor segment are expected to increase by 10% a year, following the increase in sales over the period 2010-2012. During this period, total outdoor sales grew from $319 million to $402 million, or an average increase of 12% per year. Despite outdoor sales will not grow as fast in 2012, an average increase of 10% per year is probable. Finally, aviation and marines sales are a bit more volatile in recent years. Total sales amounted $462 million in 2010 and $500 million in 2012. On average sales increased by 4% per year. Due to increased R&D efforts throughout 2012 the future growth could be around 5% per year.
Total sales could be around $3 billion in 2018, following the average increase in GPS units sold in the period 2012-2018. The fitness sales will become more important for Garmin. The fitness sales account for 12% of total sales in 2012. In 2018, total fitness sales could account for 27% of total sales, an increase of 15%. In 2018 total fitness sales and automotive sales could be equal, according to my calculations.
Operating income
Next I calculated the impact of the switch in sales regarding the operation income (EBIT) in 2018 based on my sales distribution and the average operating income per segment over the period 2010-2012. As a result of the shift from the low profitable automotive and mobile segment to the high profitable fitness and outdoor segments, operating income could increase by 45% over the period 2014-2018. Operating income regarding the fitness and outdoor segments could account for 67% of Garmin's total operating income in 2018.
Total operating income could potentially increase from $604 million in 2012 to $876 million in 2018, an average increase of 9% per year. Despite the slow growth in net sales, increasing profitability will have a positive impact on Garmin's earnings per share. If Garmin was not to buy back any of its own shares until 2018, shares have a 45% upside (based on flat earnings per share in 2018). The upside potential becomes even higher if Garmin was to repurchase own shares, because earnings per share will increase.
Stock market performance
Two of the competitors in the fitness segment are Nike (NYSE:NKE) and TomTom (OTCPK:TMOAF). It is interesting to see that Garmin's shares did not perform as well as Nike and TomTom this year. Garmin posted a 17% return year-to-date, where Nike and TomTom posted around 50% returns this year (see the graph below).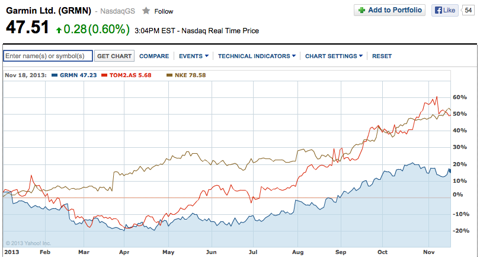 It is interesting to see that TomTom's shares gained nearly 50% this year (Garmin's shares gained only 17%), despite a disappointing outlook for 2013's earnings per share. This article provides some arguments for TomTom's outperformance. The first possible explanation would be the rumors that Apple (NASDAQ:AAPL) or Samsung (OTC:SSNLF) will buy TomTom in order to solve their mapping problems. Second, TomTom could be split into several parts to create value for the shareholders. TomTom's CEO Harold Goddijn made some comments about a potential split back in July. Third, TomTom has a relatively low valuation compared to Garmin in terms of free cash flow.
Despite these arguments, Garmin is a much more stable company compared to TomTom. TomTom's assets consist mostly goodwill and intangible assets, where Garmin's assets consist mostly cash and marketable securities. In fact, more than half Garmin's assets consist of cash and marketable securities. The strong balance sheet enables Garmin to pay a very good dividend to investors (yield: 3.80%), while TomTom does not pay any dividends. On February 15, 2013, Garmin announced a $300 million worth share buyback program or 3.22% of the company's present market capitalization. The program will be completed before the end of 2014.
Conclusion
The market for GPS devices in the fitness segment will become more important for Garmin and its competitors. The company is better positioned to profit from this fast-growing market than competitors, for example TomTom. Garmin is a solid investment, despite a decreasing market for automotive and mobile GPS devices. This decline will be compensated by strong demand in the fitness and the outdoor GPS devices in the upcoming years. Especially the fitness segment looks promising in term of demand in the future. Both the fitness and outdoor segment are highly profitable compared to the automotive and mobile segment.
Despite the fact that sales will not grow very fast in the upcoming years, operating income (EBIT) could rise 9% per year, based on my calculations and assumptions. The 3.80% dividend yield makes the stock also attractive for dividend investors. The company's strong balance sheet and annual free cash flow will provide opportunities to increase the dividend yield and/or repurchase more own shares in the future. An increase in the dividend payments and/or the share repurchases will support Garmin shares even more. I consider Garmin a long-term buy.
Disclosure: I have no positions in any stocks mentioned, but may initiate a long position in GRMN over the next 72 hours. I wrote this article myself, and it expresses my own opinions. I am not receiving compensation for it (other than from Seeking Alpha). I have no business relationship with any company whose stock is mentioned in this article.