In my previous article on Sirius (NASDAQ:SIRI) I discussed the company's future prospects and in the comments section I found that many people wanted to see the company's valuation. So in order to support my previous conclusion I decided to present the stock's financial forecast and valuation.
Without wasting time let's begin crunching numbers. For my calculation I have used various estimates which I will explain.
Revenue Drivers
Subscription fee
Investors know that a major portion of the company's revenue is generated from subscription fees and a major contributor to subscription fee is the fee charged to subscribers who have opted for satellite radio services. I have forecasted satellite radio subscribers by calculating estimated new subscribers and adjusting old subscribers by the churn rate.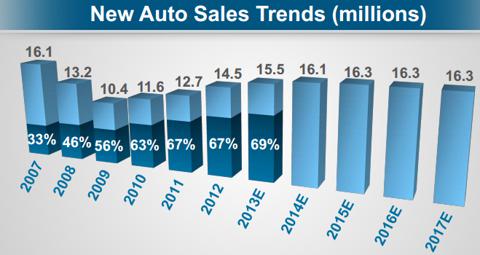 (Source: Company presentation)
To calculate the number of new subscribers, I first estimated the total number of car sales in the US and then I multiplied this estimate by the penetration rate, which I pessimistically assumed to be 70%, to get the total number of cars with Sirius equipment and trial subscriptions. I then multiplied this figure with the percentage of trial service users who are converted to paid service users to get the amount of new subscribers each year.

Advertisement Fee

The company's business model is a premium radio service so there are few non music channels over which Sirius plays its advertisements. The advertisement fees contribute approximately 2.4% of total revenues so in my forecast I have taken the historical average growth rate to grow the advertisement revenue.
Equipment Sales and Other Ancillary Services

Equipment sales represent approximately 2.1% of total revenues and other ancillary services represent approximately 8.3% of total revenues. Ancillary services are increased yearly with an historical average growth rate adjusted by a persistent factor to account for the increasing competition of rivals such as Netflix (NASDAQ:NFLX), Pandora (NYSE:P), and Apple (NASDAQ:AAPL). Equipment sales are simply increased by historical growth rate.
Income and Expenses

In addition to calculating revenues I have also forecasted operating expenses by increasing them each year with an inflation rate of plus 1%. Net income before taxes is increased yearly by taking into account the loan retirement and a gradual decrease in interest expense.
Valuation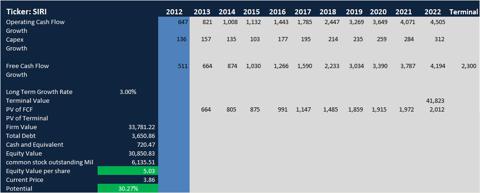 For the valuation of the company I have used a free cash flow discount model by projecting its revenues, net income, cash flow from operations and capital expenditures. I made some assumptions to forecast revenues, margins and capital expenditures.
In the model I have assumed that capital expenditures would vary from 2-3% of total revenues. I have also assumed that noticeable retirement of loan will be done in the near future which will boost operating cash flows. Additionally I have used a long-term growth rate of 3% and WACC of 8.7%.
Based on the company's current share outstanding of 6,135.51 million, an expected equity value per share is calculated to be $5.03. Currently, the company's stock price is $3.86 per share. So, my calculations suggested an upside potential of 30.27%.
Multiples Based Valuation

In the table above I have calculated the intrinsic value of the stock using the multiples approach.
In my calculation I have used trailing twelve month figures of earnings per share, book value per share, sales per share and cash flows per share. Moreover, the weight added to P/E, P/B, P/S, and P/Cash Flow have been assigned on the basis of survey estimates.
Hence, on the basis of given multiples of industry and the company, the fair value of the stock should be $4.48 reflecting an upside potential of 19.01%.
Mean Estimate of Forecasted Fair Value
I am assigning 80% weight to the fair value calculated by the free cash flow model and the remaining 20% weight to the multiples-based fair value. I have selected this weighting by considering the fact that the free cash flow value is based on a more in-depth analysis and is less subject to biases.
Mean fair value is 4.92 reflecting an upside potential of 30.5%.

Risks and Market Expectations
The audio entertainment market is evolving, technology is becoming more sophisticated, and competition is increasing. Due to this evolution in technology many companies have now become a major threat to the industry leaders.
The company's radio services are now facing competition from portable devices capable of connecting to vehicles with the internet and this can impinge upon Sirius' ability to attract new customers and retain current subscribers.
Moreover, the connected vehicle concept is gaining popularity in the developed world and for Sirius is developing its capabilities but in this field it will have to compete with other on-board navigation devices, other service providers as well as new multi-tasking smartphones.
Sirius' success is highly dependent upon the demand of new and leased autos as well as Sirius' penetration in factory-installed radio systems.
The concept of free HD radio stations is also threatening the company. However, their radius is not as wide spread as that of satellite broadcasters and their radio stations play advertisements which are sometimes annoying to listeners.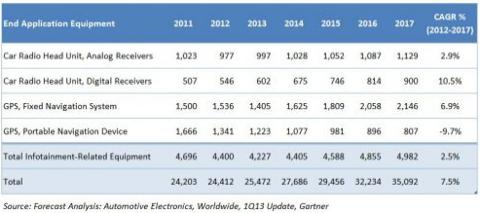 According to the research report issued by Gartner, portable navigation devices will not become the first priority for auto users and radio devices will see a reasonable growth in the coming future.
Conclusion
After crunching the numbers and my analysis of the company's status in the industry I have inferred that the current stock price of Sirius is undervalued. In addition to this I have highlighted potential threats but I would say the aforementioned threats are not those which will hamper the company's growth or take away from its huge and loyal customer base.
Moreover, in my previous article I highlighted that the company's future prospects are bright. Hence, considering all the facts I recommend buying Sirius.
Disclosure: I have no positions in any stocks mentioned, and no plans to initiate any positions within the next 72 hours.
Business relationship disclosure: The article has been written by a Blackstone Equity Research research analyst. Blackstone Equity Research is not receiving compensation for it (other than from Seeking Alpha). Blackstone Equity Research has no business relationship with any company whose stock is mentioned in this article.