Oil is a word that conjures up visions of black, gooey stuff that comes out of the ground that is used to power our cars. However, another "oil" exists that is as important as that black gooey stuff. That other oil is vegetable oil, and it is as integral to the human experience as any Agri-Food.
Vegetable oil is in nearly every food consumed by people. From wok cooking to brownies to our favorite salad dressing, vegetable oil is present. According to Oilseeds: Major Markets and Trade (USDA), the world will consume around 163 million tons of vegetable oil in this year. On average, the world will consume roughly 50 pounds of vegetable oil per person this year.
Our first chart portrays the major sources of vegetable oil. Palm oil is consumed more than any other vegetable oil at 39% of total world consumption. Soybean oil comes in second with canola oil following it. Indonesia and Malaysia benefit from this preference for cooking oil as those two nations produce 85% of the world's palm oil. Brazil, United States and Argentina produce slightly more than 80% of global soybean production. Canada exports roughly half of that nation's canola production.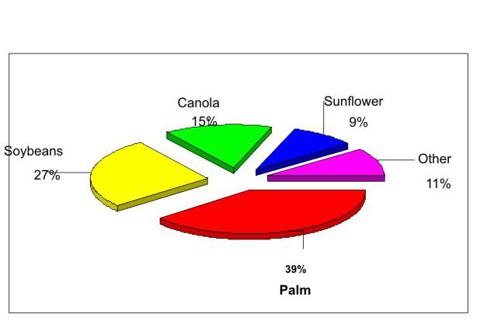 This situation creates a money flow, and that is our interest. Palm oil, soybeans and canola flow to those nations with vegetable oil deficits. From them money flows back to the producing nations. As is often said, follow the money.
Two nations, China and India, are clearly the important importers of vegetable oils and oilseeds. Both countries run deficits in vegetable oils. India must import more than 60% of that nation's vegetable oil needs, and is the largest importer. China imports more than 30% of its vegetable oil consumption. Given the natural and permanent constraints on Agri-Food productions in those two countries and rising income-driven demand, both nations will continue importing an increasing amount of vegetable oils and oil seeds over time.
In the following chart the black line, using right axis, is the vegetable oil consumption (USDA) of China and India. In 2010 those nations consumed roughly 42 million tons. This year that consumption will be 52 million tons, a near 25% increase from 2010.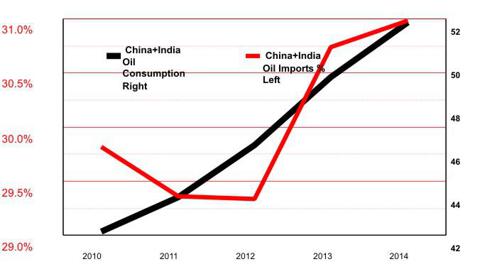 Red line in that chart, using the left axis, is the percentage of global production of vegetable oils represented by the consumption of China and India. This year the vegetable oil imports of those two nations will represent nearly a third of total global production of vegetable oils. With rising demand for vegetable oils there and in other developing nations a clash of needs will meet in the market such that prices should rise over time to ration demand.
A connection, or conduit, is required to move vegetable oils and oil seeds from surplus producing nations to deficit nations. That movement is facilitated by companies referred to as Agri-Collectors and Agri-Processors (AgriMoney,2013). These firms are the global Agri-Infrasture.
Of those companies, Wilmar International (OTC:WLMIY), based in Singapore, is the public company that is an important palm oil connection for Asia. Archer Daniels (ADM) has a strong position in the North American oilseed production and processing. Bunge (BG) has access to South American oilseed harvests that is clearly unique. Brazil is the second largest producer of oil seeds and the largest producer of soybeans. As the world will increasingly rely on South America for incremental Agri-Grains and in particular soybeans, AGCO (AGCO) will benefit with 20% of sales in South America and 75% of sales outside of the more mature North American Agri-Equipment market. Each of the above companies should be in portfolios oriented toward future investment returns.
Disclosure: I have no positions in any stocks mentioned, and no plans to initiate any positions within the next 72 hours. I wrote this article myself, and it expresses my own opinions. I am not receiving compensation for it (other than from Seeking Alpha). I have no business relationship with any company whose stock is mentioned in this article.