As central bankers around the world continue the easy money practices that have brought the world economy back from the brink of collapse we have been looking at various metals for a possible play. We have explored new ideas as well as old and keep coming back to copper. There is nothing that is groundbreaking in our thesis, in fact it is a play we have been following with one of our picks for some time, but we do believe that there are shifts occurring in the world economy which make now an opportune time to begin adding more exposure to a copper trade.
We have been bullish of shares of Freeport-McMoRan (NYSE:FCX) since they traded sub-$30/share and in the low $30s, but think that with the recent pullback that is attributable to oil and natural gas exposure that investors might find a nice entry point here. Another name that traders like to use when playing copper is Southern Copper (NYSE:SCCO) which is trading near its 52-week lows right now and around support levels.
Chart of the Day:
This $600-800/ounce trading range that palladium has been stuck in the past few years is quite interesting. With Asia and Europe turning we still think that the metal heads higher, but $750/ounce is proving a tough resistance point at this time. We can only imagine the fight that the bulls and bears will engage in as $800/ounce is approached.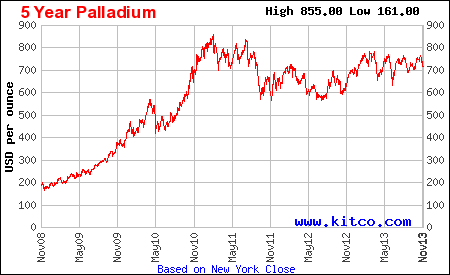 Source: Kitco
Commodity prices this morning are as follows:
Gold: $1246.50/ounce, down by $11.50/ounce
Silver: $19.91/ounce, down by $0.148/ounce
Oil: $94.07/barrel, up by $0.22/barrel
RBOB Gas: $2.6774/gallon, up by $0.0144/gallon
Natural Gas: $3.682/MMbtu, up by $0.008/MMbtu
Copper: $3.1635/pound, up by $0.004/pound
Platinum: $1398.30/ounce, down by $1.30/ounce
Commentary
We are not expecting copper prices to skyrocket any time soon, but we do think that they have 5-10% upside in the near-term which would once again create interest in shares of companies like Freeport-McMoRan and Southern Copper. Easy money will help commodity prices but will not enable them to rise unchecked because of the likelihood that central banks will adjust their policies to prevent runaway inflation, with the Europeans being most sensitive to this.
Our outlook is for China to see continued growth, albeit at continually declining rates. We also believe that construction activity in the US will pick up with residential, and even commercial, real estate seeing upticks in spending. New houses and commercial buildings require copper and have a residual effect on the economy that then creates further demand for the metal. None of this is news for many investors, but the fact that the economic data is beginning to indicate that further growth may be ahead in these key sectors is our point of emphasis.
We have been front and center for this latest run and think that the latest pullback offers investors an opportunity to take advantage of the world class assets the company possesses. Freeport-McMoRan will be lowering their debt and focusing their efforts in the next year which we believe will lead to share repurchases and increased dividends further down the road.
Source: Yahoo Finance
Our favorite way to play copper right now is Freeport-McMoRan, as it was picked months ago due to its diversified revenue streams. Energy exposure will continue to help drive the stock higher, especially if one believes that oil prices have bottomed, and copper shall provide another tailwind as its prospects improve. The one drag will be gold moving forward, but our view is that the energy and copper business segments offer enough upside to allow investors to somewhat ignore that exposure for the time being. We also like the dividend yield, currently around 3.40%, but recognize that some yield investors might be inclined to walk away as the 10-year continues to inch higher - a trend we believe will continue into 2014.
For more of a pure-play copper name we like Southern Copper. Yes it does have some risks involved with it, but at the end of the day we like the outlook for the underlying commodity and think that the chart is indicating that the stock is an attractive buy. Even if we are incorrect in the timing of this call, Southern Copper has a forward yield of about 1.80%, less than Freeport-McMoRan's but the company does offer more upside, so traders would be paid to hang around, so to speak.
The recent declines are a concern, however using the latest downturn to initiate a position looks like a good play at these levels, especially if one is bullish copper - which we are.
Source: Yahoo Finance
We would not be buyers of entire positions right now, but would slowly work our way into a full allocation of shares over the next 3-6 months. Our thinking is that the Fed will have started to slow their bond buying program and rates will have risen which should create a 10% general market correction, something that has been absent the current market rally for far too long.
One might also look to ETFs to play this sector, with the Global X Copper Miners ETF COPX coming to mind as one play, but we would caution readers that it has low volume and not a ton of liquidity so it should be used by those looking for a long-term investment vehicle.
Disclosure: I have no positions in any stocks mentioned, and no plans to initiate any positions within the next 72 hours. I wrote this article myself, and it expresses my own opinions. I am not receiving compensation for it (other than from Seeking Alpha). I have no business relationship with any company whose stock is mentioned in this article.