In today's low interest rate environment, investors globally have been looking all around for opportunities searching for yield. We have seen an unprecedented rise in the US equities market in the past 12 months, driven largely by PE multiple expansion. With so many blue chip stocks setting record highs, investors are now beginning to struggle to find places to park their money.
While the pickings are slim, there are still investment opportunities around the globe that offers relative safety while generating attractive real returns. Today, I will be presenting the MTR Corporation, listed in Hong Kong under ticker 0066.HK, and here in the US on the OTC as OTCPK:MTRJY. A mass transport operator, it also engages in property leasing and development, as well as consulting and operator of overseas franchises.
ABOUT THE COMPANY
The company, founded as the Mass Transit Railway Corporation, operates the only subway system in the city of Hong Kong since its inception as a government statutory corporate in 1975. Through privatization in the early 2000's followed by aggressive overseas growth, the company is now a global leader in developing public transportation networks that places it as one of the few privately-owned mass transport systems globally that generates a profit without government successions.
Focusing on their operation in Hong Kong, where currently they generate around 90% of revenues from the city, the company operates in 3 different segments:
1) - Passenger Transportation
The company operates both an underground subway network in the urbanized parts of Hong Kong and a light rail network in the outskirts and New Territories. Over 120 million passengers ride on MTR's transports in a city of roughly 7 million, proving it to be an integral part of HK's society.
2) - Commercial Property Rentals and Station Site Property Development
MTR leases commercial space in all of their subway stations. These retails space generates some of the highest rents in the city, with the constant stream of foot traffic their stations generate daily.
MTR also partners with real estate developers to build shopping centers and residential projects on land atop of their stations and tracks, keeping these properties for rent. This division generates a substantial part of MTR's revenues and they are one of Hong Kong's biggest landlords.
3) - International Development
With its reputation as a strong operator, the company has been soliciting projects overseas in Mainland China, the UK, and Australia over the past decade. Numerous cities are looking to duplicate the business model MTR are able to develop in their home city of Hong Kong of a self-sustainable transport system and thus the company has been able to establish themselves as the go-to consultant and operator.
The company has brilliantly managed their assets for the past 4 decades in Hong Kong. Known for their clean stations and trains, and a 99.9% on time record, the company is an example in efficiency. With the growth of the city, MTR has been capturing a steady passenger volume growth of roughly 5% annually. Despite this constant pressure of traffic growth, the company managed to maintain a near-pristine safety record with no serious crashes or other incidents.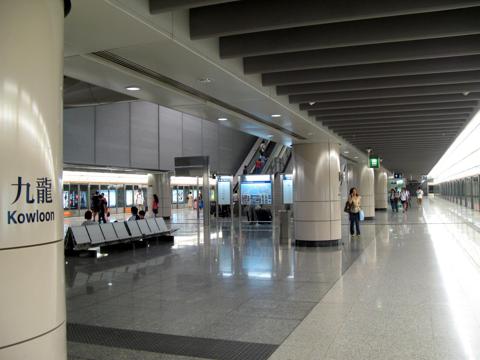 The company's past as a division of the Hong Kong Government still lingers today, with the HK Financial Secretary Incorporated still owning 76% of MTR Corp. The company has managed to generate a consistent operating profit since post-privatization in 2000 without much government support.
In the early 2000's, MTR's profitability slumped as it exited government ownership, where the company quickly lost much of the government subsidies as it entered private ownership, and as a double whammy, it suffered from a drop in passenger volumes from the SARS outbreak of 2003, which did not recover until the mid-2000's. Despite these challenges the company still managed to post an operating profit through property development and leasing. Management has developed a sound, resilient, and repeatable business model that can be implemented globally at other franchises. Through the latter half of the 2000's, the company rode the boom of the rise of the Chinese economy, and with it, Hong Kong real estate prices, creating its current rental property portfolio.
INVESTMENT THESIS
MTR Corp offers investors 2 key thesis:
As a Property Developer
Property sales and leasing currently account for around 55% of MTR's annual profits. This is a drop from almost 75% property related from the early 2000's, as management in my opinion has effectively branched away from their traditional built-to-sell model to a more built-to-rent revenue stream.
Over the past 3 years, the city has seen a real estate boom unseen since the late 90's that peaked prior to the Asian Financial Crisis. Prices in the city almost doubled from 2008 to 2013 according to Centaline, a leading local property brokerage firm.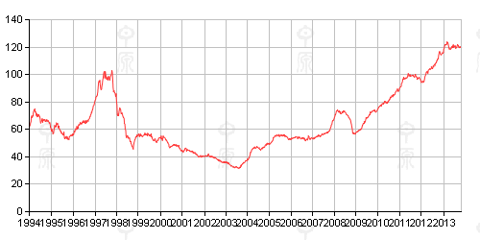 However, if you looked at MTR's stock price, you would not know this as the stock has traded mostly flat since recovering from the depth of the 2008 financial crisis.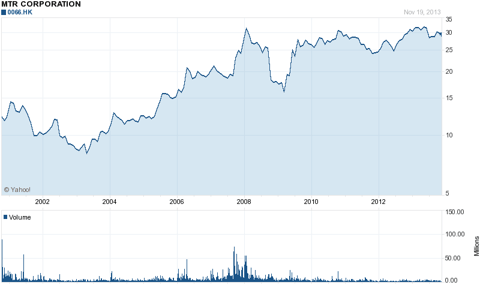 Hong Kong's currency, the HK Dollar, is pegged to the US Dollar since the 80's. Thus, with the Fed's endless Quantitative Easing, the city has enjoyed relatively ample liquidity that has fueled the recent real estate boom. Talks of a tightening Fed have sprouted fears in Hong Kong of a potential real estate crash of around 30%.
However, if we put things into perspective, property sales only accounted for 3.2 billion HKD (400 million USD) of operating profits for 2012, on 16.6 billion HKD (2.15 billion USD) of total profits. This 20% profit contribution is much lower than the low 30% ratio property sales had on the company during the late 2000's. This is the segment that is most likely going to be affected in a real estate slowdown and we feel the company is well diversified in its core transport business, as well as its rental portfolio, to mitigate any volatility real estate sales have on earnings.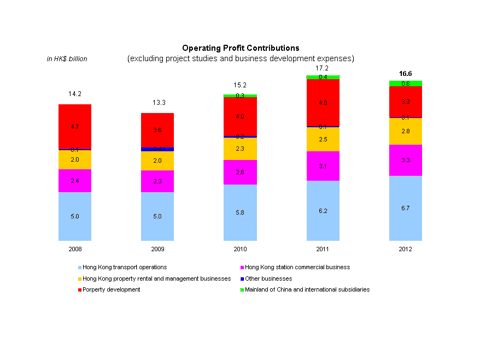 One key competitive edge MTR has over other property developers is its ability to significantly improve the value of its real estate acquired or granted by the government. With the opening of each new lines, the company can effectively feed foot traffic into the areas newly served. Thus, the value add proposition of MTR's property portfolio is often hidden from the mark-to-market balance sheet.
As a Public Utility
MTR's transport division serves as a critical lifeline to the city of Hong Kong and a large portion of the population relies on their services in their daily lives. Like Coke and Johnson and Johnson, it's intricately connected to the fibers of society and thus intrinsically has a hugely wide moat built into its business model. As shown in the early 2000's despite a public health crisis in SARS, the company still managed to maintain profitability, a testament to its durability.
While it does suffer from some public pressure on pricing, also in part due to heavy government ownership, the company does seem to have enough public goodwill to raise fares on a regular basis throughout the past decade. Revenues in the public transport segment have shown steady growth of around 8% annually, in line with population growth in the city with a slight positive skew. We see this population growth trend to likely continue as Hong Kong still maintains its role as a world class city, driving revenue growth organically. From a capital perspective, the city still maintains its status as a safe haven for investors in the region, especially from Mainland China, to invest or park their money in a locale that offers a western style legal system.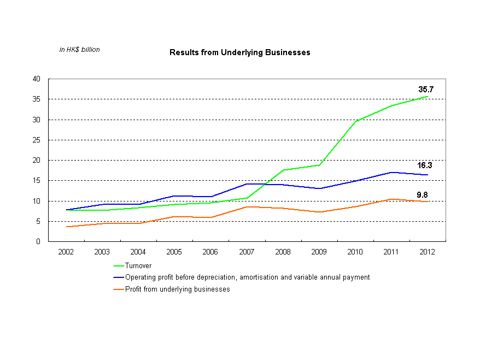 The Corporation also has leveraged its world class reputation to begin developing franchises outside of Hong Kong. The company has won operating rights in major cities in the UK and Australia, and also in Mainland China. We believe the company will continue acquiring new franchises, especially under its current American CEO, Jay Walder, who previously served as CEO of the Metropolitan Transport Authority of New York City.
VALUATIONS
Shares of MTR Corp in Hong Kong (0066.HK) recently traded at 30 HKD (3.87 USD), valuing the company at 176 billion HKD (22.7 billion USD). The firm reported earnings of 16.6 billion HKD (2.15 billion USD) last year, and are expected to earn roughly 17.5 billion HKD (2.26 billion USD) for full year 2013. The company also has 146 billion HKD (18.8 billion USD) shareholder equity on its books. This values the company at around 10 P/E, and a 1.2 P/B.
Management has been growing book value at roughly 8.5% annually and the trend should likely continue. We also believe projects overseas are starting to generate growth opportunities for the firm and the company should continue to be able to duplicate its current performance for the foreseeable future.
We maintain a cautious view on profit growth over the coming 12-24 months as interest rate uncertainty will most likely dampen real estate investors' appetite and cap real estate prices for the near term. MTR does have a new line completing in late 2014 (HK Island: West Island Line), along with another residential project at LOHAS Park. We believe this will maintain momentum in their property development sales to match this year's volumes.
We also believe the street has not fully realized the overseas growth potentials. While profits generated by overseas divisions only contributed to ~600 million HKD for 2012, less than 5% of total profits, this has doubled since 2010 when MTR secured its first major project outside of Hong Kong, in Beijing. This growth should continue under CEO Walder, who brings international experience in the US and Australia to the table.
At current valuations, the company is fairly cheap as it offers relatively stable growth of high single digits, its natural ability to create value in its real estate, a world class management system, and overseas growth opportunities. However, shares could still pull back to the mid 20 HKD price range if real estate prices in Hong Kong experience dramatic revaluations. We would be extremely aggressive buyers at those levels.
The company also sports a pristine balance sheet, with 17 billion HKD (2.2 billion USD) in cash, and 61 billion HKD (7.9 billion USD) in liabilities, 78% under longer-term debt issues. S&P currently rates MTR at AAA and Moody's at Aa1. The company has been known as a stalwart of financial management in the city, which numerous local pensions owning a substantial chunk of the company alongside the government. MTR also paid a 79 cents HKD dividend in 2012, a payout ratio of around 30%, offering yields of 2.6%. The company has maintained payout ratio at similar levels, though we have seen a ramp up since 2010 by a few percentage points, and we see this continuing as they have refinanced and extended a significant portion of their long-term debts at very favorable levels.
RISKS
Despite MTR's low business model risk, unexpected events such as another epidemic, accident, or global economic slowdown may present the greatest threat to its business. Some of these scenarios are difficult to simulate but management has proved themselves to be capable pilots during difficult times shown in the early 2000s.
The measurable risks right now facing the company is interest rate and real estate market froth in HK. While the HK government has shown willingness to allow the real estate market to enter a dramatic correction, we believe the city state will ultimately support property prices by relaxing regulations if the situation deteriorated too rapidly or too deeply. MTR also has a business model moat unmatched by any other property developers in the city, and most of which are trading at P/Es equal to or higher than MTR. (City industry forward P/E average is at 13.5 vs MTR at 11). We also believe interest rate should not go significantly higher until global economy shows a stronger pulse. Recovery has been slow and HK by defacto is a proxy product of US monetary policy. Thus we think the downside risk to the property market is probably unlikely to revisit 2008 lows many are calling for with the 30% readjustments.
CONCLUSION
MTR Corporation offers a world class management and business model unparalleled in the industry. While the company's trains do not move as fast as Tesla's or perhaps even your roadster Fords, the company's cheap valuations and stable growth profile should offer investors a steady return with predictable outcomes.
We recommend purchasing stocks outright in Hong Kong with a 1-year price target of 38 HKD, roughly 25% higher from current levels, on Forward PE multiple expansion to match rival developers like Sun Hung Kai (0016.HK) and Cheung Kong (0001.HK). For those who do not have access to overseas trading, the OTC shares of MTRJY are also worth exploring.
Disclosure: I have no positions in any stocks mentioned, but may initiate a long position in OTC:MTRJF over the next 72 hours. I wrote this article myself, and it expresses my own opinions. I am not receiving compensation for it (other than from Seeking Alpha). I have no business relationship with any company whose stock is mentioned in this article.