Today I'm wishing that I had paid attention to my own analysis. In December, I took a look at Netflix (NFLX) and noted that shares were expensive, and that I would look to buy below $50. Well, shares dipped below $50 earlier this month, and I found myself without any cash to invest. Then shares rocketed up almost 24% yesterday.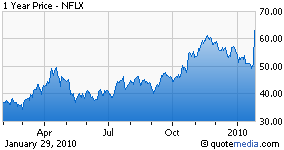 This rapid rise is not without justification. Netflix continues to deliver. The company can leverage its light business model to produce loads of cash flow from its subscriber base, and fulfillment costs decline when subscribers stream their movies online. Subscribers topped out at 12.3 million, well above the 11.8 million that was estimated. These subscribers produced $444.5 million in revenue and net income of $30.9 million, or $0.56 per share.
Most importantly, gross margins expanded 280 basis points as compared to the year-ago quarter to 38%. Net margins were 7.0%, up from 6.3% a year ago. Marketing expenses were 41.8% of gross profit, down from 51% a year ago. For years, Netflix management talked about a tipping point where brick-and-mortar stores would close en masse, driving new customers to Netflix. I think this is where we are. Subscriber acquisition costs continue to decline. (See earnings call transcript.)
Operating cash flow at the company was an amazing $105.8 million for the quarter. Content acquisition costs totaled only $57 million. Even in a steady state, Netflix could produce $200 million in cash flow after content costs in 2010. That pegs the current stock price at 17x cash flow, even after today's run-up.
Disclosure: I do not hold shares of Netflix