Overview:
Today, well it is close to 12am so I will say Wednesday, RPX (NASDAQ:RPXC) corporation filed 7 IPR requests against VirnetX (NYSEMKT:VHC).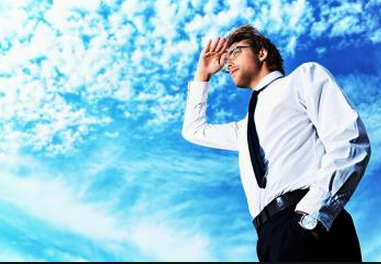 This comes after New Bay Capital LLC, a shell company, filed inter-partes reviews of some of the same patents - and then reversed course as they terminated their filings. Although New Bay Capital LLC may have terminated their requests by asking for an adverse judgment, VirnetX has not stopped there. After seeing the motion for transfer being sent back to the magistrate judge who recommend the case be transferred from Florida to Texas, it was recently granted. This means that VirnetX will be able to seek discovery of exactly who is really behind the curtains of the IPR requests by New Bay Capital LLC and Joel Rothman. Keep in mind that VirnetX's subpoenas in Delaware have not been moved, although Judge Leonard Davis (The judge presiding over all of VirnetX's litigation in the Eastern District of Texas) will be aware of the shenanigans.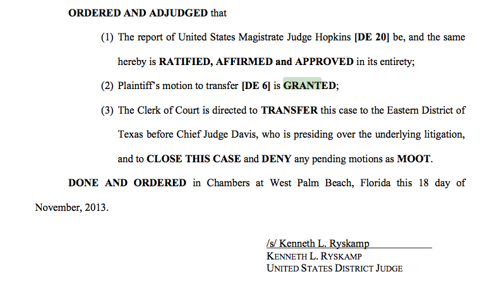 Click to enlarge
Apple Wanted To Join New Bay
With regard to the New Bay Capital LLC IPR requests of VirnetX's patents, the shell company was looking for 10% of the company's final judgment with Apple (NASDAQ:AAPL). Although it is my personal opinion that Apple attempted to join on New Bay Capital LLC's IPR requests since Apple's requests were over the one year limit. Don't think Apple wanted to join in on New Bay Capital's IPRs, think again.

Click to enlarge
Apple took a stand on a USTPO conference call to defend the company's position that they should have standing to join on New Bay's IPR requests.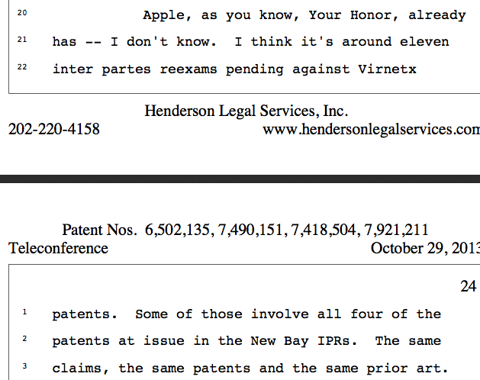 Click to enlarge
As you can see above, Apple already has 11 pending IPR requests on VirnetX. So why take a stand to join in on New Bay's IPR requests? Apple's requests are over the year limit set forth by the USTPO, and as such they will likely be turned down. That is why Apple was grasping to join New Bay Capital LLC's IPR requests.

Click to enlarge
Now this conference between VirnetX, New Bay Capital LLC and Apple took place on October 29. On November 13 VirnetX announced the favorable termination of New Bay's IPR requests. Boom, Apple's attempt to join New Bay Capital has been eliminated. For a link to this conference call, please click here.
New Bay's Transfer and Consequences: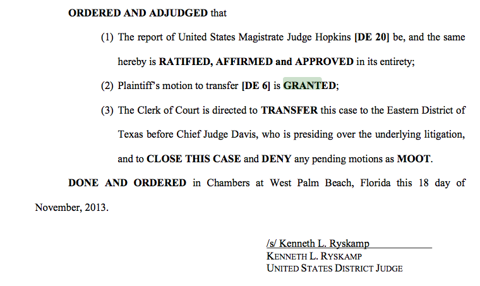 Click to enlarge
Keep in mind that although New Bay Capital LLC's IPR requests were terminated, the case from Florida has been transferred to the Eastern District of Texas to Judge Davis who is overseeing all of the company's litigation. VirnetX is seeking discovery as to who exactly is behind the curtain. Now although it is not known, if Apple is in anyway linked to New Bay Capital LLC, then collateral estoppel could be applied. This would thwart all of Apple's IPR requests as they were the real party of interest. It will be interesting to see who exactly is behind the curtains, whether it be a hedge fund manipulating the stock price or Apple.
RPX's IPR Filings

Click to enlarge
Now seven days after VirnetX announces the termination of the IPR cases with New Bay, RPX corporation comes out and files seven new IPR requests on VirnetX. These requests by RPX are much the same, extremely close to those filed by New Bay Capital LLC. I will not drag this discussion out as to compare the wording and the material of each filing, as they are freely accessible online:(just put 0 for a case number, hit search, filter by party name by entering either New Bay or RPX and hit filter results). The first RPX filing listed in this picture does not correlate to VirnetX, just the following seven.
In an effort to not drag out a boring comparison of the wording, I will let those so inclined to compare on their own. Although below you will see a table with the prior art being used in an example of the two IPR requests on the '135 patent. Below is not a definitive and comprehensive list, just of the '135 patent between the two companies.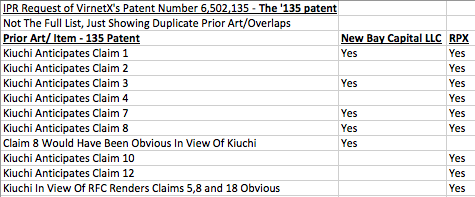 New Bay Lost On Their Prior Art So RPX Has To Try Other Avenues:
Another note for discussion is that New Bay Capital LLC did not lose its IPR requests. They sought to terminate their IPRs themselves after the case was recommended to be transferred and then granted transfer in part to Florida.
Timeline Is Key
One key aspect of New Bay Capital LLC's IPR requests was something beyond the prior art, in part, that VirnetX has won over in court and at the USTPO already. This is the time-line of events for these IPRs. My two articles with regard to New Bay Capital LLC and VirnetX covered some of the timeline information that is important.
For more information on New Bay Capital LLC and VirnetX see my two articles:
One of the key elements of Apple's grand plan is a pretty simple, yet so far failing attempt, to have IPRs invalidate VirnetX's patents before the conclusion of the company's appeal can take place.

Click to enlarge
Now, Apple's appeal is pushed even more months beyond the conclusion of RPX's IPR requests. This is due to the fact that now, Apple's appeal is underway. Moreover even if the appeal started today, which it hasn't as it already is underway, these IPRs would still be concluded after the appeal with Apple is concluded. One of Apple's tactics would be to use the IPR to bolster an appeal. Although keep in mind that Apple lost at court the first time around, the company's IPRs have not been successful and the appeal is not completed.
Quick Timeline:
There are some serious shady things going on with regard to these IPRs being filed. Although connecting the dots can make an investor more aware of what is going on before they sell due to misinformation or in the face of reverse conversions causing manipulation of a security. We have seen some large options trades in VirnetX lately that could be used to hurt on the downturn, although some have tied these as protection against an up move - so a party may be getting nervous.
It is hard not to connect some very obvious dots that are set forth with these IPR tactics. Below you will see a timeline that I have created in order to put some items in perspective:
First:
New Bay Capital files IPR requests against VirnetX's patents. It is hard to believe that New Bay Capital LLC had any of the below interests that would warrant IPR requests in the first place.
A business model that is infringed upon by VirnetX's patents.
The financial resources to file these costly requests.
The technical knowledge to file these requests.
A business interest that in 46 days had run into problems due to VirnetX's technology and required an IPR to be filed.
It is found out that New Bay Capital was looking for 10% of VirnetX's final judgment against Apple. After it is found out that New Bay's case (part of it) was moving to Texas for discovery, the company led to terminate its requests. Although VirnetX is still seeking discovery and collateral estoppel can apply to any parties found connected.
Second
Apple tries to join in on New Bay Capital LLC's IPR requests, since their own requests are over the year limit and will likely be thrown out. Apple is denied this chance on November 13 when New Bay Capital LLC's IPRs are terminated.
Third
On November 20 RPX files 7 IPR requests against VirnetX. Although the timeline of events for this IPR will be concluded many months after the damages appeal with regard to VirnetX v. Apple is concluded. Moreover, discovery with New Bay Capital is still pending in Texas, and any links to an actual real party of interest can lead to collateral estoppel applying - invalidating that parties IPR requests if found.
Conclusion:
It is my opinion that this is the latest attempt by Apple to attack VirnetX's patents as they are facing the inevitable royalty rate decision by the judge that will mean hundreds of millions of dollars in royalties per year for the company. Many believe that this will take place after the appeal is more underway, so the previously severed case (separating the RR section from the past damages section) will not be rejoined if the RR was decided upon too soon. Moreover, VirnetX is also awaiting the Cisco retrial and JMOL on the '759 patent.
To be clear, if some readers have construed this as it may seem confusing - Apple is not the one filing these IPR requests. RPX is the entity filing these requests. Although Apple is cited all over them. Moreover, it would not be a jump to conclude that Apple could and probably will motion the court to join RPX's IPR requests. Why would Apple need another entity to file IPR requests? This is due to the fact that their requests are over the limit time period, and they can no longer join New Bays.
I have not altered my holdings in VirnetX due to the following reasons below:
I see this as Apple playing IPR games with New Bay and now a likely future attempt to join RPX. As RPX filed just days after New Bay's was terminated and Apple lost their chance to join. Apple is also trying to join since its own IPR requests pending are over the one year limit.
Discovery in the Eastern District of Texas may uncover the real party of interest. If Apple is uncovered anywhere in this hearing, collateral estoppel will apply, thwarting Apple's IPR requests. In this case Apple will not be able to join anyone's IPR requests since they wont have any. This is speculation on Apple being the real party of interest, and if being uncovered if so.
Apple's appeal will be concluded prior to the conclusion of these IPR requests.
Apple is facing the pending ongoing royalty rate decision on its products, that will result in hundreds of millions of dollars for VirnetX, the likely signing of non-litigants and litigants, and a RR precedent for future cases.
These IPRs are not a sure thing, they are up against VirnetX's patents that have overcome many aspects of this prior art at the USTPO with its patents and at the Federal Court level with Microsoft (NASDAQ:MSFT) and Apple. Moreover, these inventions were created at SAIC Capital, a defense contractor for the government, by many of the same engineers that continue to expand the portfolio at VirnetX today.
It is my speculation that Apple is getting nervous as the day of reckoning with the pending royalty rate decision nears. It is also my personal opinion that Apple is the one orchestrating these IPR requests. This game of Russian roulette is coming to an end as Judge Davis will have access to the Florida subpoenas with New Bay, as he will now see these shenanigans. So that now VirnetX can motion the judge for discovery.
Even if Apple is not behind the scenes, the picture is still in VirnetX's favor. Lets say for instance that Apple is not uncovered as a real party of interest with regard to the transferred New Bay case, also lets even say that Apple can join RPX's IPR motions as well - then what?
Apple is still facing the ongoing royalty rate decision that investors are expecting by the judge.
The timeline still favors an appeal being completed prior to these IPRs concluding.
VirnetX will also hear the colorably different decision with regard to Apple's newer infringing products - although many think this is a no go, and Apple will face a second trial.
Microsoft and Apple are going to trial a second time, if Apple's newer products are ruled not colorably different. Microsoft likely for Skype related infringement, and Apple for newer infringing devices.
If the Judge finds that Apple's newer infringing products are not more than colorably different from those already asserted at the prior trial, then Apple's newer products will be included.
VirnetX continues to expand its patent portfolio - announcing threenew patents on September 3 and four new patents on October 31. The company has also expanded its international portfolio, as the statements in the most recent licensing agreement announcements sport an increasing number over time. For instance, on August 8 when Avaya licensed with VirnetX the company had 23 U.S. and 41 international patents. Although a few months back when Siemens (SI) signed with VirnetX, the company stated they had 20 U.S. and 32 international patents.
VirnetX has launched Gabirel Connection Technology Developer Kit, and is expanding the technology by rolling it out for beta testing to developers.
Many believe that there are litigants and non-litigants that are waiting to hear on the Judge's royalty rate decision before signing a license with VirnetX. This is due to the fact that they can see the rate the judge sets, and then license with the company. It took Judge Davis nine months to set the ongoing royalty rate in Fractus and Samsung, as there is no rush to complete such a defining document for the company.
The cross-licensing agreement with Avaya (AVYA), that has led to some very interesting conclusions.
Kendall Larson, CEO of VirnetX, stated that the company is targeting the Android world at the past ASM. This is a beneficial development as Android encompasses 80% of the smartphone world.
VirnetX will play a key role in 4G LTE-Advanced and they continue to identify additional 3GPP specifications. For more information on 4G LTE-Advanced and VirnetX see my article 4G LTE-Advanced Is Impending, Who Is Set To Profit or more specifically on VirnetX with this article The Future Of Internet Security: Research On VirnetX - The Company Securing The Way
The above is not a comprehensive list of the investment thesis on VirnetX, just the other side to keep in mind if things didn't go well with regard to discovery or the IPRs. Many investors may brush this off as a non-issue, although with VirnetX I have seen the shorts try and hammer these issues along with misinformation to drive the stock down, so I hope this article clears up some of the information with regard to VirnetX, New Bay Capital LLC, and NPX. I hate to see investors sell or give up all of the due diligence they work on when they see a development that they make think is more than it really is, as I hope this article may have put this recent news blip into some more perspective.
Disclosure: I am long VHC. I wrote this article myself, and it expresses my own opinions. I am not receiving compensation for it (other than from Seeking Alpha). I have no business relationship with any company whose stock is mentioned in this article.
Additional disclosure: Always do your own research and contact a financial professional before executing any trades. All of the above information is solely informational and is based on my personal opinion.