Following the better-than-expected but still miserable results that followed the earlier third quarter guidance cut, Aaron's Inc. (NYSE:AAN) has recently traded at a 3% premium to its share prices over the $29.40 close on October 24th just ahead of Q3 press release announcement. The press release itself forced shares to open off 3% the next morning, hitting $27.87 on its way down following management's comments. All that followed the initial guidance expectations cut on October 4th, when shares tumbled 5.3% intraday, touching $26.20: a whopping 11.84% discount to last night's (Nov-20th) close of $29.72.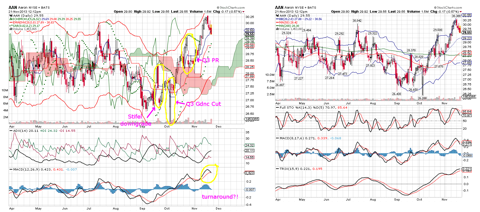 Click to enlarge
Earlier I've taken a stab at both the cut to the guidance itself as well as the third quarter results and commentary, closing out a long position, putting on a short and extending that short further as things developed. Now deeply underwater on those bearish bets and trying to assess when (and if) the pain will end, I've revisited company's documents and the Q3 earnings transcript as well as recent developments to see what I've missed that fueled the 5% rally since the October 25th close.
Analysis Results:
Third Quarter and Guidance
Nope, still miserable... guidance for full year 2013 is $2.26 billion on revenues and adjusted EPS of $1.97 per share at the midpoint. That's a 2% increase and a 12.5% decline from $2.223 billion revenue and $2.25 EPS in 2012, respectively. And "improvement in performance over 2013" is certainly not the best outlook one could provide...
Dividend Boost and Buyback
In recent days company boosted its buyback authorization to 15 million and increased its dividend a whopping 23.5% but still yields a miserable 0.30% - yes that is one third of one percent. And on the buyback... well, the perceived market "undervaluation" of shares voiced by management is not the first time I've heard such comments. More often than not it resolves into even more undervaluation.
Management Changes
Company also announced strategic re-shuffling recently, which my guess refers to Q3 conference call comments: "that these will generate more customers and revenue growth during this quarter and into 2014". But then again these still have a very long road to prove themselves.
Bottom Line:
Still short... I picked up a few more February puts when shares traded in the $30 vicinity, but I'm debating how long to hold on to them as I sure do not understand what's making Aaron's equity so resistant to declines - whether I should wait for the madness to end or just take the loss and run.
The only factors that jump out to me that are fueling the rally are
share buyback aiding the demand side of things,
the Fed's monetary policy insanity
Fund and investment LLC buy-ins
???
In the end, Aaron's is a brick-and-mortar company with questionable model, legal issues and plethora of uncertainty in this new e-tail driven world... I just wish it behaved to the fundamentals...
Disclosure: I am short AAN. I wrote this article myself, and it expresses my own opinions. I am not receiving compensation for it (other than from Seeking Alpha). I have no business relationship with any company whose stock is mentioned in this article.