OCZ Technology (NASDAQ:OCZ) had a fantastic spike recently on "news" that it has won an award as a "Fast 500 Technology Company" by Deliotte. So what is it? Per the News release:
The Technology Fast 500™ is an annual ranking of the fastest growing technology, media, telecommunications, life sciences and clean technology companies in North America. Award winners were selected based on percentage fiscal year revenue growth from 2008 to 2012. OCZ was chosen for the Technology Fast 500™ in the semiconductor industry for 2013.
What it means on the surface and to the ill informed is that OCZ is growing fast based upon percentage revenue growth from 2008-2012. This attracts the attention of the masses; however the percentage revenue growth numbers are simply false as OCZ inflated revenues by cooking the books during the 2008-2012 time periods. This resulted in revenue restatements and an ongoing SEC investigation.
It is interesting to note that OCZ has not put out a PR for this "news" but rather has it on the news portion of its web site.
Take It For What It Is
When life presents you will opportunities you take them. This is a heaven sent opportunity to profit if you happen to be gambling with OCZ. Especially given that around early December the company will receive its first delisting notice.
Now don't panic, OCZ will receive 180 days to get the stock over $1 dollar and a possible extension for an additional 180 days before delisting. Of course the company could also implement a reverse stock split to get its price over the NASDAQ required $1 dollar threshold.
Notice the volume spike followed by brief buying by momentum traders, after it tapers out volume dries up. The lack of follow through volume points to this pulling back. In anticipation of this begin by taking profits on a large portion of your bet. Lock in those precious profits but keep a small position just in case some real news does in fact come out such as a buyout offer.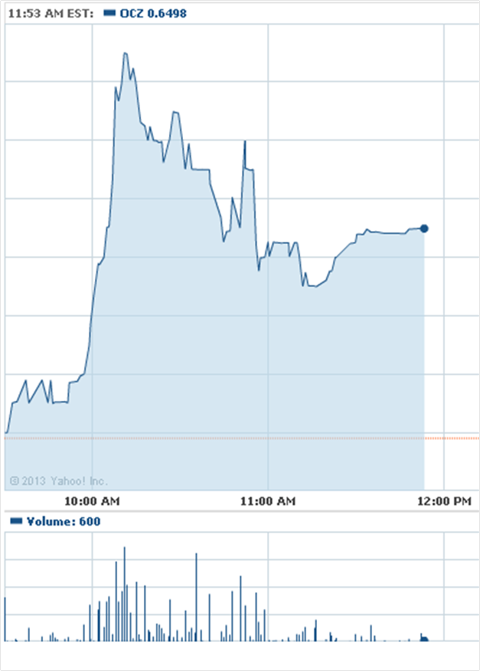 After the ill informed realize they have been bamboozled the stock should drift back after the hype dies down. At this point the gambler could pick up the dice, blow on them, and wish for the best.
Disclosure: I have no positions in any stocks mentioned, and no plans to initiate any positions within the next 72 hours. I wrote this article myself, and it expresses my own opinions. I am not receiving compensation for it (other than from Seeking Alpha). I have no business relationship with any company whose stock is mentioned in this article.
Additional disclosure: I have no position in this stock at the time of publishing but that can change without notice depending on market conditions.