Sirius XM (NASDAQ:SIRI) seems to have hit some headwinds as the rest of the market barrels ahead. The price fell from a recent high of $4.18 to $3.66 on Wednesday morning. And now we may know why. Some of the biggest guns in the business have suddenly been dumping shares of the company according to the latest Institutional Report from NASDAQ. Here are some of the big sellers, by position:
Sirius XM Decreased Fund Activity
221 Decreased Institutional Holders
205,634,563 Decreased Total Shares Held
Owner Name
Date
Shares Held
Chg Shares
Chg%
VANGUARD GROUP INC
09/30
99,278,603
(7,966,863)
(7.43)
WINSLOW CAPITAL MGT, LLC
09/30
89,730,570
(9,192,407)
(9.29)
BARCLAYS GLOBAL INVESTORS UK .HOLDINGS LTD
09/30
75,470,245
(3,060,370)
(3.9)
STATE STREET CORP
09/30
55,084,887
(20,569)
(0.04)
BLACKROCK ADVISORS LLC
09/30
45,509,805
(12,847,253)
(22.02)
COATUE MANAGEMENT LLC
09/30
40,563,060
(2,351,604)
(5.48)
COLUMBUS CIRCLE INVESTORS
09/30
29,975,000
(617,254)
(2.02)
SLATE PATH CAPITAL LP
09/30
28,940,000
(2,590,000)
(8.21)
HHR ASSET MANAGEMENT, LLC
09/30
24,387,000
(958,900)
(3.78)
NORTHERN TRUST CORP
09/30
22,151,804
(3,884,040)
(14.92)
BANK OF NEW YORK MELLON CORP
09/30
18,994,405
(6,614,267)
(25.83)
GCIC LTD.
09/30
18,221,242
(2,528,066)
(12.18)
HOUND PARTNERS, LLC
09/30
17,708,274
(3,685,002)
(17.23)
AMERICAN CENTURY COMP'S INC
09/30
16,585,893
(964,111)
(5.49)
FMR LLC
09/30
16,333,343
(28,344,197)
(63.44)
There were also numerous funds that bought Sirius in Q3, however the net sales and sold out positions outnumbered the new and increased activity by over 124 million shares (227,574,827 -103,524,796 = 124,050,031). This is a drop of almost half a billion dollars depending on the price at the time of the transactions.
| Ownership Analysis | # of Holders | Shares |
| --- | --- | --- |
| Total Shares Held: | 494 | 1,617,003,999 |
| New Positions: | 42 | 5,976,184 |
| Increased Positions: | 166 | 97,548,612 |
| Decreased Positions: | 221 | 205,634,563 |
| Holders With Activity: | 387 | 303,183,175 |
| Sold Out Positions: | 42 | 21,940,264 |
Some Reasons For The Sales: Big Gains, Competition, Confusion
Big Gains
There are numerous reasons that funds sell shares. But the biggest one, in my opinion, is to lock in major gains. At the beginning of the third quarter this year, the share price was under $3.40 per share. Then at the end of September the stock was flirting with $4. This was a 3-month gain of $0.60 a share or 18%.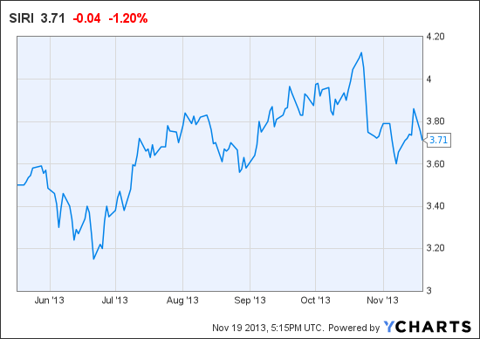 And if we look at the long-term gains from Q3 12, the price has almost doubled. On July 1, 2012, Sirius was just over $2 a share. Multiply this gain by millions of shares, and it is easy to see the motive to sell. Even Liberty Media (NASDAQ:LMCA), the largest owner of Sirius, jumped on this bandwagon when it announced in October that the company would participate in the Sirius buyback and sell $500 million Sirius shares over the next 6 months. There will be three installments, and at the end of the transactions Liberty will still remain the majority owner of the company with 52% of the stock:
...$130 million will be repurchased in November 2013, $270 million will be repurchased in January 2014 and $100 million will be repurchased in April 2014...
The chart below shows the share price from the beginning of Q3 12 through the end of Q3 13. Since the Liberty announcement came after the end of the third quarter, it is not the reason for the fund selling. However, it is possible that the fund selling could have influenced Liberty's timing of the sales. We will never know.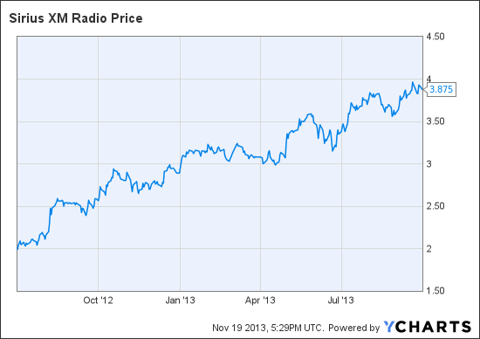 New Competition
Another reason for the sales could be the added competition in the radio business from tech giants Apple (NASDAQ:AAPL) iTunes radio and Google (NASDAQ:GOOG) via Google Play. Both of these companies have entered the streaming business with the goal of winning listeners from any and all competitors in the internet radio business. In May I wrote an article showing the movement of institutional money between Pandora (NYSE:P), Sirius, Apple and Google right after the announcement of Google's new streaming radio service, which many felt was a deliberate attack on Apple's new iTunes radio announcement.
Is that what is happening with the Big Money now? While recent (total) fund activity at Apple appears insignificant, institutions jumped into Google and Pandora in Q3 with new and increased buying activity outnumbering the shares sold:
Google Ownership Summary
| Ownership Analysis | # of Holders | Shares |
| --- | --- | --- |
| Total Shares Held: | 1,692 | 237,640,745 |
| New Positions: | 84 | 1,502,282 |
| Increased Positions: | 774 | 12,440,470 |
| Decreased Positions: | 715 | 9,157,555 |
| Holders With Activity: | 1,489 | 21,598,025 |
| Sold Out Positions: | 102 | 2,408,633 |
Pandora Ownership Summary
| Ownership Analysis | # of Holders | Shares |
| --- | --- | --- |
| Total Shares Held: | 263 | 205,742,008 |
| New Positions: | 74 | 38,645,639 |
| Increased Positions: | 159 | 71,652,555 |
| Decreased Positions: | 89 | 44,526,539 |
| Holders With Activity: | 248 | 116,179,094 |
| Sold Out Positions: | 30 | 15,249,545 |
As an example, the largest institutional owner of Sirius and Apple is still Vanguard. However, it trimmed down holdings in those two companies and then raised its stake in Google by 1%, and Pandora by 26%. There was a lot of very interesting Big Money movement between these four companies which is beyond the scope of this article.
Confusion
Also, during Q4 Sirius will change the way that subscriptions from General Motors (NYSE:GM) are counted and reported. Even though most analysts see this new contract with the auto maker as a very lucrative deal, it will cause the net subscriptions, which are based heavily on free trials paid by the OEMs, to drop. Fund managers are aware of this change which was announced months ago. However since the company has a lot of retail investors that may not fully understand this deal, the price of the stock could drop further as these investors sell on soft net sub numbers and guidance at the end of the fourth quarter. This could cause traders and fund managers to wait until these muddy waters settle before diving back in.
One way to see a clearer view of the situation is to focus on the revenue rather than the net subscription numbers. The revenue and price of the stock have been climbing at the same rate for the last five years: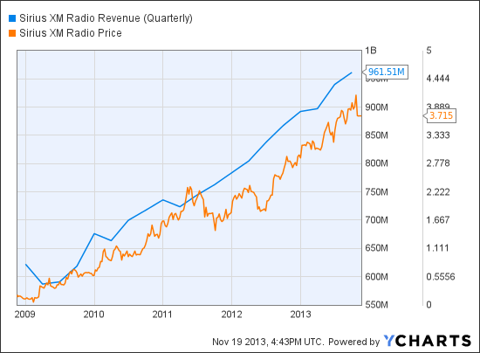 Conclusion
Sirius remains one of the best investments on Wall Street. There will be a lot of competition from the other radio companies that have sprung up. However Sirius still has satellites which supply better coverage (reception) than IP at a much lower cost to the consumer. Even though Apple, Google and Pandora offer free radio, the cost of a Sirius XM radio subscription is much less for the avid listener than paying huge data charges. The price of the stock may fall a little more with the selling pressure from the Big Money, but this offers a huge long-term buying opportunity for everyone else.
Disclosure: I am long SIRI. I wrote this article myself, and it expresses my own opinions. I am not receiving compensation for it (other than from Seeking Alpha). I have no business relationship with any company whose stock is mentioned in this article.