It isn't surprising to see ARM (ARMH) being ranked in Forbes top ten most innovative companies in the world. The company has been developing its processor technology, which has positioned ARM in the limelight due to mobile device demand.
Market Dominance and Sustained Growth
ARM's designs were used in about 32% of the processor based silicon chips manufactured worldwide in 2012. The company powered 95% of smartphone processors and 40% of mobile computers (laptops, tablets, handheld computers) in 2012.
Due to strong market penetration and having licensed its technology to almost every chip manufacturer, the company has been posting strong top line growth due to strong demand of mobile devices, especially smartphones and tablets.
| | | | |
| --- | --- | --- | --- |
|   | Third Quarter, 2013 | Second Quarter, 2013 | First Quarter, 2013 |
| Revenue | $286.7 million | $264.3 million | $263.9 million |
| Year over year growth | 26% | 24% | 26% |
| Profit before tax | $92.6 million | $86.6 million | $89.4 million |
| Year over year growth | 36% | 30% | 44% |
One of the important reasons for this top line growth has been ARM's strong business model, which has played an important role in capitalizing on the market growth. The company earns its revenue primarily from licensing its designs to semiconductor companies for using this on their chips. In addition to these licensing fees, the company has a per chip royalty fee for each device sold using its designs. This dual model has been an important revenue growth driver and has generated revenue from not only from semiconductor partners but also from original equipment manufacturer on each device sold.

ARM has signed around 48 processor licenses in the third quarter, thus bringing the total cumulative licenses to 1050. This growth in licensing new processors has not only brought growth in licensing revenue, but has been an important catalyst for the royalty revenue from the sale of chips using ARM CPU designs.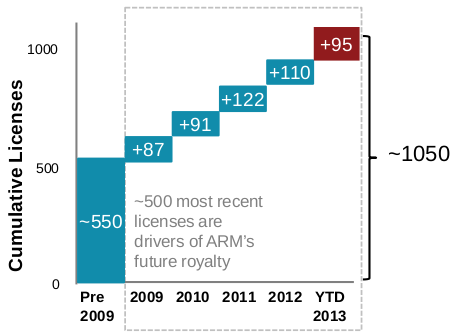 The strong license base in the market has helped ARM dominate the market, especially in mobile devices. The company is continuously developing its technology, which has resulted in depth in ARM's offering. Its product line caters to a wide variety of markets, and it has been quick to grab emerging market opportunities.
ARM will get a boost from the increased adoption of its v8 architecture chips based on 64 bit. Apple, one of ARM's processor clients, was first to launch a 64 bit System on Chip, or SoC, called A7 powered by ARMv8. This A7 chip was introduced in the recently launched iPhone 5s. The race to launch 64 bit chips has started, with other companies expected to join soon. This will be an important revenue growth catalyst for ARM, as both the license and royalty revenue will positively affect the company. Another OEM, Samsung, is also working on the 64 bit architecture and plans to launch this in its upcoming high end devices next year powered by ARM designs. ARM v8 design penetration in high end devices is expected to grow as companies come out with the 64 bit, and due to the high demand, the company can boost its per chip royalty revenue, which has remained under pressure in the third quarter.
Competitor adopts rival technology
Intel's (INTC) x86 architecture versus ARM architecture is always a hot topic in the digital device market, with the former dominating the PC market and the latter dominating the growing mobile device market. The war has now extended to servers where the new ARM design announcement is challenging the market share of the x86 based server. Despite this tough competition, Intel will build chips for its client based on ARM architecture in its foundry. Intel will build an Altera SoC that integrates a quad-core 64-bit ARM processor. Intel has taken lead in its manufacturing process with its 14 nanometer, or nm, technology being used for this chip. This will be the first chip based on this process and will provide a high performance due to the high volume of transistors compared to the current 22 nm process. Intel has already taken the lead from other foundries with its manufacturing technology, and since it didn't enter the 14 nm with the world leading ARM processor technology based SoC, this will be an important growth driver for the company.
So why is Intel manufacturing with its rival's architecture based chips?
Well it is a win-win situation for Intel, as the company can now provide its manufacturing expertise on one of the most popular ARM appliance processors, and this is an important move towards expanding its footprint in the android space. This will bring some of the companies like Apple, Qualcomm (QCOM), etc., as potential customers for its ARM based chips.
How Qualcomm is related to ARM?
Qualcomm has been an important partner for ARM. Both the companies are dominating their respective market segments; Qualcomm dominates the chips and baseband market. Like ARM, Qualcomm has posted strong top line growth in its recent quarters due to mobile device sales. Qualcomm follows a similar intellectual property licensing model and earns its revenue in licensing fees and per handset royalty for each chip.
Qualcomm's wide product offering has been important in capitalizing on the market opportunity. One product is its LTE chip, with which the company has been enjoying the first mover advantage. The company is into its third generation LTE solution, with its nearest competitor like Intel still trying to establish itself in the market. This lead in LTE has resulted in capitalizing on the emerging technology, which has resulted in demand growth of LTE enabled mobile devices. The company has posted 33% year over year revenue growth in the third quarter, while its fiscal year 2013 revenue posted a robust 30% growth year over year.
Its strong partnership with Qualcomm is expected to be an important catalyst for ARM's top line growth, as Qualcomm continues its dominance as the market leader in the LTE revolution.
Conclusion:
As per IDC, the worldwide smartphones shipments will grow 40% year over year to reach the 1 billion units mark in 2013. This unit's sales figure is expected reach 1.7 billion in 2017. Additionally, worldwide tablet sales are expected to grow from an expected 227.4 million units in 2013, to 407 million units by 2017.
This strong growth in mobile device sales will help ARM sustain its revenue growth; its market leadership will position the company to capitalize on the market opportunity. In addition to this, the company will benefit from new opportunities in the market like 64 bit architecture and the server market. The company has a 12 months trailing P/E of 85.62, while its forward P/E for the year ending Dec 31, 2014, is at 36.54. This difference indicates that the company will report earnings growth for the next year, on account of its strong top line growth. Therefore, investors should expect ARM to sustain its top line growth in the future.
Disclosure: I have no positions in any stocks mentioned, and no plans to initiate any positions within the next 72 hours. I wrote this article myself, and it expresses my own opinions. I am not receiving compensation for it (other than from Seeking Alpha). I have no business relationship with any company whose stock is mentioned in this article.