There is little evidence at this time to suggest the saturated North American market will be a growth region for DirecTV (NASDAQ: DTV). Competitors such as Dish Network (NASDAQ: DISH), Comcast (NASDAQ: CMCSA) and Time Warner Cable (NYSE: TWC) are struggling to find sustainable growth. The loss of video subscribers is probably the biggest challenge for these companies.
Dish Network was able to surprisingly add 35,000 new customers in the latest quarter, but it is questionable that it can sustain growth over time. Time Warner Cable got hammered from the battle with CBS, losing over 300,000 customers. Comcast was able to add customers as well, although it also faces sustainability issues because of rising costs from retransmission fee increases. Comcast's future is more reliant on its Internet business than its video subscriber business.
While there were better numbers in the U.S. for DirecTV in the latest quarter, a lot of that, as with its peers, was a result of the battle between Time Warner Cable and CBS.
The reason for bringing up the numerous competitors of DirecTV, which include other streaming companies and telecoms, is to point to the importance of the Latin American market as the primary growth catalyst for the company. Regional, Internet and mobile competition has made the North American market one that won't provide a lot of growth for any of these companies, as they continue to grow customers by lower pricing, which makes it a commodity business in that region of the world. From quarter to quarter there will be fluctuations in churn in the North American market based upon which company is offering the best price. Until that strategy is abandoned by the industry, this will be how the businesses in it will perform.
source: StockCharts.com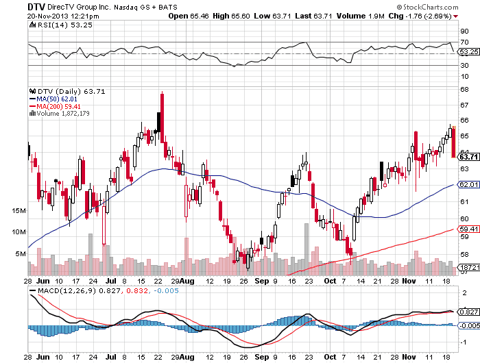 Click to enlarge
U.S. Subscribers
Before we get into its Latin American business, we'll look briefly at subscriber growth in the U.S. DirecTV made up for the loss of 84,000 subscribers in the 2nd quarter of 2013 by adding 139,000 in the third quarter. Again, that was mostly from the CBS/Time Warner Cable feud and the resultant blackout.
The other element was a much lower churn rate in the U.S., which fell from 1.74% in the same period of 2012 to 1.61% in the third quarter of 2013.
Unless there is a similar event, this is anomaly that won't repeat itself in the U.S. market for DirecTV. The good news is if the company churn rate remains steady or improves - this will be a long-term benefit for DirecTV. It also helped its domestic ARPU (average revenue per user) increased to $102.37, a gain of 6%.
Latin Amerca Subscribers
Although DirecTV boosted the number of subscribers in Latin America by 260,000, it was considered a weak performance, partly based upon expectations and the 543,000 new subscribers added in the same quarter of 2012.
The major reason for the low number of new subscribers was restrictions by Venezuela on equipment that needed to be brought into the country. Because the equipment to be imported was directly related to subscriber use, it tied the hands of the company in securing new customers there.
DirecTV was unable to sell equipment in the third quarter, and it is still waiting for approval to move it into Venezuela.
Churn and ARPU
The other major reasons for fewer subscriptions and a weaker performance were churn and ARPU.
Churn was particularly volatile in Brazil, where the implementation of a tighter credit policy and focus on slowing down the number of customers who were behind on payments, resulted in lower sales. The churn rate in Brazil climbed to 2.27% from 1.91% in the same quarter last year. Over time this will be better for earnings.
ARPU was very weak in Brazil in the region, plummeting 12% to $49.42. That was rightly attributed to exchange rate in Latin America. Without the exchange rates issue, ARPU would have been up by around 4%.
Conclusion
DirecTV will level out in the North American market going forward. Latin America is the key to its growth, and even though the challenges in the short-term are formidable, they are far from being unsolvable.
Since the Latin American pay-TV market has a low penetration, and the lack of infrastructure that would strengthen competition from cable companies favors DirecTV, this will continue to be a growth market for the firm.
In the short term the company will probably struggle because its North American business won't repeat what it did in the third quarter. That and the fact it will take some time to fix challenges in Latin America points to some downward pressure.
Nonetheless, over time Latin America will be a big part of DirecTV's growth, and in the near future it will be a major factor in the share price of the company, which at this time probably accounts for approximately 25% of the share price.
Since Latin American growth should overcome weakness in North America, DirecTV looks like a long-term growth story.
Disclosure: I have no positions in any stocks mentioned, and no plans to initiate any positions within the next 72 hours. I wrote this article myself, and it expresses my own opinions. I am not receiving compensation for it (other than from Seeking Alpha). I have no business relationship with any company whose stock is mentioned in this article.