Vanguard Natural Resources (NYSE:VNR) continues to be on of the more steady performers in my portfolio, especially when compared to its upstream MLP peers. Except for the brief Linn Energy (LINE) related decline in July, the stock has traded within a tight range of between $27 to $30 all year. The primary driver of Vanguard's stable YTD trading would have to be its monthly distributions as well as its healthy coverage ratios. Vanguard currently offers a $0.2075 per month distribution and yields slightly less than 9.00%.
Vanguard has been an oasis of stability in a volatile sector
Before I get into Vanguard's quarterly results, let us take a look at its YTD performance compared to upstream MLP peers such as peers BreitBurn Energy Partners (BBEP), QR Energy (NYSE:QRE), and Linn Energy.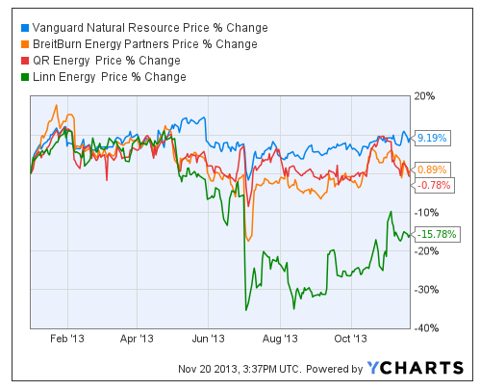 Click to enlarge
As shown, Vanguard's stock price performance has remained consistent throughout the year. Vanguard did see some price volatility in July 2013. This was caused by a sector wide short attack targeted at the much larger Linn Energy. During that timeframe, Linn Energy fell as much as 35%. However, Vanguard's stock held up quite well, declining about 10%. By comparison, shares of BreitBurn fell as much as 25% while QR Energy fell over 15%.
Clearly Vanguard has been the most stable of the bunch. The stock has been the least spiky, showing softer declines as well as moderate price increases.
Q3 2013 Overview
Another reason for Vanguard's success has been its operating performance. Unlike some of its peers, Vanguard has generally met its guidance for production and has maintained a decent distribution coverage ratio.
On October 30, Vanguard reported its Q3 2013 results. For the quarter, Vanguard posted production of 35,250 BOE/D, up 44% from 24,367 last year. Adjusted EBITDA, a key metric for measuring profitability for MLPs, came in 25% higher at $82.7M. Due to higher energy prices in the quarter, Vanguard's DCF came in at $52.9M, up 44% from $36.6M last year. However, Vanguard's coverage ratio did decline slightly to 1.09X from 1.12X last year. This was mostly due to a large 47% increase in units outstanding to 77.9M from 53.1M last year.
Q4 2013 and 2014 Outlook: Loads of liquidity ready to be deployed
Do note that many of Vanguard's metrics would have been much better in the quarter if the company had not issued equity earlier in the year. Back in June, Vanguard raised over $250M from both common and preferred units offerings. I had earlier speculated that the company may be close to a deal as upstream MLPs typically issue equity to fund transactions and acquisitions. However, Vanguard has been silent on this front.
During its Q3 2013 conference call, Vanguard noted that it is evaluating numerous transactions of various sizes. The company noted that it bid on over 20 deals in Q3 worth over $3.5B.
Unlike many of its peers, Vanguard has a large amount of liquidity available for purchases. Many peers have already announced or are close to closing very large transactions, including Linn Energy, Memorial Production Partners (NASDAQ:MEMP), and BreitBurn Energy.
Vanguard noted that it has nearly $900M in excess liquidity which can be used for acquisitions. However, the company is being picky, only looking to do an acquisition that is significantly accretive to DCF on a per unit basis. A good recent example of an extremely accretive acquisition would be from Memorial Production Partners, which allowed that company to boost its distribution 11%.
If I were to guess, the sharp increase in WTI prices during Q3 2013 may have deterred Vanguard from committing to a purchase of assets. Vanguard is not looking for a small, marginal transaction. Instead, the company is looking for a larger transaction which would allow it to meaningful boost DCF per unit.
In essence, Vanguard typically looks to buy assets and production on the cheap, then looks to hedge the anticipated production for many quarters, thus locking in the cash flow. While these hedges do have costs, it does protect companies from fluctuations in energy prices. Do note that about 12% of Vanguard's production is NGLs, which have historically been very difficult to hedge. As of Q3 2013, Vanguard NGL production is largely unhedged.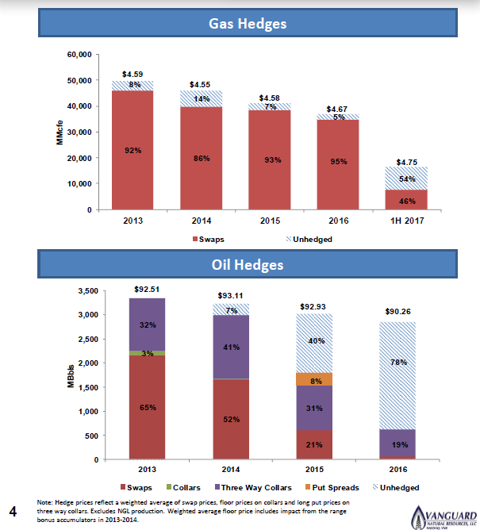 Click to enlarge
Final Thoughts and Conclusion
Vanguard continues to display strong fundamentals. Its coverage ratio remains well above 1.00, though is likely to decline in Q4 due to the current weak WTI pricing environment. In addition, as Vanguard does not have a general partner, it pays no IDRs, thus allowing it to benefit greatly from incremental cash flow increases relate to acquisitions.
Vanguard remains an interesting choice for income oriented investors. While the stock is unlikely to see significant price appreciation short-term, it does offer a solid stream of monthly income.
Disclaimer: The opinions in this article are for informational purposes only and should not be construed as a recommendation to buy or sell the stocks mentioned. Please do your own due diligence before making any investment decision.
Disclosure: I am long VNR, QRE, MEMP. I wrote this article myself, and it expresses my own opinions. I am not receiving compensation for it (other than from Seeking Alpha). I have no business relationship with any company whose stock is mentioned in this article.