By Jeff Pietsch
Markets provided little respite last week with nary a bounce so much as a brief pause that nevertheless left the S&P 500 (NYSEARCA:SPY) lower by another -1.7%. This third week of losses has the S&P 500 roughly -6.6% off its most recent closing highs.
(Click Image to Enlarge/ ETF Rewind Glossary)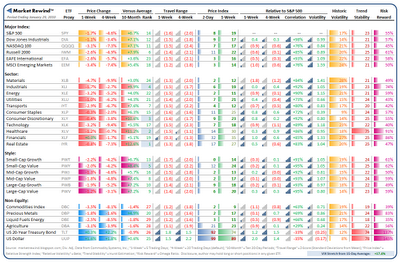 Also, a broad swatch of industries is now fairly heavily oversold in contrast to Treasuries (NYSEARCA:TLT) and the US Dollar (USD), which are equally overbought. Then again, these two assets classes are more likely to trend, as is evident in their relatively high ranking Trend Stability Scores. Equities are still "due" a bounce, but the prospect of added dollar pressure doesn't bode well.

Week Five of 2010 includes another busy reporting calendars, featuring the Friday Jobs Report, and rotation model selections:
Click to enlarge: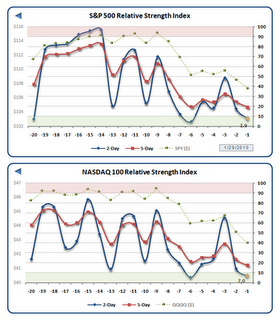 Have a terrific weekend!
Disclaimer
: Never Investment Advice