GE (NYSE:GE) is getting more and more innovative, as it continues to experiment with emerging technologies. This time researchers at GE's Surface Technologies Laboratory came out with an announcement that they will be using a technology called "cold spray" for their own enhanced version of 3D printing known as "3D painting," which is in the advanced stages of development. "Cold spray" is a well known technology in the manufacturing industry and is the basic process that is used in 3D printing (also called as additive manufacturing).
Cold spray:
"Cold spray" is the process of spraying metal powders, or any other suitable material, at high velocities to build a new part or repair an existing part. The process relies on a the combination of materials, technology, and the understanding of a product's function, and can in the immediate future be used for the repair of industrial and aircraft components such as rotors, blades, shafts, propellers, and gear boxes. Unlike the traditional metal part repairing processes like welding, the process does not require heat. It uses the spray velocities and chemical properties of material sprayed to achieve the required shape.
3D printing
3D printing is a process of making three dimensional solid objects from CAD-based digital models with the help of 3D printers. These 3D printers produce parts designed with CAD software by laying down successive layers of material until a three-dimensional shape is created.
GE vs Existing Players:
The prominent players in the 3D printing industry include Voxeljet AG (NYSE:VJET), 3D systems (NYSE:DDD), ExOne (NASDAQ:XONE), and Stratasys. All these companies are exclusively focused on 3D printing technology and offer 3D printers along with the related products and services.
Unlike all the established companies, GE is developing an enhanced version of 3D printing that it wants to use initially for complex repairs. The company's technology is different from the normal 3D printing in many ways; hence, the company's decision to refer to the process as 3D painting, not 3D printing. Discussed below are some key enhancements in 3D painting versus 3D printing:
Unlike 3D printing, which is very much limited in the size of the objects it can create, 3D painting is only limited by the spread of its spray. So, 3D painting is much more scalable and more attractive for the production of large structures.
3D printing is used to build new objects, whereas GE's 3D painting process can build new objects as well as repair existing parts.
3D printing requires a 3D printer to work, whereas GE is developing 3D painting as a platform-independent technology, which can act as a robotic arm that can make the complex repairs.
All told, the technology that the company is developing will be superior than the normal 3D printing in many ways.
GE is the premier infrastructure company and is a leading player in industries such as aviation, power and water, energy management, oil and gas, transportation and healthcare. The company is one of the world's largest suppliers of capital goods with an order backlog of hundreds of billion dollars from all around the world. A significant part of the company's revenues comes from the services contracts that include after sales services, supply of spare parts, repairs, routine maintenance, etc. So, the company will have enough internal demand for the technology to make it commercially viable from the day one of deployment. Apart from the internal demand the technology will also provide an opportunity for the company to enter a fast growing multibillion dollar industry, as we shall see shortly.
Conclusion:
3D printing is a fast-evolving multibillion dollar industry. GE is developing technology that will further enhance the scale and usability of existing processes. This new technology will deliver multiple benefits for the company:
Faster after sales services
A significant part of the company's revenues comes from service contracts that include after-sales services, supply of spare parts, repairs, routine maintenance, etc. With the help of the new technology, GE can cut down the time required for the repairs, particularly for the big repairs that require replacement or off-site repair, which sometimes can shut down work for weeks or even months. As the company itself has written:
Spray technologies are particularly attractive for the production of large structures, which are challenging for today's powder-bed additive manufacturing processes due to equipment size limitations. The cold spray technique has the potential to scale up to build larger parts, with the only limitation being the size of the area over which metal powders can be applied.
The repairs made by this technology will be much better than repairs made with existing technologies. Again, to quote GE:
Since cold spray does not require heat, like common repair processes such as welding, it allows a repaired part to be restored close to its original condition.

3D process is that it affords us the opportunity to restore parts using materials that blend in and mirror the properties of the original part itself. This extends the lifespan of parts by years, or possibly by decades, ultimately providing improved customer value,
The repairs made by this technology are not only fast and long lasting but also are cost-effective for customers, as it consumers less time with the least effect on productivity.
The technology will further enhance the brand image of the company as a leading provider of innovative, commercially viable and costumer friendly technologies, which will improve GE's brand recognition and give the company a competitive edge against its competitors.
The build-up and functionality of 3D painting technology is much advanced than the normal 3D printing technology and it is difficult to be replicated by competitors. The availability of cutting-edge, advanced and customer-friendly technology will keep company ahead of its rivals and will bring in more business.
Entry into the multibillion dollar industry:
According to Credit Suisse estimates (see the table below), the current size of the 3D printing (or additive manufacturing) market is about $3 billion, which CS expects to rise to about $11 billion by 2020, representing a CAGR of over 20%. Currently the company has no presence in the industry but in the future the company may enter the market. Any such move will be a big positive for the company and investors.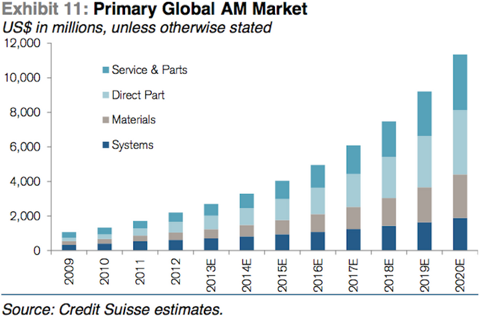 All in all, the company once again is quietly doing something that will take it way ahead of its competitors in the industry. The development will not only enhance GE's current margins but will also allow it to enter another high margin and fast growing industry.
Disclaimer: Investments in stock markets carry significant risk, stock prices can rise or fall without any understandable or fundamental reasons. Enter only if one has the appetite to take risk and heart to withstand the volatile nature of the stock markets.
This article reflects the personal views of the author about the company and one must research the stock and consult his or her financial adviser before making any decision.
Disclosure: I have no positions in any stocks mentioned, and no plans to initiate any positions within the next 72 hours. I wrote this article myself, and it expresses my own opinions. I am not receiving compensation for it (other than from Seeking Alpha). I have no business relationship with any company whose stock is mentioned in this article.