By Carla Fried
With nearly $1.3 trillion sitting in cash at the end of the second quarter, the C-suites of the S&P 500 are no doubt having some longer than normal conversations about capital allocation. According to FactSet, the current cash trove (which excludes financials) is 13.5% higher than a year ago.
The usual suspects in technology, Apple (NASDAQ:AAPL), Microsoft (NASDAQ:MSFT), Google (NASDAQ:GOOG) and Cisco (NASDAQ:CSCO) are sitting atop the biggest cash piles, but non techies are also awash in cash, including Coca-Cola (NYSE:KO), Pfizer (NYSE:PFE) and BP (NYSE:BP).
So what's a cash rich company to do? According to a recent Goldman Sachs report, return plenty to shareholders. Goldman Sachs estimates buybacks and dividends should account for about 40% of capital allocation among S&P 500 companies in 2013. That's a steep rise from the 30% level of 15 years ago during tech bubble 1.0. And that of course means that the usual growth drivers of R&D, capital expenditures and M&A now claim 60% of cash, down from 70%.
YCharts' Net Common Payout yield captures the extent to which a company is returning capital through dividends and share repurchases.
Among the cash-rich techies, Apple's nascent buyback program pushes its payback yield to near 7%, while Google still struts the "we're a growth company" strut and is returning no capital at all.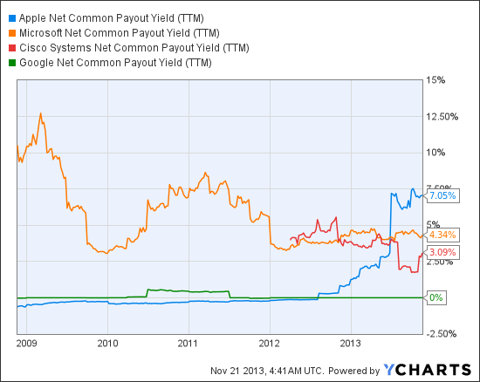 AAPL Net Common Payout Yield (TTM) data by YCharts
Of course Google can get away with that given that during the past two years-when cash coffers have exploded-it has delivered a much higher stock gain than the three others.
Using YCharts Screener to rank the S&P 500 by net common payout yield moves Apple to the middle of the pack. Dun & Bradstreet (NYSE:DNB) tops the list with a 15.7% net common payout yield.
But you might want to curb your enthusiasm a bit. Aggressive share buybacks are the main driver of the high payout yield. And that seems to be some deft financial engineering to boost earnings per share even though EBITDA has fallen off a cliff.
Buybacks are also the source of General Motor's (NYSE:GM) high payout yield.
The story shifts for Quest Diagnostics (NYSE:DGX). Its 13% net payout yield was powered by a steep dividend hike, paired with a more modest reduction in share count: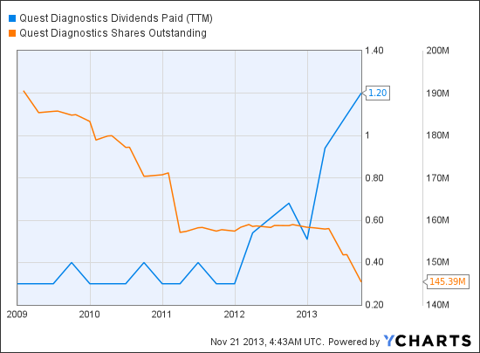 DGX Dividends Paid (TTM) data by YCharts
Even with that big dividend increase, the dividend payout ratio is below 35%, suggesting there's more room for dividend increases.
Quest Diagnostics also shows up near the top of a Screener for shareholder yield. This metric adds in the amount of debt that a company has paid off in the trailing 12 months to the other capital allocation metrics of dividends and share repurchases.
Student Loan firm SLM (NYSE:SLM) tops the list with a shareholder yield of 58%, more than three times the level of #2 DirecTV (DTV) at 15%. The company formerly known as Sallie Mae, has been shedding debt at a fast clip-reducing its long term debt by more than 10% over the past year. That is the main driver of the high shareholder yield.
And don't be fooled by the dividend, which has risen about 20% in the past year. The servicer of federal student loans and private loan originator stopped paying a dividend for three years during the financial crisis. The dividend returned in 2011 but is still just 60% of its pre-crisis high.
As any Berkshire Hathaway (NYSE:BRK.B) portfolio watcher knows, the story with DirecTV is all about share repurchases, as the firm pays no dividend and debt reduction has been minimal.
The company seems to get a bit of pass on the financial engineering move. While EBITDA has increased 55% over the past five years, earnings per share looks great, more than tripling over the past five years thanks to the reduction in share count. That seems just fine with investors, who have bid up shares more than 170% during a stretch when the S&P 500 price change is a mere double.
Bottom line is that as interesting as shareholder yield is, it can be a hotbed for financial engineering whizzes. And at the end of the day, there's still no substitute for straight-up, no smoke, no mirrors dividend growth. That's an actual payoff you can take to the bank. And with a bit of research, finding companies with current dividend growth and the balance sheet to support future dividend growth gives you two payoffs: an increasing dividend and the likelihood that you're invested in a solid company. After all, any company an buyback shares for a few quarters. Paying-and growing- a dividend for years is not something you can engineer without earnings and cash flow.
Don Kilbride, manager of the standout $18 billion Dividend Growth fund is all about dividend growth. His third quarter portfolio isn't out yet, but in the second quarter Kilbride added just one new position, Merck (NYSE:MRK) to the 50-stock portfolio. He also added to his two largest positions, Microsoft, which has doubled its dividend over the past five years, and McDonald's (NYSE:MCD) which has raised its dividend more than 60% over the past five years.
In terms of future dividend growth potential, Microsoft is likely to be able to continue to raise its payout at a faster clip; its dividend payout ratio is just below 30%, compared to 53% for Microsoft.