If you've been reading this series of articles recently (or even for a while) you may have noticed that the list of stocks that I had on my watch list to possibly add to either my IRA or my wife's IRA had gotten a bit thin. The same old companies were still hanging around, and the available choices weren't jumping up and saying, "Pick me!" like they had in the past. So I decided to reload my watch list with some fresh blood, and take a look at some of the old timers to see if they still warranted keeping.
I needed a place to start in terms of what stocks would make good additions to my revamped watch list. Over the course of several recent articles about My Mad Method (MyMM) and my wife's IRA, several readers had offered some helpful suggestions, mostly in the realm of REITs. As I sifted through this list, not many of them jumped out at me as being "must haves" on my new watch list, but some did. That was helpful, but not nearly enough to really overhaul the list of possibilities.
So I turned to a resource that I found very helpful at the start of this year: David Van Knapp's eBook Top 40 Dividend Growth Stocks for 2013. Now, I'm not going to spill the beans and say which stocks came from Dave's list of suggested Dividend Growth stocks for 2013, but I will say that I already had quite of few of his picks in either my or my wife's portfolio. Also, not everything on Dave's list that I didn't already own made it onto my watch list, and there are a few extras that I've included based on feedback from readers of my past articles, and my own ideas.
I ended up with a list of 24 stocks that I'd like to keep an eye on, or continue to keep an eye on in some cases. Here is that list, in alphabetical order of each company's ticker symbol:
| | |
| --- | --- |
| Company | Ticker |
| Automatic Data Processing | (NASDAQ:ADP) |
| Air Products & Chemicals, Inc. | (NYSE:APD) |
| Baxter International, Inc. | (NYSE:BAX) |
| Cracker Barrel Old Country | (NASDAQ:CBRL) |
| Colgate-Palmolive | (NYSE:CL) |
| CMS Energy Corporation | (NYSE:CMS) |
| Chevron Corp | (NYSE:CVX) |
| Digital Realty Trust, Inc. | (NYSE:DLR) |
| Emerson Electric | (NYSE:EMR) |
| Genuine Parts Company | (NYSE:GPC) |
| Alliant Energy Corporation | (NYSE:LNT) |
| Altria Group, Inc. | (NYSE:MO) |
| NorthStar Realty Finance - Preferred C | (NYSE:NRF) |
| PepsiCo, Inc. | (NYSE:PEP) |
| Procter & Gamble Company | (NYSE:PG) |
| Reynolds American, Inc. | (NYSE:RAI) |
| Republic Services, Inc. | (NYSE:RSG) |
| Shaw Communications, Inc. | (NYSE:SJR) |
| Southern Company | (NYSE:SO) |
| Textainer Group Holdings Limited | (NYSE:TGH) |
| Target Corporation | (NYSE:TGT) |
| UGI Corporation | (NYSE:UGI) |
| Ventas, Inc. | (NYSE:VTR) |
| ExxonMobil Corp | (NYSE:XOM) |
(Unfortunately, I couldn't find any information on NRF's Preferred C stock offering on Seeking Alpha, but that is what I am interested in tracking for the purposes of my watch list. Information about NRF-C (or NRF-PC, as Yahoo! Finance calls it) can be found on most other sites that provide detailed financial data.)
After looking up and loading all of the data necessary to populate the 16 metrics that I currently track in the MyMM spreadsheet I was able to get an idea of how all of these companies stacked up against each other in terms of their rankings in each of those metrics. However, in addition to their basic rankings, I'm more interested in how these companies compare to each other in terms of their Yield, and their 5 Year Dividend CAGR. These two metrics combined form the Chowder Dividend Rule (NYSE:CDR) number, and that is how I wanted to weight this list to narrow down my choices for where to put future funds.
So I weighted both yield and the 5 Year Dividend CAGR by 25%, which applies a 4.00 multiplier to those metrics (as compared to the 1.00 multiplier that all the other metrics' rankings received) to get a better picture of what might be my next choice(s) for adding a new position or two to either my IRA or my wife's IRA.
I decided for this round of ranking that I would also weight each company's Dividend Champion, Contender and Challenger (NYSE:CCC) Rank by 25% as well. This is because I've entered a phase in my investing lifecycle where I would like to add companies that have proven track records for growing their dividends every year, especially as I add more positions to my wife's fledgling portfolio.
Here are the results of applying a 25% weighting to these three metrics to the list above, this time ordered by their Weighted MyMM Rank: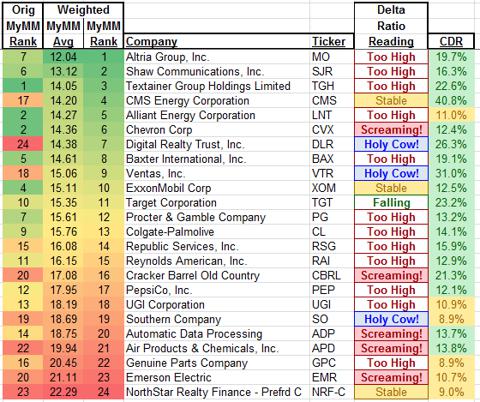 Let me take a moment to explain the table above. The first column is Original MyMM Rank, which is the unweighted rank that each stock received just on the basis of my 16 MyMM metrics. The next two columns are Weighted MyMM Average and Weighted MyMM Rank. The average is displayed in order to give a relative understanding of how close (or far apart) any two consecutively Ranked stocks are to each other. As you can see, Altria Group, Inc., is clearly Ranked #1 based on the weightings I described above, by a healthy margin, whereas Chevron Corporation (#6) and Digital Realty Trust, Inc. (#7) scored very closely to each other in terms of their Weighted MyMM Averages.
Also included in this table is the Delta Ratio Reading, which is essentially a relative indication of whether a stock's current price is close to the average of its 52-week high and low prices ("Stable"), somewhat above ("Too High") or below (Falling) that average, or significantly above ("Screaming!)" or below ("Buy!", or in the extreme "Holy Cow!").
And finally we have the Chowder Dividend Rule number, which is the combination of each stock's current Yield and 5 Year Dividend CAGR. Having this number on the table lets me evaluate whether a stock that is Ranked a bit lower than another might actually be more attractive as a first (or second) choice for a new position, based on the difference between their CDR numbers. In other words, one stock might be Ranked higher than the next, but the lower of the two might have a significantly higher CDR number, making it potentially more attractive as a future pick based on my current goals for finding stocks that have a good chance at generating even more income for me in the future.
Now that I armed myself with this new list of prospects, I was ready to start making some serious decisions about where to put future funds, when I have enough funds to work with to warrant starting a new position in my portfolio. I will be writing soon about what I ended up doing with the funds available to me, in both my IRA and my wife's IRA account, so stay tuned.
Disclosure: I am long MO, TGH. I wrote this article myself and it expresses my own opinions. I am not receiving compensation for it (other than from Seeking Alpha). I have no business relationship with any company whose stock is mentioned in this article.
Additional disclosure: Disclaimer: I am not a professional investment advisor or financial analyst; I'm just a guy who likes to crunch numbers and can make an Excel spreadsheet do pretty much whatever I want it to do, and I'm doing my best to manage my own portfolio. This article is in no way an endorsement of any of the stocks discussed in it, and as always, you need to do your own research and due diligence before you decide to trade any securities or other products.