ExOne (NASDAQ:XONE), a global provider of three-dimensional printing machines and printed products, has a two-pronged revenue model. The first source of revenue comes from selling 3D printing machines, which are built in their facilities in the United States and Germany. The second source of revenue comes from Production Service Centers (PSCs) which provide printed products /services to customers who either don't have the capacity to purchase a 3D machine, or simply don't need one. These PSCs give customers access to 3D printing without having to house, maintain, and operate a machine. ExOne differs from other major players in the industry - 3D Systems (NYSE:DDD), Stratasys (NASDAQ:SSYS) - by only serving industrial customers.
Competitors and the Commercial Industry
I am not a fan of commercial 3D printing nor do I think it is as reasonable as all the surrounding hype suggests. A friend recently sat on a panel where Ping Fu, chief strategist of DDD, was pushing a printed shoe to an audience at the Google Campus. He questioned if she was trying to disrupt the billion-dollar shoe industry or alternatively disrupt the million-dollar plastic shoe industry. Whether the plastic shoes are going to disrupt the entire industry or not - I highly doubt it.
DDD and SSYS are the IBMs (NYSE:IBM) of the 3D printing industry: They held patents which allowed them to defend 1980's tech, with little to no innovation happening between 1983-2003 until those patents expired. Their legacy revenues are from machines that cost anywhere between $60K-$600K. It was only when the patents expired in 2003 that 3D printing came down to the price you see products available today. At that time when the machine cost shifter to $600-$6,000, a new market was born. MakerBot initially captured the market by redirecting customer focus from NASA and Boeing towards hobbyists. In 2009 the beginning of file libraries gave way to a new business model (Shapeways do centralized production as well as library, concentrating on small items like jewelry and figurines). The substantial revenues of both DDD and SSYS have allowed for several acquisitions, such as the SSYS purchase of MakerBot (albeit massively over-paying for it-separate conversation.) I more think about it as a disruption point, that those two are doing well now and will continue to do well in the future, but neither are the Bill Gates or Steve Jobs that will revolutionize manufacturing.
3rd Quarter: The Numbers
In Q3 ExOne reported their first ever operating profit from $11.6 million in revenue. This translated into a $0.02 net loss in basic and diluted shares. Revenue increased 36.5% from last year's third quarter revenue (a decrease in the yen lead to a foreign currency translation loss). Something important to note is the type of machines that were sold this quarter (see table).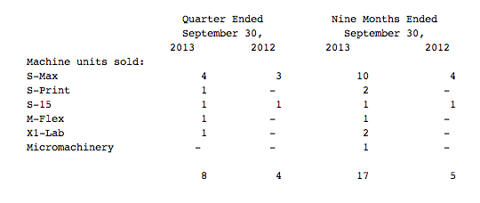 They sold 8 machines in each of the four platforms; for the first time in company history. Gross profit increased by 3.4% YOY due to improving efficiencies in the processes. Operating expenses decreased 46% YOY which were offset by a 270% increase in R& D - exactly what you want to see a company doing to improve machinery of this caliber. They are currently sitting on $115 million in cash, of that $40-$50 million will be used for global operations, more specifically PSC capacity (10-Q SEC Filing).
Going forward, ExOne plans to shift their business model to a 50/50 split between machines and PSC revenue, as well as spreading these services/products globally so as to not be tied to the success of one or two regions. They are taking all the right measures to ensure this happens: "By 2015, we plan to expand our PSC network from the current seven locations to fifteen locations." Why is this important? If you look at the trends, certain customers aren't as interested in purchasing and housing ginormous machines but would rather enjoy the benefits of 3D printing without having the responsibility of owning the machines themselves. Kent Rockwell, CEO, explains that they continue to have customers asking to be involved in the design process while still receiving quality parts needed for industrial production. Their increasing PSC network is the answer to this future demand.
They are building a massive sales team: Headcount for the sales network is up 70% since the IPO in February. The original IPO was used to focus on capacity expansion and a majority of the proceeds were used for the Germany building. The secondary offering, in September, will be used for a post and pre-print ramp up - the EXCAST process.
EXCAST
This is the X-factor and a major catalyst for ExOne to have large potential upside. There is currently a void in the market that XONE is filling through its PSCs, but even those are a Band-Aid on flesh wound. There has been little mentioned about this proprietary process other than company executives stating "[they] are still filing some IP of EXCAST and will be hearing a lot more about it in the coming weeks" (Q3 Transcript XONE). As an addition to the PSC process which provides guidance through every stage of additive manufacturing, EXCAST will produce high-quality castings at a much more rapid rate. This growing demand for specific products and quick development will be met as more materials start running across EXCAST platforms. The process allows for closer strategy with customers who have larger dollars attached to projects. This is unique to ExOne and will be integrated into every PSC across the globe.
Management Audible
Last week CEO Kent Rockwell announced that CFO and longtime friend, John Irvin, will be stepping down from his position for family issues. He will become a special advisor to the chairman where he will concentrate on the maturation of specific projects. The new CFO, Brian Smith, has worked with the team for quite some time in a different fashion. Previously he was the Senior Audit Partner, at PWC, working on XONE. He served as Kent's auditor on other past public companies Astrotech and SensysTech. He knows this business inside and out and how to work alongside the management team.
Q4 Catalysts and Conclusion
They currently have a customer identified for each machine as well as for every project in the fourth quarter. Sales Centers have been established in Brazil and China. The 8th and 9th PSC locations, in Asia and Western Europe, are in the process of being built and will have announcements in the coming weeks. David Burns, COO, stated they expect to end be at higher end of gross profit margin estimates (42-46%). This is attributable to a heavy mix of high margin machines expected to be sold in fourth quarter, which will drive up gross profit (more specifically the S-Max). Q4 could also be big for revenue based on orders that have been held back due to governmental issues dealing with foreign countries such as Russia and India. The latest PSC in Las Vegas will cater specifically to aerospace, automotive, and energy sectors in Southern California. By concentrating on these large industrial sectors that are willing to pay top dollar for the perfect fit, I believe XONE is positioned perfectly for massive future growth. Based on coming EXCAST announcements/developments and a strong 4th quarter ahead, now is the time to enter this stock - especially after fellow contributor Richard Pearson published on Organovo (NYSEMKT:ONVO), which brought ExOne down 8% with it.
Disclosure: I am long XONE. I wrote this article myself, and it expresses my own opinions. I am not receiving compensation for it. I have no business relationship with any company whose stock is mentioned in this article.