Geron (NASDAQ:
GERN
) is teaming up with the University of California to investigate the therapeutic potential of its human embryonic stem cell-based product, GRNOPC1, for Alzheimer's disease. While the Menlo Park, California company is developing GRNOPC1 as a potential treatment for spinal cord injuries, Geron senior Chief Scientific Officer Jane Lebkowski says there are "striking parallels between recent data on mouse stem cells in Alzheimer's disease models and what we know about GRNOPC1."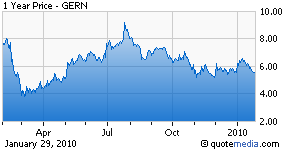 An expanded indication for the treatment would be good news on what has proven a bumpy road for Geron's pursuit of GRNOPC1 approval. In May 2008, the FDA placed a clinical hold on Geron's early-stage trials of the drug. A clinical hold is an order that the FDA issues to a sponsor to delay a proposed trial or to suspend an ongoing investigation. That move spooked investors, who sent Geron shares tumbling 22 percent.
Since then, Geron has been able to continue trials, although it was delayed again in August when it found that some animals treated with the stem cell injections developed tiny, though reportedly non-adverse cysts.
Funding for the Alzheimer's work, to be conducted at UC Irvine, will be sourced jointly from Geron and a University of California Discovery Research and Training Grant. That program combines a primary award, based on an industry sponsor's cash commitment, with an in-kind incentive award based on "well justified" in-kind contributions. The total amount of the funding was not disclosed.
The collaborative study is designed to assess whether memory, which is impaired in the rodent models as it is in human patients, shows recovery after transplantation of GRNOPC1.
The research will be led by UC Irvine Professor Frank LaFerla, Director of the Institute for Brain Aging and Dementia, who's past work on the subject has pointed to an increase in neuronal synaptic connections in mice receiving transplanted neural stem cells.
Alzheimer's disease affects an estimated 5 million people in the U.S., with nearly 500,000 new cases predicted each year.