In our last Roundy's Supermarkets, Inc. (RNDY) article, we performed a valuation analysis of its two separate business models: its low-end grocery chain and its high-end Mariano's stores. Upon receiving some great feedback on the article, we would like to follow up by presenting a sensitivity analysis on two key factors relating to the break-up valuation: Revenue growth and net income margin of Roundy's low-end supermarket chains. Those chains include Pick 'n Save, Rainbow and Copps.
Roundy's Sensitivity Analysis
To review, it appears most agreed that the Mariano's brand deserves a higher multiple than its low-end grocery store counterparts. In this analysis, we assume the same Mariano's valuation parameters as in my last analysis and only vary the assumptions made on the low-end grocery chains. Hopefully, this analysis will provide new insight into what the market is currently pricing into the stock as a whole.
Financial Projections and Assumptions
Let's start by reproducing Roundy's income statement broken down into the two segments (Roundy's excluding Mariano's and Mariano's stand-alone). For more details on how we produced the financial projections below, please refer to the last article.
(click to enlarge)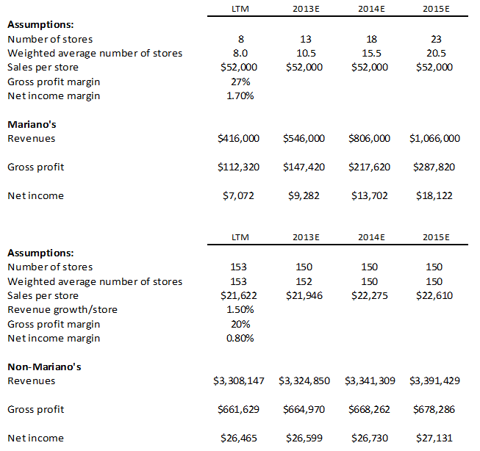 Click to enlarge
The estimated margins for the lower-end and higher-end business units are based on comparable company margins for each division (Safeway (NYSE:SWY), SuperValu (NYSE:SVU), and Kroger (NYSE:KR) for the non-Mariano's chains and Whole Foods (NASDAQ:WFM), The Fresh Market (NASDAQ:TFM), Village Supermarket (NASDAQ:VLGEA) and Natural Grocers (NYSE:NGVC) for the Marino's segment). This time, rather than assume the stable revenue growth per store and margins shown above, we provide an analysis that will simultaneously vary the revenue growth and income margin. We also produce tables that reflect sensitivities to these fundamentals and the valuation multiple assumed for the low-end grocery chains. According to the comparable company valuations, the median forward P/E multiple for high-end grocery chains is about 35 times, but we chose to use 19.5 times because Village Supermaket is Mariano's closest competitor. The median forward P/E multiple for Roundy's lower-end comparables is about 15 times. This is the one we will vary.
Break-up Analysis
Valuing the discount and high-margin chains separately using the 1-year forward low-end chain P/E and the LTM Village Supermarket P/E (and using 2014 projections), we see the following: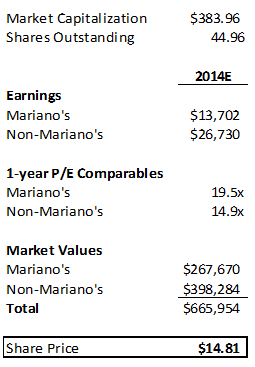 SensitiviesAs before, we acknowledge a discount to the LTM multiple but must use it since the forward year P/E is not available.
Below we show three separate sensitivity tables. The first pits sales growth of the low-end stores vs. net income margin:
(click to enlarge)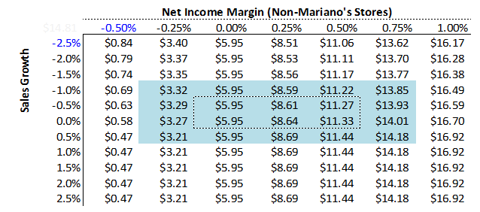 Click to enlarge
As you can see here, the market currently believes Roundy's will experience zero growth in its low-end chains. It also does not appear to have much of an impact on the equity valuation, since varying it substantially yields almost no change in stock price. Obviously the net margin sensitivity is a different story. This also should not be surprising given the high leverage of the firm. It also speaks to the main point made in the last article - if the firm can repay its debt quickly, there is a huge potential for upside in the stock price. Currently it appears the market believes the net margin will soon be a quarter of what it is today (excluding the charges last quarter, we believe Roundy's low-end net income margin tends to run in the 0.8% range).
To determine whether the median comparable P/E multiple used to value the equity has any real impact on Roundy's stock, we next consider the sensitivity of revenue growth (which we know has almost no bearing) vs. the forward P/E multiple (used on the low-end segment):
(click to enlarge)

Click to enlarge
Again, the revenue growth rate has little impact (which we knew), while the market multiple is a bit more sensitive - but not nearly to the extent to which the net income margin affects valuation.
Finally, let's put the market multiple and the net income margin sensitivities together:
(click to enlarge)

Click to enlarge
Conclusion: Asymmetric Upside vs. Downside
This analysis is probably the most telling. Note the conditional shading: The green shows a 10% or more upside to today's $8.36 stock price, while the red shows below a -10% downside or more to today's price. While obviously an industry re-rating would allow a high tide to lift all boats, the likelihood the collective margin of the low-end chains dipping below zero is low, considering management's strategy to cull the underperforming supermarkets. It will be a question of management's nimbleness and stubbornness. Also note the right-most column ends at 0.70%, which is below our current 0.80% estimate. We will need to see how management handles a razor-thin margin difference in the coming quarters.
Disclosure: I am long RNDY. I wrote this article myself, and it expresses my own opinions. I am not receiving compensation for it (other than from Seeking Alpha). I have no business relationship with any company whose stock is mentioned in this article.