Tesla (NASDAQ:TSLA) reported in-line third-quarter results that showed record levels of Model S production, deliveries, and vehicle gross margin in the calendar quarter. The freshly-minted electric automaker generated positive free cash flow in the period ($26 million) and put up its third consecutive quarter of non-GAAP net income. The firm is now producing 550 cars per week, and Tesla plans to continue to increase production over the next several quarters to keep up with demand expansion. Tesla's non-GAAP automotive gross margin (excluding zero emission vehicle credits) rose to 21% from 14% last quarter, as the firm was able to extract cost reductions and improve average pricing thanks to a greater mix of highly-optioned European deliveries and ones with 85kWh battery packs. Excluding zero emission vehicle credit revenue, non-GAAP sales advanced 18% on a sequential basis, while non-GAAP net income totaled $16 million, or $0.12 per share, during the period.
The company's improved profitability and positive free cash flow continue to be impressive developments for an upstart automaker. However, what we find to be absolutely staggering is the health of Tesla's balance sheet. To accomplish the herculean feat of entering the auto-making business, we'd expect the firm to have a huge debt load, little cash, and be on the path to issuing secondary offering after secondary offering. Tesla's balance sheet, however, is quite the contrary. The firm sits on $795 million in cash versus only $582.5 million in long-term debt at the end of the third quarter. This is an amazing feat in itself.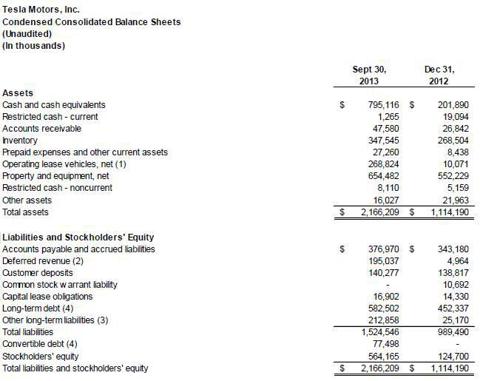 Image Source: Tesla
The firm's fourth-quarter outlook wasn't bad. The company plans to deliver slightly under 6,000 Model S vehicles in the period, with average selling prices expected to be relatively flat sequentially. Tesla expects to achieve its target of a 25% non-GAAP automotive gross margin in the period (assuming no contribution from ZEV credits) and may exceed it if the mix continues to improve. Non-GAAP profitability is expected to be flat, and free cash flow is expected to be close to breakeven. Still, despite the decent outlook for the fourth quarter, the market was disappointed that the firm decided not to share details about its 2014 plan.
Valuentum's Take
We see no reason to take the leap of owning Tesla's shares in the portfolio of our Best Ideas Newsletter. We are amazed at its achievements in its corporate life thus far, but the company's share price is still far ahead of its underlying fundamentals. It may take a number of years before Tesla's performance finally catches up with its market capitalization, and we'll be waiting comfortably on the sidelines should this happen. Shares are falling aggressively to our fair value estimate range in trading today.
Disclosure: I have no positions in any stocks mentioned, and no plans to initiate any positions within the next 72 hours. I wrote this article myself, and it expresses my own opinions. I am not receiving compensation for it (other than from Seeking Alpha). I have no business relationship with any company whose stock is mentioned in this article.