The world of electric utilities is segmented into several market niches with the first major category being regulated versus unregulated. As most investors know, the largest operating segment of unregulated utility assets is the merchant power generation business. Many utilities are modeled for mostly regulated businesses while others have considerable exposure to the merchant power generation business. There are several utilities with substantial exposure to merchant power and include AES (AES), Calpine (NYSE:CNP), Dynegy (NYSE:DYN), Exelon (NYSE:EXC), Entergy (ETR) and NRG (NYSE:NRG). To understand these companies, investors need to manage their expectations of the business model, as they are very different than the plain vanilla regulated electric utilities.
When a utility builds a power generating facility, management has two choices - to operate the facility as part of its regulated asset base where investor returns are capped by the state PUC boards or to operate as a merchant power facility where the electric output is sold on the open market. Merchant power producers are usually regulated by the FERC and the power that is produced is sold either as a power purchase agreement PPA or as part of an auction process. PPAs usually have a 20-year contract period while the auction markets are much shorter at about 3 to 4 years. Merchant power producers with PPAs usually have more stable revenues and income flows than auction contracts. With higher electricity prices, auction-pricing models can outperform PPA models, but the switch side is also true that in times of low prices, PPA models outperform. Independent power producers IPP, such as wind and solar, are usually grouped together with merchant power producers and most try to utilize longer-term PPAs.
While a typical regulated utility will sell to retail, commercial and industrial customers in a specific geographic area, merchant power producers primarily sell electricity to investor-owned utilities, independent power producers, municipalities and electric cooperatives.
Southern Company (NYSE:SO) has a subsidiary which is a merchant power producer relying heavily on PPA contracts. SO operates Southern Power, which generates about 8,700 MW of merchant power mainly in the southeast. Southern Power attempts to insulate itself from significant fuel supply, fuel transportation and electric transmission risks by generally making such risks the responsibility of the counterparties to its PPAs. The Company has entered into long-term power sales agreements for an average of 77% of its available capacity for the next five years and 70% of its available capacity for the next 10 years.
Below is an example of most recent long-term PPAs from Southern Power over the last three years. Notice the contract expiration dates with the average period ending in 2028.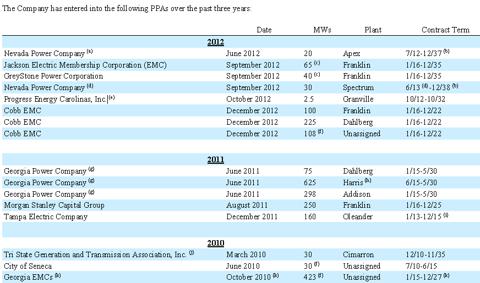 Source: Southern Company 2012 10-K
Utilities usually like the merchant power business due to the potential for higher profit margins. For example, Southern Power's extended PPA profile offers a better return on revenues than its regulated businesses. In 2012, SO generated $573 million in operating cash flow from its merchant power revenues of $1.19 billion, for gross ocf margins of 48%. The balance of SO generated $4.3 billion in operating cash flow from revenues of $15.3 billion, for gross ocf margins of 28%.
In 13 states in the Northeast and Midwest , electricity is controlled by the PJM, a Regional Transmission Organization RTO, that coordinates its generation and transportation. The general service area is from New Jersey to North Carolina, and out to Chicago and Northern Illinois. PJM's goal is to create a competitive and stable supply of electricity within its region. PJM controls pricing of electricity distributed by 17 separate regulated utilities, from American Electric Power (NYSE:AEP) to Atlantic City Power Company. More Information is found here.
One aspect of PJM oversight is the use of 3-year rolling auctions to purchase substantial amounts of power for distribution within the grid. Rather than long-term contracts between 15 and 20 years, the most recent PJM auctions last May were for electricity to be provided in 2016/2017.
The difference in volatility between the two pricing models is substantial. Below is a graph outlining the PJM auction results by year from 2007/2008 to 2016/2017. Prices are graphed by service area, with the largest being the RTO, Regional Transmission Organization. The other areas are smaller service areas of MAAC MidAtlantic Area Council, EMAAC East MidAtlantic Area Council and SWMAAC SouthWest MidAtlantic Area Council. For example, the SWMAAC is mainly the state of Maryland.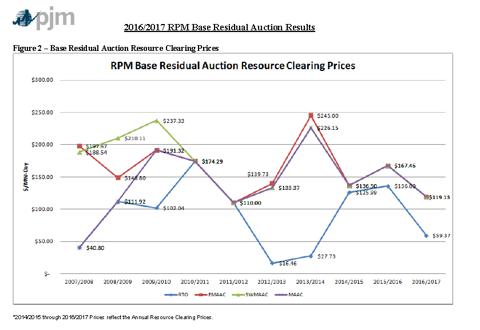 PJM May 2013 press releases for the auction are here and here:
This year, the auction procured 169,160 MW of capacity resources at prices ranging from approximately $59 to $219. A megawatt is enough electricity to power 800 to 1,000 homes. Prices were generally lower in most areas of the PJM footprint compared to last year's auction. "Capacity prices were pressured by a combination of factors," said Andrew L. Ott, senior vice president - Markets. "Prices were generally lower than last year's auction due to competition from new, gas-fired generation, low growth in demand because of the slow economy and increased imports from other regions, primarily to the west of PJM. These factors also contributed to a reduction in commitment of demand resources."

With only minimal increase in the demand for capacity, supply-side effects have driven the results of the 2016/2017 BRA (base residual auction). Overall increased supply through new entry, updates and a significant increase in imports (from outside PJM) overwhelmed the decrease in available demand.
Included in this year's auction are an increased number of new power generation sources both within the eastern region and imported from non-PJM areas. However, demand has been stagnant, putting pressure on pricing.
The EIA has graphed electricity demand growth since 1950. The trend has been a declining growth curve with the curve bottoming out in negative numbers during the recent recession. It seems the short-term forecast is for a slipping of demand growth numbers back to negative before regaining some strength.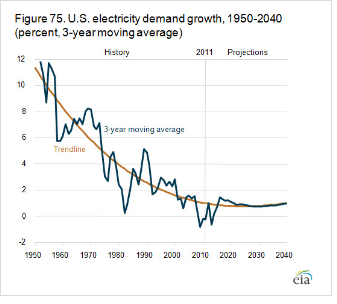 Source: eia.gov
In all, the market conditions look weak for wholesale prices in the PJM controlled east. It is a bit ironic that the Middle Atlantic has one of the highest average monthly prices according to the EIA. Below is a table of the average price of electricity in various parts of the US:
Average price cents per kilowatt hour from eia.gov:
| | | | |
| --- | --- | --- | --- |
| Region | Aug-13 | Aug-12 | change |
| New England | 14.51 | 13.97 | 3.9% |
| Middle Atlantic | 13.61 | 13.3 | 2.3% |
| East North Central | 9.66 | 9.46 | 2.1% |
| West North Central | 9.94 | 9.45 | 5.2% |
| South Atlantic | 10.07 | 10.02 | 0.5% |
| East South Central | 9.14 | 8.92 | 2.5% |
| West South Central | 8.86 | 8.49 | 4.4% |
| Mountain | 9.95 | 9.54 | 4.3% |
| Pacific Contiguous | 13.25 | 12.96 | 2.2% |
source: eia.gov
Standard & Poor's Ratings Services agrees with this weak market trend. Their March 2013 report (pdf) title just about says it all: Industry Economic and Ratings Outlook: Outlook For U.S. Merchant Power And Independent Power Producers Continues To Be Unfavorable.
As operating margins in the merchant power business sank, producers started buying regulated utilities in an attempt to stabilize profits. For example, EXC bought Constellation Energy and AES bought Dayton Power and Light. Many of the merchant power producers are now "hybrids" where a large portion of earnings is derived from regulated activities.
According to the EIA, below is a table of the largest IPP and merchant power producers in the US: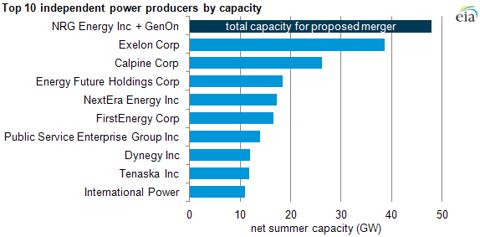 Source: U.S. Energy Information Administration, as of August 2012.
NRG is the largest merchant power producer in the US, after its merger with GenOn in Dec 2012, followed by EXC. Within this list of the largest producers, fuel source and geographic location should be important criteria. The most volatile pricing structure is auction rate exposure and the lowest cost fuel is nuclear. With depressed PJM pricing, merchant power producers in the east are experiencing a more difficult time with profit margins than those generators using PPAs. Nuclear power is the lowest ongoing base load cost. The newest generation facilities are using natural gas, which is still relatively cheap. This is putting additional pressure on pricing. In many instances, the intermittent load of subsidized wind power is coming on the grid at prices lower than nuclear, adding further downward pressure.
As demand improves, the pricing equation in the shorter contact PJM geography should improve in lockstep. Additional upward pricing pressure from rising natural gas markets will be a positive for these merchant producers as well.
Below is a typical cost of fuel table provided by Southern Company. What becomes apparent is the dramatic decline of 33% over the past 3 years in the price of natural gas per net KWH.
Cost of fuel, generated (cents per net KWH)
| | | | |
| --- | --- | --- | --- |
| Fuel Type | 2012 | 2011 | 2010 |
| Coal | 3.96 | 4.02 | 3.93 |
| Nuclear | 0.83 | 0.72 | 0.69 |
| Gas | 2.86 | 3.89 | 4.27 |
Source: Southern Company 2012 10-K
When the natural gas market recovers to pre-2009 prices, the cost to generate electricity from gas will also increase. This will benefit producers that utilize nuclear due to lower fuel costs.
The two largest nuclear companies have substantial exposure to the PJM auctions. This translates into volatility in share prices, as their product-pricing model is more volatile than PPAs. Exelon and Entergy are the largest US producers of nuclear power in the PJM regions. As profitability returns to the auction markets along with rising natural gas pricing and increasing demand, these two companies should have better leverage to the turnaround.
The merchant power business has been in a state of flux for many years. For example, with the growth of the competitive generation market in the 1990s, several utilities spun off assets as separate companies that would operate as merchant power producers. NRG was formed from the regulated utility Xcel Energy (NYSE:XEL), and GenOn was formed from Mirant Energy, which was once the merchant arm of the Southern Company.
The landscape of merchant power producers continues to shift. Last month Ameren (NYSE:AEE) reported the FERC approved the sale of their merchant power business to Dynegy. Mr. Martin J. Lyons, Jr., executive vice president and chief financial officer of Ameren Corporation, commented in the press release,
These divestitures are a key component of our strategy of focusing on our rate-regulated operations and allocating our growth capital to higher return opportunities. Our planned investments in transmission, distribution and generation infrastructure will help ensure reliable service for our customers and drive enhanced shareholder value.
The merchant power sector has a much checkered past. Seemingly, much like the airlines industry, large merchant power producers cycle in and out of bankruptcy.
Calpine has a large capacity of natural gas-fired generation and filed for bankruptcy in 2005 when natural gas skyrocketed to $12/MMBtu.
Dynergy recently exited bankruptcy and was plagued by high cost, declining demand and low electricity revenues.
NEG was liquidated in Chapter 7 in 2004 due to serious debt problems after borrowing heavily to expand its natural gas-fired capacity.
GenOn was created after Mirant, exiting from bankruptcy after being spun out of Southern Company, merged with the merchant power business of Reliant.
NRG went through its own bankruptcy in 2004.
In Oct 2013, NRG decided to acquire Edison Mission Energy, a subsidiary of Edison International (NYSE:EIX) for a purchase price of $2.64 billion. The buyout will add nearly 8,000 megawatt (MW) of capacity to NRG Energy's generation portfolio and diversify its generation portfolio.
The merchant power business is very much unlike the regulated electric utility firms that most investor imagines with the sector. The merchant power business is fraught with higher risk, but also higher potential reward. It is prejudiced to compare a merchant power producer with a regulated company and expect similar risk profiles.
EXC and ETR offer a bit higher yield of 4.4% and 5.2%, respectively. For investors willing to wait for a turn in electricity demand in the East, coupled with higher natural gas pricing leading to higher electricity prices, EXC and ETR could be intriguing opportunities. However, as the latest PJM auction indicated, the turn will not come tomorrow.
Author's Note: Please review important disclaimer in author's profile.
Disclosure: I am long EXC, SO, AEP. I wrote this article myself, and it expresses my own opinions. I am not receiving compensation for it (other than from Seeking Alpha). I have no business relationship with any company whose stock is mentioned in this article.