Sprint's (NYSE:S) margins are being squeezed by rising ad spend and falling revenues. Mobile phone companies like Sprint, AT&T (NYSE:T) and Verizon (NYSE:VZ) are amongst the biggest ad spenders. Media firm Advertising Age ranked Verizon and AT&T the #2 and #3 largest ad spenders in the US in 2009 respectively, ahead of brands like Coke (NYSE:KO), Pepsi (NYSE:PEP) and Disney (NYSE:DIS).
While Sprint competitors AT&T and Verizon have grown their subscriber base in recent years, Sprint has been losing customers leading to declines in its mobile phone revenues. The company raised its ad spend by approximately $400 million in 2009 over 2008 in an effort to attract new subscribers to offset declines in its subscriber base. Although necessary to grow subscribers, the rising ad spend is driving Sprint's margins down and depressing the company's valuation.
Below is a comparison of ad spend amongst mobile phone competitors AT&T, Verizon and Sprint, and how Sprint's rising ad spend impacts the company's stock.
Ad Spend
Verizon was ahead of AT&T in ad spend in 2008. It spent close to $2.4 billion (2.9% of revenue) on ads, while adding 7.2 million subscribers resulting in an average spend of about $332 per net subscriber added.
AT&T spent about $2 billion on ads in 2008 (1.6% of revenues) and added 6.9 million net subscribers, translating to ad spend of about $287 per net subscriber added.
Sprint spent only $1.5 billion on ads in 2008 but this constituted 4.1% of revenues, a higher percentage than AT&T and Verizon's ad spend. Furthermore, Sprint lost about 3.7 million net subscribers during 2008.
Margins Squeezed
Sprint continued to increase its ad spend in 2009 whereas Verizon cut down its ad expenses by an estimated 7%. We believe that Sprint's ad spending in 2009 has increased to about 5.5% of its revenues or about 10% of its gross profits. Despite increased ad spend, we expect that Sprint will have lost more than 2 million subscribers in 2009, thereby putting pressure on margins.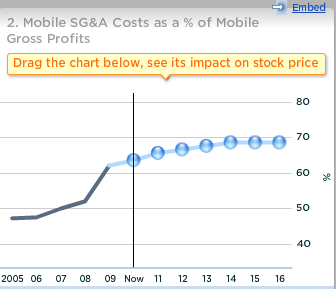 You can increase our forecast for Sprint's SG&A costs (which include ad expenditures) to see how Sprint's stock would be impacted ad spend continues to rise while Sprint revenues fall as a result of subscriber losses.
Disclosure: No positions