"The auto repair company that I have been mentioning for a long time on this show, Monro Muffler, MNRO. The largest pure play, under-car service chain company in America, with 780 locations. This is a twice-blessed stock that's benefited from the closing of all those Chrysler and GM dealerships, less competition, and the resurgence in the auto industry at the same time. Plus, Monro does not need a strong China and it isn't on the radar screen of our president's neer-do-well list like the banks." — CNBC's Mad Money 1/28/2010
The recent rhetoric and tax proposals coming from the White House have Cramer looking for "Obama-proof" stocks to guard any portfolio against political risks. One such stock that Cramer has identified is Monro Muffler Brake, Inc (NASDAQ:MNRO) which he says has benefited from withering competition. This stock released earnings for their fiscal third quarter earlier this week, and they showed impressive results with EPS growing 35.7% to $.38 per share. Same store sales benefited from decreased competition rising 7.2%, and overall revenue grew by 28.7% thanks to 42 new locations. This has provided some good momentum coming into the final quarter of the year and shows the company is executing well given the new opportunities in the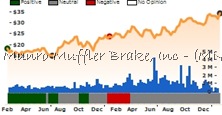 marketplace. MNRO lifted their full year guidance to EPS of $1.53 to $1.56.
Unfortunately for investors looking to ride this strong growth, Monro's performance has not been lost of the market. MNRO has returned 34% in the last six months which is nearly triple the return of the S&P 500 or the Nasdaq (where MNRO trades). That impressive performance has accelerated in the last six weeks, with both the benchmarks having returned basically even, MNRO is up 24% in that shorter time frame. Monro is now trading near the high end of both its price-to-cash earnings and price-to-sales ranges. For example, despite the recent surge in sales the current price-to-sales level is 1.28x, which is relatively unattractive compared to the historical range of .87x to 1.42x. Similarly, price-to-cash earnings has historically traded around 8.8x to 14.4x, while the current multiple of cash earnings is 13.1x.
While, neither of the aforementioned valuation ranges is trading above their historically normal ranges, they are near the high side. This makes us cautious to recommend buying MNRO based on valuation, even though the fundamentals have clearly improved. It is impressive that the company has opened new stores and increased sales without increasing their debt-load. In fact, they finished the quarter with more cash on hand and less long term debt than nine months ago. For now, we are content to leave a Fairly Valued stance on Monro and would advise waiting for a pull back before diving in.