WRES Thinking For 2009 Reserves - One Of The Reserve Reports That I Think Will Have A Shot At Getting Noticed This Season
With all the changes to the SEC reserve rules this year, my sense is that reserve reports are going to receive only passing interest from the Street. I think WRES may be a little different since there's was more unfairly challenged by the end of 2008 slide in oil prices than most. Here's the basic idea:

At year end 2007, Warren had 356.4 Bcfe of proved reserves on their books, 93% of it oil.

In 2008, oil prices fell out of bed ending the year at $33 and SEC rules at the time required the use of year end pricing for determining reserve economics. As such, they saw the reserves on their books fall a whopping 64% at the end of 2008 with all of the hit coming from oil the oil side.

So the 2008 reserve report had only 129.3 Bcfe of proved reserves on the books because the oil, at 33 bucks, wasn't economic. I keep saying "on their books" because of this accounting only, and the oil didn't vanish.

Looking at the table below, you can see that they have over 50 million barrels booked above $50 per barrel but only 9 mm barrels on the report at $3 oil.

Using the new SEC rule that applies the first calendar day of each month's price for last year averaged to come up with a 2009 oil price we get a price of $61.08. This should yield a substantial bump to WRES' 2009 reserves.

Putting the reserves up against the firms' Total Enterprise Value, it's trading at about $2.24 / Mcfe on the 2008 YE reserves.

But if you get back to the 2006 reserve level, you're at about 80 cents / Mcfe (or about $5 per BOE).

And that's before you consider that they tripled their gas reserves from 2006 to 2008. If you put that in play, you might be talking 70 cent / Mcfe valuation.

I'm not saying they will get all of those reserves back with this report but they should get a substantial piece back on the books. This is California oil by the way for all you fans. Seems like it would warrant attention, since after all the oil didn't just vanish.
Note also the slide in the stock from the teens (back when it had a lot more reserves booked in 2007) until now. While the plummeting price of oil accounts for much of the fall (in both the stock price and the reserves) the current level would appear to be overdone. WRES has been resting in the mid $2s since we took our initial positions (my average cost is $1.85) and while it may look fully valued on a reserves basis using those 2008 YE levels, it appears less so on a cash flow basis (3.6x 2010 E CFPS and 5.6x TEV / 2010 E EBITDA).

I would expect them to report reserves by the end of next month at the latest.

This is a follow up piece to my original piece last year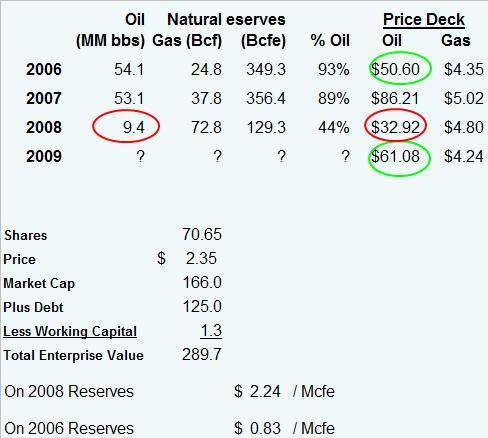 Disclosure: I own WRES common