Best Buy Co. Inc. (NYSE:BBY) had quite a run in 2013. Best Buy has suffered for some time from negative revenue growth, intense competition and a difficult operating environment as the retail sector is heavily reliant on consumer spending and a steaming economy. High unemployment, low interest rates and slow GDP growth all have negative effects on consumer spending and on industry profitability. Further, the retail sector is a tough playing ground: Large-scale, low-margin competitors such as Wal-Mart Stores (NYSE:WMT) and Amazon (NASDAQ:AMZN) significantly increased the degree of rivalry in the industry. As a result, Best Buy transitioned from a classic retail sector investment to a restructuring investment in 2012. In 2013 the market came to accept Best Buy's turnaround concept even though the company reported revenue challenges and quarterly losses based on restructuring costs.
The best time to buy (for contrarian investors) was clearly at the end of last year as the margin of safety for a Best Buy investment peaked. Since then shares have rebounded dramatically bringing the company back to being fairly valued.
Share performance
Best Buy has returned 231% this year as its turnaround concept gained traction and earned market approval. Wal-Mart for instance returned 14% YTD, Staples (NASDAQ:SPLS) gained 35% this year and GameStop (NYSE:GME) 90%. The two-year chart for Best Buy below depicts the degree of recovery in share price.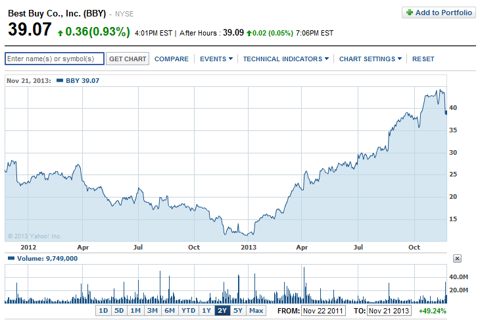 Q3 2014 shows progress and challenges
I have yet to come across a company or an investment that does not have at least a couple of 'mistakes'. Mistakes aren't bad but highlight areas of improvement and sources of potential value. Best Buy's Q3 2014 results showed such improvement: Comparable store sales increased 0.3% in Q3 2014 compared to a minus of 5.1% in Q3 2013. Domestic comparable store sales increased 1.7% vs. (4.0%) last year. The international segment continued to pose challenges with comparable store sales going down 6.4% vs. a decline of 10.3% in Q3 2013. Diluted EPS from continuing operations increased to $0.12 vs. ($0.03) in Q3 2013. Non-GAAP diluted EPS jumped to $0.18 compared to $0.04 last year.
Market valuation
I am not a big fan of retailers because of the intensity of competition and resulting low margins (Best Buy's operating income margin stood at 1% in Q3 2014). Best Buy was a great restructuring investment last year and at the beginning of 2013, but I think that the risk/reward ratio has become unfavorable for investors.
Best Buy now trades at 14 times earnings which is clearly in the 'fairly valued category'. GameStop trades at 12.37x forward earnings and Wal-Mart at nearly 14x future earnings.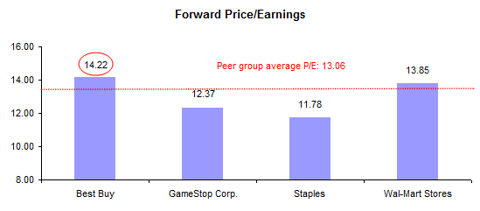 In terms of P/S ratios, Best Buy has the most attractive ratio of 0.32 putting everyone else in the peer group in the dust by a margin.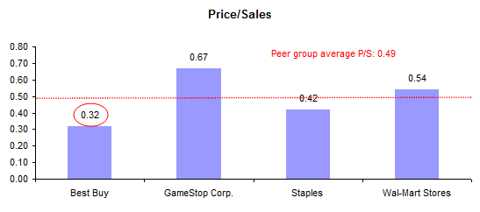 I have previously highlighted that Wal-Mart might be an interesting dividend investment for some investors even though upside potential seemed to be limited with an intrinsic value of $80 per share.
The extensive recovery in Best Buy's share price, however, has made the shares relatively expensive for an income-oriented investment strategy. Best Buy currently pays a 1.74% dividend which is the lowest in the peer group. The following graph highlights the respective dividend yields for the retailers and the peer group average yield of 2.37%.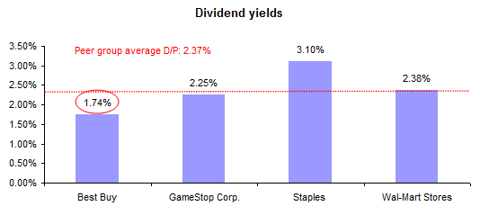 A summary of market valuation-and dividend metrics for electronic and specialty retailers is provided in the table below. I deliberately chose not to include Amazon as a comparable company. Though Amazon is highly relevant for the shape and profitability of the electronics retail industry, the company remains outlandishly overvalued and would skew all valuation metrics.
Conclusion
My investment style generally can be characterized as contrarian and the more opposition an investment attracts the better. As such, I am basically looking for pockets in the investment space where confidence has collapsed. In the case of Best Buy, the turnaround (at least in terms of stock performance) has occurred so quickly and with such vigorousness that I see limited further upside potential. Best Buy has now recovered all its losses from 2011 and 2012 and just recently quoted close to its five-year High at $48.58. I believe the market has given Best Buy almost too much credit for its restructuring concept to close unprofitable shops and remodel its stores. Nonetheless, downsizing aimed at store count/square feet and lay-offs, are the right moves in order to adjust Best Buy's business model.
However, I am concerned about the overall industry profitability in the retail sector. Amazon has gained huge market share over the last 10-years in the electronics retail segment and Best Buy certainly gave up a couple of percentage points for Amazon's benefit. The electronics retail industry advantages large-scale operations without brick and mortar locations. Amazon has cut a niche out for itself and competes aggressively on price. Consumer spending also is quite fragile and highly dependent on sentiment and the phase in the business cycle.
The relatively unattractive industry conditions (high degree of competition, low-margin business, destructive promotions and price-matching initiatives) as well as the extent of Best Buy's share price recovery do not make this retailer a Buy at a share price of $39.
Disclosure: I am short AMZN. I wrote this article myself, and it expresses my own opinions. I am not receiving compensation for it (other than from Seeking Alpha). I have no business relationship with any company whose stock is mentioned in this article.