We've updated the Trefis price estimate for Netflix (NASDAQ:NFLX) from $59 to $57 (vs. market of $62) based on the noticeable trends observed in its recently announced Q4 2009 earnings. Although Netflix is expanding subscribers at a rapid rate, the amount of revenue it earns from each subscriber is declining and its DVD shipment costs continue to increase more than we had previously expected. Below is a summary of the two on-going trends we see for Netflix:
1. Expect revenue per subscriber to continue to decline
We expect revenue per subscriber to continue to decline as Netflix adds subscribers. Netflix reported that it had slightly more than 12 million subscribers at the end of 2009, up nearly 31% from the prior year. Although subscriber counts are growing rapidly, the amount of revenue that Netflix earns from each subscriber is declining as result of two trends:
(i) Increasing number of free subscribers
About 3% of Netflix's subscribers during the last quarter of 2009 were free subscribers. This figure is up from 2.4% during the same quarter in 2008. The increase in free subscribers is primarily attributable to an increase in free trial customers which is necessary for Netflix to drive increasing subscriber growth. However, the slight rise in the free subscriber mix does lower the average monthly subscription fee that Netflix collects per subscriber.
(ii) Increasing adoption of lower cost plans
Netflix is seeing great demand for its $8.99 plan, which includes renting unlimited DVDs (one at a time) and access to unlimited streaming service. The value proposition, being quite powerful, is encouraging most consumers to adopt this plan. As a result, the average subscription fee has declined slightly more than what we had originally expected. We estimate the average monthly subscription fee to further decline to about $12 per subscriber by the end of Trefis forecast period.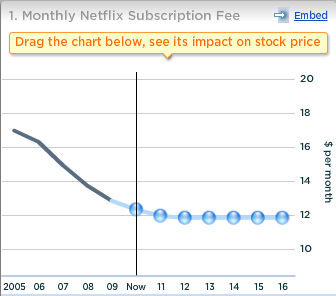 You can modify our forecast for Netflix's Monthly Subscription Fee here to see how Netflix's stock would be impacted if the subscription fee were to continue to decline over the Trefis forecast period.
2. Expect increasing DVD shipment costs
We expect DVD shipments costs to grow more than we had initially estimated. Contrary to our previous expectations, Netflix continues to see fast growth in DVD shipments (up 20% year on year). Although we estimate that the number of DVDs being shipped per subscriber is on a downtrend, the rapid expansion in subscriber base is driving overall DVD shipment growth. This is expected to result in higher DVD shipment costs for Netflix than we had originally expected.
We estimate Netflix to reach a subscriber base of 14.4 million in 2010 and about 28 million by the end of our forecast period. We expect DVDs mailed per subscriber to decline to about 5 per month by the end of Trefis forecast period as a result of (i) the on-going shift to lower cost plans (ii) increasing usage of streamed TV shows and films as a substitute for mailed DVDs.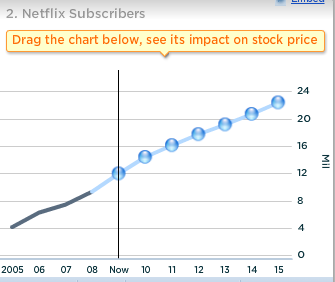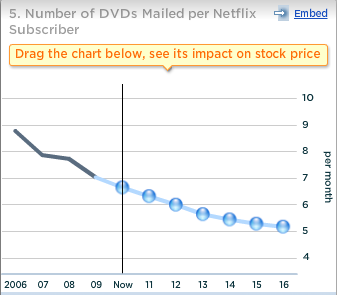 The number of Netflix subscribers that streamed more than 15 minutes of content through Netflix increased from 41% in Q3 to 48% in Q4 of 2009. We expect that about two-thirds of Netflix subscribers will use its streaming service by mid-2011. Netflix's ability to increase its online selection of TV shows and films for streaming will be an important factor in driving the shift from DVDs to online streaming.
You can modify our forecast for the Number of DVDs Mailed per Netflix Subscriber and Number of Videos Streamed per Subscriber to see how a faster shift to streaming would impact Netflix's stock.
Disclosure: No positions