Seadrill Limited (NYSE:SDRL) is an offshore drilling company that primarily is in the business of leasing out its rigs for the major oil companies to use. When first examining the stock it seems like a very compelling stock to want to own in your portfolio. The stock currently has a P/E of 9.53, a dividend pushing 8%, and a market capitalization of $21.2 billion. Upon digging deeper into the inner workings of the company and the stock do you start to see some concerns and potential longer term risks associated with the firm's outlook. To better understand what exactly you are buying when buying Seadrill, we must first understand how the firm makes its money and determine whether that is sustainable.
Seadrill Operations Overview
Seadrill currently owns and operates a drilling fleet of 64 rigs that are split between ultra-deep water floaters, deep water Floaters, and jack-ups. Seadrill charges a daily rate depending on the type of rig that is being leased, jack-ups average around $160K/day, while ultra-deep water average $525K/day. The company over the past several years has invested a ton of capital and issued a lot of debt to build up its infrastructure of rigs for leasing. The company has done this to meet the increasing demand for offshore rigs and in hopes of trying to capitalize on the steady increase in daily rates that have been seen over the past several years. In addition to the current 64 rigs under Seadrill's control, the firm is in the process of building 27 more units, split between jack-ups and drillships.
| | | |
| --- | --- | --- |
| Year | Ultra-Deep Water Floaters | Jack-Ups |
| 2000 - 2010 | $475K/Day | $150K/Day |
| Current | $525K/Day | $160K/Day |
| Rate of Change | $50K/Day | $10K/Day |
Of Seadrill's entire portfolio the main shining start is its investment in the ultra deep water floaters segment. Seadrill has the largest percentage of ultra-deep water floaters compared to any other offshore drilling company. Additionally, due to Seadrill being so new to the game, most of their rigs are less than 5 years old. Compared to that of Transocean (NYSE:RIG) who has the most ultra-deep water units (35) with an average age of almost 25 years, Seadrill has a much newer and refreshed fleet at its disposal that will require far less maintenance and replacement cost over the next 10 years. When it comes to jack-ups Seadrill is right behind Ensco (NYSE:ESV) and Noble (NYSE:NE), with a little over 30 units. Again, due to Seadrill being such a new player, the average age of its units is under 5 years, where Ensco and Noble's fleets are pushing 30+ years in age.
Given the high maintenance and startup cost associated with these rigs Seadrill over the past several quarters has still been able to maintain a strong profit margin of around 57%. Compared to its biggest competitors Ensco at 51%, Noble at 49%, and Transocean at 33%, Seadrill is doing quite well.
Aside from the above mentioned drillers Seadrill is also in direct competition with ENSCO Plc , Rowan Companies Plc (NYSE:RDC), Atwood Oceanics (NYSE:ATW), Diamond Offshore (NYSE:DO). Even amongst all of these competitors, Seadrill continues to have the newest fleet.
Seadrill's customer base is primarily focused on most of the major oil companies. From a shareholder standpoint having a customer base of major oil companies is very positive. The likelihood of Seadrill receiving no payment or experiencing a default from its customer base is quite low.
| | |
| --- | --- |
| Oil Company | Percentage of Seadrill Revenue |
| BP plc (NYSE:BP) | 25% |
| Total (NYSE:TOT) | 14% |
| Exxon Mobil Corp (NYSE:XOM) | 11% |
| Statoil (NYSE:STO) | 9% |
| Petroleo Brasileiro Petrobras (NYSE:PBR) | 7% |
Due to the high demand for its offshore rigs Seadrill currently has an order backlog of roughly $19 billion over the next 5 years, with most of that demand focused on its floater rig segment of the business.
The chart below highlights all of the deepwater, ultra-deepwater, and midwater discoveries over the last 12 years. This alone to me would indicate a steady to strong business model, provided the amble demand from the majors continues. It is also good to see that the ultra-deepwater discoveries and demand has also increased, which is a positive for Seadrill and its shareholderrs.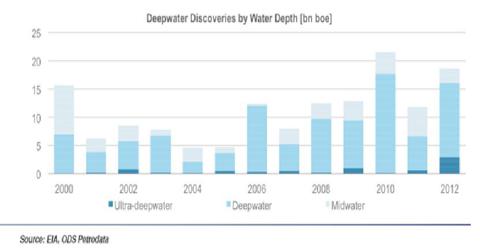 Seadrill Outlook
From an operations standpoint Seadrill looks to have a strong customer base, strong margins compared to competitors, and a relatively new rig line which should not require upgrading or replacing for the foreseeable future.
As optimistic as all of that might sound, there are still some areas of concern that I have with Seadrill.
· Seadrill's growth and revenue is heavily dependent on a small group of core customers whose budgets and decisions on where to drill next and for how long can greatly affect the bottom line of Seadrill. I think this is especially true here in the U.S. with the domestic natural gas boom taking place. The costs and risks to drill inland in the U.S. are far less than they are to drill out in the middle of the ocean or off the shores of unstable national government. This creates a great deal of uncertainty for me when it comes to the longer term outlook of Seadrill and its growth/margin story.
· There is no denying that Seadrill has performed well over the past few years and has rewarded shareholders well along the way. What I find concerning is the way in which the company achieved this growth. Most of that growth has been done through the issuing of debt to grow its fleet, very quickly. Looking at the balance sheet, in 2007 total long term debt was $6.6 billion. At the end of 2012 that debt level had increased to $9.6 billion. In the most recent quarter that level has come down a bit to $9.1 billion, but for a company with a market cap of $21 billion and annual revenue of around $4.8 billion, that is a lot of debt. Granted, that debt has allowed the company to build out its infrastructure very quickly and begin to capitalize on the increased demand for offshore drilling and the higher prices that I mentioned above, but if that demand or those prices where to come down, I don't know how Seadrill will be able to continue to service its debt, while still doing right by its shareholders. Currently, Seadrill is paying around $200 million in interest payments to service its debt. This is an increase in cost from the year prior by 38%, compare that to the revenue growth of 13%, it is somewhat alarming to see a year-over-year interest expense grow by almost three times that of revenue growth.
· I saved the best and most obvious risk for last, Seadrill's dividend. Currently the company is paying out $0.91 per share ($3.64 annually). Now, up until last quarter the company was not pacing well to be able to afford this shareholder payment, with a cumulative EPS of $2.29. The firm was on pace to have a 158% payout ratio. After last quarter the company posted an EPS of $3.68, dropping that payout ratio to 74%. It's important to mention that a lot of this gain came from the sale of its tender rigs division and tender rig T-15 project for a combined total of $1.46 billion, or $3.10 per share. Given how high the current dividend payout is and the fact that in order to maintain that payout requires quite a bit of financial engineering, I remain a bit cautious on the longevity of a payout of this size.
Overall
Given all of the risks I highlighted above I feel that there are a number of reasons as to why not to buy this stock. I will say that I think most of the firm's risk points could be alleviated by simply reducing the current dividend payout. If Seadrill decreased its dividend by 40% putting the new payout at $0.55 per share ($2.20 annually) that would still yield nearly 5% for investors at the current $45 share price. The extra $1.44 or $675.5 million would provide the company with a nice cushion in the event of an economic downturn or decrease in global oil demand. Not to mention, that the extra money would help the firm continue to service its interest payments of $200 million (and growing) annually and allow the firm to ideally begin to pay down some of its $9.1 billion in debt, so that its debt to equity ratio might come down from its current 1.62.
Overall, I remain cautious on Seadrill especially at its current price point given the above mentioned items. However, if the stock were to come in a bit toward the high $30s or low $40s I would consider taking a second look. Until something major changes either with the firm's stock price, financials, or growth story I will remain on the sidelines.
Disclosure: I have no positions in any stocks mentioned, but may initiate a long position in XOM, RIG over the next 72 hours. I wrote this article myself, and it expresses my own opinions. I am not receiving compensation for it (other than from Seeking Alpha). I have no business relationship with any company whose stock is mentioned in this article.