With the settlement in the US Airways (LCC) and AMR Corp. (AAMRQ) merger opening the gates for the completion of the merger that promises to usher in $1 billion in synergies, United Airlines (NYSE:UAL) decided that it would not be outdone. Remember that prior to the completion of the merger creating the new American Airlines Group (NASDAQ:AAL), United Airlines is the largest airline by revenue. Yet, it pales in comparison to Delta Air Lines (NYSE:DAL) based on market valuation.
On Tuesday, United Airlines announced plans to reduce costs by $2 billion annually and increase ancillary revenues by $750 million. The ultimate goal is to increase pre-tax earnings by two to four times the current level over the next four years. The company even hopes to begin allocating capital to shareholders by 2015.
This shift in airline mentality is refreshing for investors. The question is whether the airline can pull off this dual increase in revenue and decrease in costs, especially now as the least valuable of the legacy airlines.
Delta Comparison
From 30,000 feet, it clearly appears that United should be able to operate the airline more efficiently to achieve higher margins. United actually generates slightly more revenue on an annualized basis, but the market values Delta at roughly twice the amount of United. Even the new American Airlines is expected to have a valuation of over $17 billion versus the $13 billion currently placed on United. Using the overly simplistic price to sales multiple and clearly United has some work to catch up to the valuation of the industry: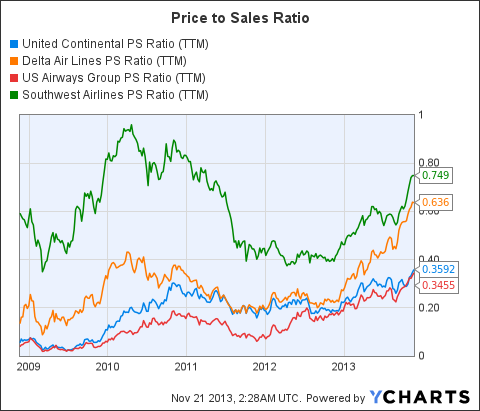 UAL PS Ratio (TTM) data by YCharts
Southwest Airlines (NYSE:LUV) was thrown into the equation to showcase how even the lost cost carriers are considered more valuable based on each dollar of revenue. United should be able to generate a higher revenue multiple if the current business travelers and Pacific routes are really that valuable to the bottom line.
Weak Operations
The operational performance in September really stuck out as an example of the issues at United Airlines. The airline generated a 1.0% increase in revenue passenger miles (RPM) on only a 0.2% increase in capacity or available seat miles (ASM). While this led to a consolidated load factor increase of 0.6 points in September 2013, the general problem was the inability to increase passenger revenue per available seat mile (PRASM). The year-over-year PRASM declined by more than 1% due to yields on interline and China issues.
Typically good airlines turn higher load factors into higher revenues per passenger. The numbers at Delta and US Airways were extremely positive when compared to United. Delta generated a PRASM gain of 5.5% for the month of September on a minor 0.1 point increase in load factor to 83.3. Delta even grew capacity by a larger 1.7%, yet it was able to attract higher paid passengers on those planes.
US Airways had even more impressive results with a 6% gain in PRASM on an actual small decline in load factor. The airline increased capacity at a strong 3.8% clip, but the RASMs didn't keep up only growing 3.5% during the month. US Airways though generated a higher PRASM even with less passengers.
Reducing Costs
Better aligning costs with revenue has to be a prime goal of United considering Delta is able to generate twice the market value out of virtually equal revenue. For this reason, United plans to reduce annual costs by $2 billion by 2017. The majority of the gains come from modern aircraft that will reduce fuel costs by $1 billion. The other prime area of cost efficiency gains will come from increased productivity from self-service technology. The slide below shows the other areas of projected reduced costs: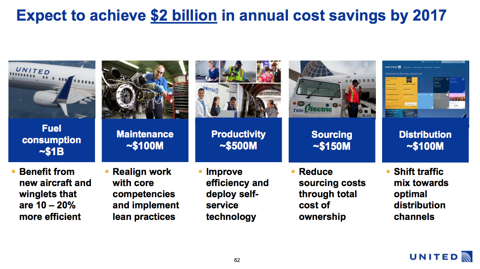 The airline expects to achieve a 7% improvement in fuel efficiency by 2017 versus 2013 from mostly new aircraft that are 10-20% more fuel-efficient. Other fuel efficiency gains will come from placing winglets on older aircraft and improving operations.
For the first nine months of 2013, United has spent $9.4 billion on fuel, or nearly 33% of revenue. The amount is so massive that fuel costs exceeded employee costs by over $2.8 billion during that time period or an annual pace of around $3.7 billion.
An interesting question for the industry will be whether these fuel savings from modern aircraft will fall to the bottom line or lead to reduced fares industry wide.
Subpar Industry Multiple
The argument for a long time has been that airlines deserve low earnings multiples due to the cyclical nature of the business and ultimately the lack of consistent profits. With all of the legacy mergers, the mindset of the industry has finally changed. The one thing that hasn't changed is the multiple awarded to airlines. Even after the large gains in the last year, most airlines trade substantially below the market multiple.
United actually went further to point out a massive difference in the airlines price-to-earnings ratio and the industrials and rails. It is quite interesting to see a company point out this difference, but it is a very valid point. If United reached a 17 PE based on 2014 earnings, the stock would soar to nearly $68.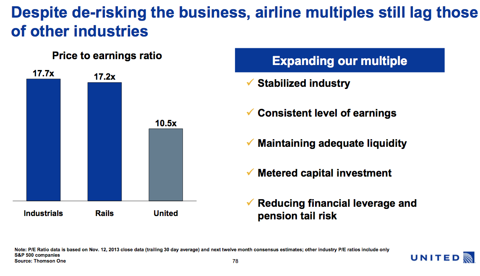 The below chart shows the forward earnings multiples for the main legacy airlines that trade at even lower levels than the suggested PE ratio above: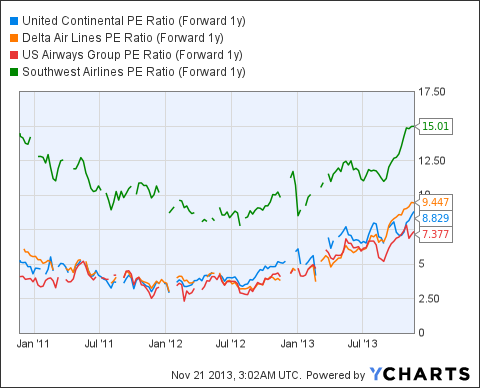 UAL PE Ratio (Forward 1y) data by YCharts
Again, Southwestern Airlines was added into the chart to provide some perspective of the valuations that a consistently profitable airline can obtain. The railroads make for an interesting comparison considering a decade ago they were seen as consistent money losers with no investment prospects. Could the airlines finally be next to make that leap?
Conclusion
United clearly has a path to much higher profits, but investors need to take notice that analysts already forecasted earnings to nearly double next year. In addition, a good deal of the cost savings involve reducing fuel costs from new aircraft that doesn't separate itself from the industry trend. The industry though trades at very low earnings multiples. If this trend towards focusing on long-term profits continues, investors should look for the industry earnings multiples to continue climbing on par with other industrials such as the rails.
If United reaches the high-end goal of growing pre-tax earnings 4x by 2017, the stock will be significantly higher. Using earnings per share of $6 (rough estimate of 4x current income of $2 and normalized taxes) and a 17 PE multiple, the valuation would place the stock over $100. Either way, investors need to buy up the legacy airlines of Delta and US Airways to take advantage of the low multiples before investors catch on to the structural changes in the industry.
Disclosure: I am long LCC. I wrote this article myself, and it expresses my own opinions. I am not receiving compensation for it (other than from Seeking Alpha). I have no business relationship with any company whose stock is mentioned in this article.
Additional disclosure: The information contained herein is for informational purposes only. Nothing in this article should be taken as a solicitation to purchase or sell securities. Before buying or selling any stock you should do your own research and reach your own conclusion or consult a financial advisor. Investing includes risks, including loss of principal.