For the most part, Intel's (NASDAQ:INTC) Investor Meeting was incredibly good. The VPs in charge of each division did a superb job of telling the stories of their respective businesses, and the impression that I got from these presentations was that the company realized that it had made some serious stratetic errors in mobile (but was strong in PC client, datacenter, and manufacturing) but was doing all of the right things to rectify the situation and establish leadership across just about every relevant segment of computing.
In this particular article, I'd like to go over Intel's mobile roadmap in more detail and offer my analysis. In particular, the company made a surprising number of disclosures (this was probably because investors really need to believe that there is progress being made here) that, quite frankly, painted a very compelling picture.
First Half Of 2014: Merrifield And XMM 7260
Here is Intel's roadmap for the first half of 2014:
(apps processor)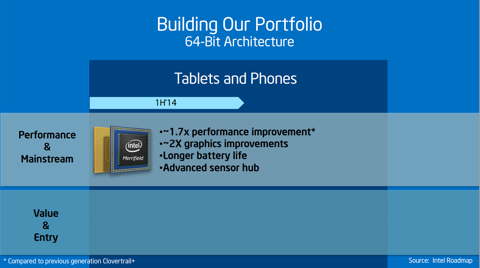 (modem)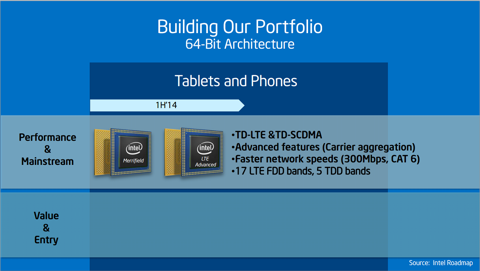 The first portion, the "Merrifield" system-on-chip, looks to be an interesting 22 nanometer part. It packs two Silvermont cores as well as an Imagination Technologies (OTC:IGNMF) Power VR 6 GPU. From the performance numbers indicated (2x the SGX 544MP2 @ 533MHz in Clover Trail+, 1.7x the CPU performance of the dual 2.0GHz in-order Saltwell CPU cores), it seems that the part will be quite competitive.
On the GPU side of things, it should be right around where Bay Trail sits, which would imply graphics performance right around where the iPhone 5S sits (although this is a pretty ballpark estimate), which means that it will be much more competitive at launch than Clover Trail+ was when it first launched. On CPU, the 1.7x figure suggests that it will probably lag a high end Snapdragon 800 but could come out meaningfully ahead of a Snapdragon 600 in both single-threaded and multithreaded tests (remember, Snapdragon 600 is a quad core Krait 300).
The chip should be pretty well positioned, particularly if it is a small package/small die size solution. The lack of integrated LTE modem probably locks it out of the low end and possibly the lower half of the mid-range, but its performance at the given power level at it is targeting should allow it to compete for reasonably high end smartphones.
The XMM 7260 modem itself looks pretty compelling. It rectifies many of the ugly warts that the XMM 7160 had (no TD-SCDMA, no TD-LTE, built on an antiquated process node, no cat 6 support) and makes it a bonafide, compelling solution for higher end smartphones. Aside from a lack of CDMA2000 support (which is key for Verizon/Sprint at this time), the modem looks pretty competitive with what Qualcomm (NASDAQ:QCOM) announced with its MDM9x35 LTE modem (although Qualcomm will likely have a power consumption edge as the baseband is built on TSMC's newer 20 nanometer process).
All in all, what Intel has lined up for the first half of 2014 looks like it will finally allow it to win material designs in the handset space, even if the actual revenue contribution from the sell-through of these designs won't really amount to much. That being said, things get even more interesting during the second half of the year.
Moorefield and Willow Trail
The roadmap gets even more interesting during the second half of 2014: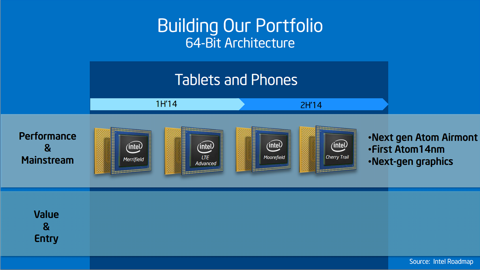 During the second half of 2014, Intel plans to release two SoCs. The first is Moorefield which, as I have been predicting for quite some time, is a "beefed" up version of Merrifield. It will have faster graphics, twice as many cores, and will be built on the 22 nanometer FinFET process. The odds are good that this part will be "leadership" in the phablet space, although it will be interesting to see if Qualcomm is able to ship a 20 nanometer iteration of its Snapdragon to fend off this particular beast.
Then we get Cherry Trail. This is a 14 nanometer part that is presumably built for tablets (with Moorefield being a phone/Android-only tablet) and features four "Airmont" processor cores and a 16 graphics core version of the Gen 8 GPU found in the upcoming "Broadwell" processor. Details recently leaked over at VR-Zone: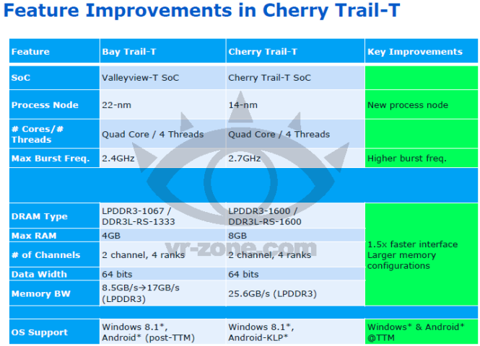 It looks as though the chip will sport 4 "Airmont" cores at 2.7GHz, have 25.6GB/s of memory bandwidth, support 8GB of RAM, and support both Windows 8.1 and Android right off the bat (unlike Bay Trail which will end up on Android devices in Q1 2014). This is in addition to the 16 core Gen 8 GPU I mentioned, which suggests that this chip will be exceedingly high performance and be at the top of its weight class.
SoFIA, The Low End
When I read a piece on Anandtech in which Intel's modem group claimed that Intel's modems would not intercept the company's process roadmap for another 2-3 years, I was sure that this meant no integrated modem + apps processor part for at least 2-3 years. Interestingly enough, Intel had a clever little solution to this problem. The idea is that Intel's latest modems are built on TSMC's 28 nanometer process. So, instead of trying to port it to 22 nanometer and failing, why not simply build an SoC around this modem at TSMC?
Of course, in this case, Intel is handing over the foundry margin to TSMC, and it doesn't get to benefit from the performance enhancements that the company's own in-house transistors would provide. That being said, it looks like the choice was to either have something to sell reasonably soon (2H 2014 for the 3G, 1H 2015 for the LTE) or to not have any revenues at all. Intel took the revenue path.
While it is unlikely that these parts will gain all that much traction in the market, particularly as the competition here is fierce, it will be interesting to see these parts eventually come to Intel's own manufacturing processes. The key, though, is that Intel is trying to get something out to the market, which is better than nothing.
Broxton: The Chip That Matters
While Intel's Moorefield should hold the fort on phones and while Cherry Trail should be quite the force in Winows 8.1/Android tablets, the next generation "Broxton" chip should be the one that unequivocally seals the deal for Intel. Indeed, this one will be a converged smartphone/tablet chip (like what the rest of the SoC guys do), sport four "Goldmont" (this is 14 nanometer "tock" core) cores, Gen 9 GPU (that's yet another fairly massive architecture leap on the graphics side), and be targeted at taking leadership.
It was interesting to see how bullish Hermann Eul was with respect to this part, explicitly pointing out that it would be far and away the fastest chip on the block at release. While I have heard whispers from friends at Intel that Goldmont will be an absolutely beastly CPU core, it was good to see the chip so bullishly touted at the investor meeting. This will be the part that either confirms my thesis (Intel will leverage its design and process might to deliver unequivocally leadership parts) or breaks it.
At any rate, while it is about a year and a half out, this will be the one that I'm looking forward to the most. Also, interestingly enough, even with its massive performance leadership, CFO Stacy Smith indicated that from an economical/die size perspective, it would be significantly better than today's "Bay Trail":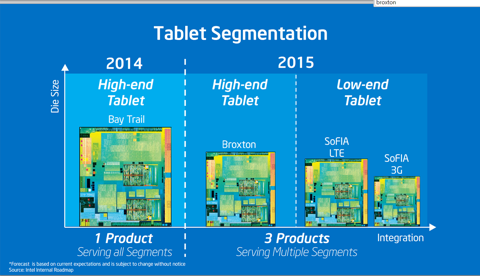 Conclusion
Intel's mobile roadmap is quite compelling, and the company has come a very long way from the absolutely pathetic roadmaps and products that it had from 2008-2011. The company is finally recalibrated on taking leadership in mobile. While it takes more than great products to win in this space, I believe it is only a matter of time before Intel is the #1 vendor of tablet system-on-chips and the #2 vendor of smartphone chips. This, to me, makes for a pretty decent investment thesis so long as the decline in the core PC business can be stemmed.
Much more analysis coming soon. Stay tuned.
Disclosure: I am long INTC. I wrote this article myself, and it expresses my own opinions. I am not receiving compensation for it (other than from Seeking Alpha). I have no business relationship with any company whose stock is mentioned in this article.