On Tuesday, November 19, Starbucks executives (NASDAQ:SBUX) reiterated the company's EPS and Revenue Growth guidance for both 2013 (EPS $2.26/share, 12% Revenue Growth) and 2014 (EPS $2.55/Share to $2.65/Share, 10%+ Revenue Growth) during a presentation at the Morgan Stanley Global Consumer Conference.
Favorable commodity-based pricing environments as well as a stronger focus on tea and tea-related products were also noted as catalysts that could drive results higher in both 2014 and 2015 and in the wake of the company's guidance-related news, I wanted to highlight a number of reasons why I'm staying long on this particular specialty food & beverage play.
#1 - Recent Performance & Trend Behavior
On Wednesday, shares of SBUX, which currently possess a market cap of $60.92 billion, a P/E ratio of 35.36, a forward P/E ratio of 25.08, and a current dividend yield of 1.31% ($1.04), settled at a price of $79.69/share.
Based on their closing price of $79.92/share, shares of SBUX are trading 0.50% below their 20-day simple moving average, 2.40% above their 50-day simple moving average, and 19.72% above their 200-day simple moving average. These numbers indicate a short-term downtrend and a mid-term and long-term uptrend for the stock which generally translates into a selling mode for most near-term traders and a moderate buying mode for most long-term investors.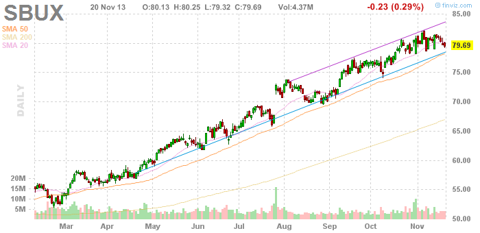 Click to enlarge
#2 - Dividend Behavior Since 2010
Since April 5, 2010, Starbucks has increased its quarterly distribution four times over the last three-and-a-half years, with its most recent quarterly dividend increase being paid out to shareholders on November 12th ($0.26/share). The company's forward yield of 1.30% ($1.04) coupled with its ability to continuously increase its quarterly distribution on an annual basis, make this particular stock a highly considerable option, especially for those who may be in the market for a conservative stream of quarterly income.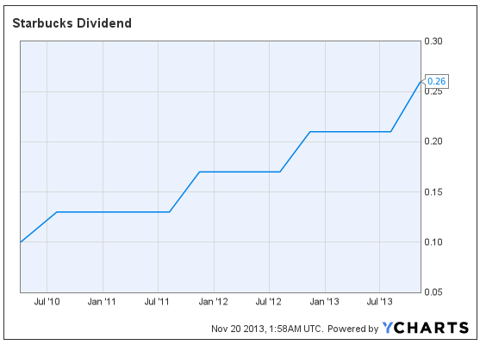 Click to enlarge
#3 - Cumulative Cash Returned To Shareholders
When considering a long-term position in any dividend yielding stock, I think it's imperative that we examine the cumulative cash returned to shareholders in the form of cash dividends and share buybacks over the last several years. In the case of Starbucks, and by examining the cumulative cash returned to shareholders over the last three years (FY11, FY12, and FY13), we'd notice a consistent increase of $100 million per year and that increase could very continue over the next 12-24 months considering the fact that Starbucks has demonstrated strong revenue growth in a number of key regions (EMEA +2%, Americas +11%, and China/APAC +27%) as well as impressive operating cash flow ($2.9 billion) during FY13.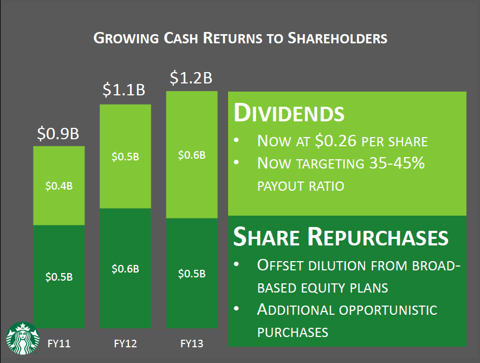 Click to enlarge
(Source: 2013 Starbucks - Morgan Stanley Global Consumer Conference Presentation)
#4 - Food-Related Sales Demonstrates Strong 10-Year Growth (2003-2013)
During September 2013, Starbucks announced that it had completed the rollout of its La Boulange brand and as a result of the rollout, we can clearly see the positive impact the acquisition of Bay Bread (former owner of the La Boulange brand that was acquired by Starbucks for $100M back in 2012) has had on the percentage of food as a portion of the company's global retail sales. Since 2003, food, as a percentage of global retail sales, has steadily increased from around 13% (FY03) to around 20% (FY13), representing an increase of 53% over that span.
If the company can continue to demonstrate strong food-related retail sales over the next 12-24 months, especially since its La Boulange brand is present in a large majority of its retail locations, I see no reason why food, as a portion of retail sales, can't exceed 22% or even 23% by the end of FY14.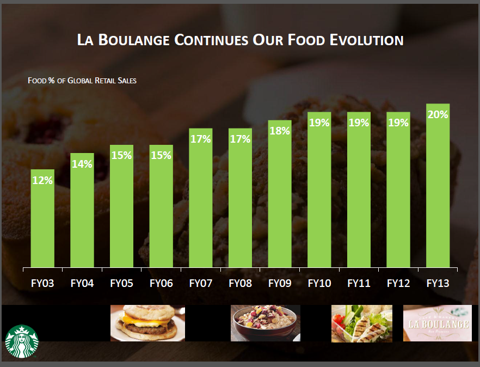 Click to enlarge
(Source: 2013 Starbucks - Morgan Stanley Global Consumer Conference Presentation)
Risk Factors
According to Starbucks most recent 10-K, there are a number of risk factors all investors should consider. These factors include but are not limited to the fact that the company may not be successful in implementing important strategic initiatives or effectively managing growth, which may have an adverse impact on its business and financial results and the fact that the company's success depends substantially on the value of its brands and failure to preserve their value, either through its own actions or the actions of its business partners, could have a negative impact on the company's financial results.
Conclusion
For those of you who may be considering a position in Starbucks, I'd keep a watchful eye on a number of catalysts over the next 12-24 months as each could play a role in the company's long-term growth. For example, near-term investors should focus on the company's recent trend behavior, while longer-term investors should pay close attention to the company's dividend behavior as well as the continued sustainability of the cumulative amount cash that is returned to investors on a year-over-year basis.
Disclosure: I am long SBUX. I wrote this article myself, and it expresses my own opinions. I am not receiving compensation for it (other than from Seeking Alpha). I have no business relationship with any company whose stock is mentioned in this article.