Dear David: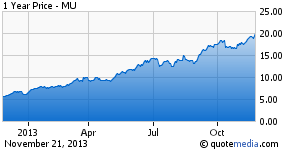 Welcome to Micron (NASDAQ:MU)! Where have you been? On September 19th I wrote an article here on Seeking Alpha that urged management to straighten out their disastrous investor relations group and inept finance department:
Perhaps discussions such as this will serve as a wake up call and help ward off the attentions of Carl Icahn, Greenlight Capital, and a host of governance funds. I once worked for such a fund and Micron isn't ready for, and hopefully doesn't need, their type of treatment.
Anyway here you are. Can you write a note praising my prescience since my wife, and kids, think my crystal ball was shattered at birth?
I thought I'd jot down some ideas for when you sit down and have a chit chat with Mark Adams, Micron's President, and Mark Durcan, Micron's CEO. Maybe it will help you avoid those awkward icky pregnant silences. You know, "Ummm, what shall we talk about now? Would you like to go first or shall I?"
But before I do, let me say that I saw you today on CNBC and heard your chirpy prediction that the company will earn $3.50 this year. Be careful with such an outrageous number since you are joining a pantheon of just a few such over-hyped earnings estimators: You, Kipp Bedard, VP of IR, and me. Even though Kipp and I know you are correct, 33 analysts think $2.04 is more in line per Yahoo Finance. I just don't want you to sound to whacky while appearing on daytime TV.
So here are a couple of conversation starters for when you sit down with the Marks.
Why doesn't Micron hold an analyst day on all the new technologies? The recent press release on the non-von Neuman processor was a vintage piece of mumbo jumbo out of the IR department. Why don't you write a release that a human can understand? Why don't you interview a potential user of such a gizmo? A code breaker, a genetic scientist, or a weather forecaster should be able to explain -- in English -- why such an innovative processor would change their business, allowing ease and speed of manipulation of their massive data sets which has heretofore been impossible.
On Phase Change Memory, where you hold a leading patent position, not much has been said. A great article appeared here on Seeking Alpha, suggesting (wrongly? early?) that PCM in an iPhone would allow "instant on" and enable days of battery life. How cool would that be? Presentations from Numonyx, before they were purchased by Micron, suggested node shrinks down to 2x nanometers were right on the horizon. Would a node shrink mean less chalcogenide to change state, requiring even lower power than other non volatile memory, faster write times, and even higher longevity than that available at today's 45nm? Why don't you talk a bit about Micron's history with the technology where it lost former company CTO, Tyler Lowery, to pursuing this technology full time?
The Hybrid Memory Cube (HMC) has won you awards but you have yet to tell us what the roadmap looks like, what sort of firm(s) is sampling it, when it might go into volume production and what "volume" might mean.
Management has mumbled through some presentations that the business is no longer a commodity business and these game changers are certainly indicative of that. Why not explain them to the investment and customer communities?
Let's perform an employee review in IR and Finance. The IR department under Kipp Bedard and Ivan Donaldson is a disaster. Kipp has selectively disseminated material non public information, like the cash flow and cap ex numbers blurted out at a Credit Suisse "fireside chat" which allowed Greenlight (and Electric Phred!) to develop their $3.50 earnings estimates. Sometimes 8k's are filed after investor presentations, and sometimes they are not. Micron IR has yet to correct numerous misstatements of the company's 4Q earnings which still appear on news sites. No doubt these were because of another poorly drafted release which buried the all important non-GAAP earnings several pages into the text. IR doesn't like to post the schedules for earnings release dates as most companies are proud to do. By the way, why has it taken so long to inform shareholders when the 1Q will be reported? and why will it take until January 7 to report a November quarter result? IR botched the announcement of the closing of the Elpida transaction by briefly putting up a web page emblazoned with "Elpida is now Micron", tearing it down and rushing out an 8K hastily announcing the close before the markets next opened.
In the finance area, perhaps Adams and Durcan can explain to you how CFO Ron Foster lost $250million of the company's cash in its ill advised "floor and ceiling" hedge on the Japanese Yen for the Elpida transaction, when all we cared about was the Yen running away.
Maybe Foster can explain to you why he said all of Elpida's inventory that was on their balance sheet at closing would go out the door at "essentially zero margin", which is not correct.
Since the two Marks and Foster are on record as saying a top priority is to reduce debt, maybe they can explain to you why they have just issued $1.025 billion of new debt to retire $440million of old debt. Do they understand this is materially misleading shareholders? See if Foster has ever heard the term "straight debt".
Further consolidation. You said on CNBC that you liked industries that are consolidating. Do you think Sandisk, with its pristine balance sheet and world class IR and finance departments, should get together with Micron? This would solve a crippling problem of Sandisk being in only one type of memory, NAND, when its three competitors are in both flavors. It would form an American juggernaut to stand up to Samsung.
Or maybe you think consolidation should be with Intel (NASDAQ:INTC)? Or with your buddies at Apple (NASDAQ:AAPL)? One of the great sell side analysts, Mark Newman at Bernstein, has just pointed out that Apple buys 25% of the entire NAND market every year and that they make a 92% incremental gross margin when you upgrade the memory on your iWhatever. Heck maybe they'd like to own a part of their supply chain?
Conclusion. David, I hope these nuggets are enough so that you can get some conversation going when you go to Boise. You don't seem shy but I thought some script writing could help. You've arrived at a great company which has just done a spectacular acquisition in an industry which is fundamentally changing, as you observed on CNBC. Alas, as with many of Greenlight Capital's betrothed, our management team doesn't really seem to be thinking as owners. Find me one of them that has done an insider buy. Count yourself lucky since Greenlight's arrival probably included the purchase of shares management was selling right after the last earnings release. Micron needs a compensation system overhaul which is going to line up management's interests with ours.
If things do drag during your conversation consider your research dept here at Seeking Alpha, who can be your "lifeline" call. Let me introduce and shout out some of the players:
Russ Fischer is the dean of our august group and brought Micron to our attention at $6.02 last fall. He has a couple of hedge funders I know as regular readers. So based on that and what he has done for his other coterie of SA followers I can safely say he has made hundreds of millions of dollars for people in this name. Russ sold semis for decades and writes wonderfully. He knows his way around this space.
RJackson29. Has run fabs in diverse parts of the globe. Doesn't write articles, but when he comments that the Wuxi fire is making his nose twitch, listen to him and not the Hynix IR dept. Sometimes he owns so many options contracts I think he has a seat on the CBOE. Mr. RJackson thinks he is going to make enough trading Micron to afford one of Gulfstream's nice conveyances and I think he is right.
Retired Securities Attorney. Geez this guy loves and drives a Tesla and shorts their stock. What is that, the modern day analog of Peter Lynch's "Love the product, buy the company?". RJackson and I are never going to bring him around to our way of thinking on purchase accounting. Count on him for pithy zingers drawn from his legal background.
DoTheMathMan. Another guy who doesn't write articles, but should, and boy can he comment! I am going to rename him Cash Flow Man since he keeps us all focused on that all important metric.
Jaret Wilson. Doesn't write enough SA articles, but they are great. He's a mini Seth Klarman with stakes in both Chipmos and Micron, although his true love is the former and he regularly spams us Micron holders to entice us around to his ChipMos love.
Fred Kao. I believe Fred lives in Taiwan. Micron should be under no illusions that anything they do in the Far East is a secret when they read his posts.
LEWhite. Has apparently been around since private company days when they transitioned from potato farming to chip making (and I'm not talking potato chips ...).
and yes there are lots and lots of other valuable article writers and commenters too numerous to name...
So drop any one of us a line. I'm glad you've become a Micron shareholder as I think you may get management further aligned with the shareholders. Its been a great ride and will continue to be one for some time!
Disclosure: I am long MU. I wrote this article myself, and it expresses my own opinions. I am not receiving compensation for it (other than from Seeking Alpha). I have no business relationship with any company whose stock is mentioned in this article.