In May 2013, Tecumseh Products Company (TECUA) initiated a Strategic Initiatives Plan with the goal being to increase the company's EBITDAR (The R is for restructuring) margin from its paltry 1.2% in 2012 to 8%-10% by 2015. So far the company seems to be well on track to achieve that goal. For the first three quarters of 2013, EBITDAR margin has come in at 3.5%, 3.1% and 6.4% even though sales for the year are projected to be flat to down 5% on a global slump in machinery sales. If the company is successful in implementing its plan, then by applying a very conservative 5 times multiple to the low end of EBITDAR estimates on flat sales of ~$850 million, we arrive at an enterprise value for the company of ~$340 million which is more than double the company's present enterprise value of ~$168 million. When sales improve or if the company is successful at hitting the high end of targeted EBITDA the valuation could go much higher. The current market cap is ~$145 million. Tangible book value is $213.6 million. Shares closed on Tuesday, November 19th at $7.86.
There are no analysts covering this company and I do not think investors understand that the focus should be on EBITDAR margins at this time. The company's reported net loss of $5.7 million or $0.30 per share in its most recent reported quarter is not pleasant to read but as you can see from the reconciliation below net of impairments, restructuring charges and other items, the company turned a profit of $1.7 million or $0.09 per share. EBITDAR improved by $6.5 million over the same period a year ago.
RECONCILIATION OF EBITDA FROM CONTINUING OPERATIONS AND EBITDAR FROM CONTINUING OPERATIONS FROM NET INCOME (LOSS)

(in millions)

Three Months Ended September 30,

2013

2012

Net (loss)

$ (5.7)

$

(3.8)

Loss (income) from discontinued operations, net of tax

0.3

(0.1)

Tax expense (benefit)

0.1

(1.6)

Interest expense

2.2

2.5

Interest income

(0.3)

(0.3)

Operating (loss)

(3.4)

(3.3)

Depreciation and amortization

8.6

8.8

EBITDA FROM CONTINUING OPERATIONS

$

5.2

$

5.5

Impairments, restructuring charges and other items

7.4

0.6

EBITDAR FROM CONTINUING OPERATIONS

$

12.6

$

6.1
Company Overview
Tecumseh is a global leader of hermetically sealed compressors and condensing units. The company primarily offers three hermetic compressor technologies.
- Reciprocating (145 to 73,000 BTU/hour)
- Rotary (5,000 to 32,000 BTU/hour)
- Scroll (7,400 to 44,000 BTU/hour)
Primary applications include commercial refrigeration, household refrigerators and freezers, and residential and specialty air conditioning and heat pumps.
The company has nine manufacturing facilities, four assembly plants and four engineering and technical centers located around the world.
Tecumseh employs approximately 7700 employees worldwide.
The company was founded in 1934 and is headquartered in Ann Arbor, Michigan.
Tecumseh is the second largest manufacturer of commercial compressors in the world.
Strategic Initiatives Plan
I first wrote about TECUA last January when the company was (and it still is) selling substantially below tangible book value. Activist investor Roumell Asset Management was agitating for a sale of some properties which the firm had independently valued at a much higher valuation than they are carried for on the balance sheet. The firm was also interested in seeing the company focus more on the higher margin commercial segment of its business and ultimately exit the lower margin household refrigeration and freezer (R&F) business. In the end, Roumell was satisfied by the appointment of two new independent board members and the company's announcement of its Strategic Initiatives Plan which would include the sale of properties in Brazil and India.
Here are some of the details of the company's Strategic Initiatives Plan:
Material cost savings such as the use of aluminum instead of copper windings in core products.
A focus on higher margin products like their Masterflux variable speed compressor product line.
Implementation of lean manufacturing; reduction of waste and streamlining of manufacturing processes.
Reduction of corporate SG&A expense.
A "build where we sell" strategy: See below from the Tecumseh Investor presentation: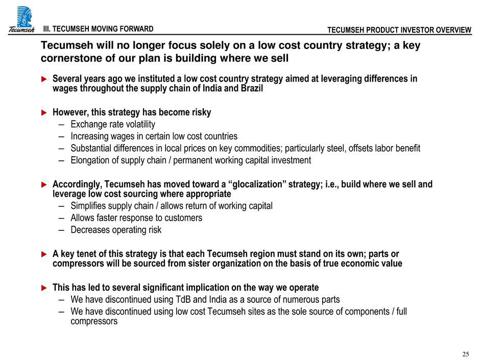 The company believes these and other initiatives will bring the company to the stated goal of 8%-10% EBITDAR margins by 2015.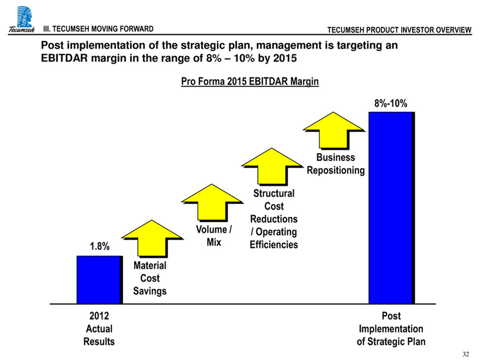 I strongly encourage anyone still reading to review the entire Strategic Initiatives Plan which can be accessed here.
Why are we getting a second chance at a double or more?
When I first wrote about TECUA last January, the share price was $4.92. It peaked on July 18th with a closing price of $12.10 for a gain of 145%. The share price has since fallen to $7.86. But why? For one thing the Brazilian foundry the company planned to sell has been taken off the market. Roumell Asset Management had this property appraised at $40 to $60 million. I believe deteriorating economic conditions in that country have made it more practical to wait before marketing it for sale again. So the company breakup crowd is likely not happy about that. But I think the property will ultimately be sold. Also, I expect investors simply don't understand what they should focus on. Sales are flat at best and the company reports losses, but on an EBITDAR basis, results are rapidly improving.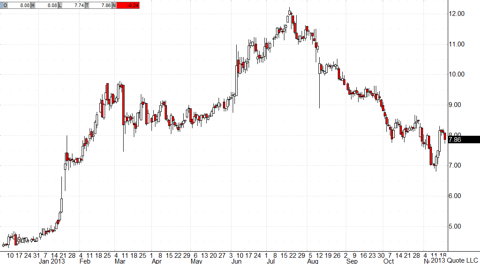 Two Classes of Stock
Tecumseh has two classes of stock. The "A" shares are more liquid but have no voting rights attached. The "B" shares (TECUB) are less liquid but have voting rights. TECUB often trades at a $0.30 to $0.50 discount to TECUA. There will be a vote to consolidate the shares into one class at the shareholders meeting sometime around March 2014.
The Bottom Line
Management is doing a stellar job in a difficult global economic environment of steering the company towards its goal of achieving 8%-10% EBITDAR by 2015. If achieved, the stock is trading at only 2.5 X 2015 EV/EBITDAR. The downside is underpinned by tangible book value being substantially higher than the current market cap. The fact that there are many properties worth much more than they are carried for makes the undervaluation argument even stronger. I suspect some properties will be sold as conditions in India and Brazil improve providing even more upside to the stock.
Disclosure: I am long TECUB. I wrote this article myself, and it expresses my own opinions. I am not receiving compensation for it (other than from Seeking Alpha). I have no business relationship with any company whose stock is mentioned in this article.