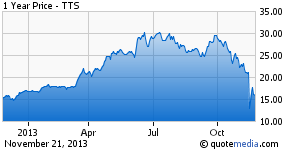 I recently wrote an article highlighting inaccuracies in Gotham City's allegations on Tile Shop's (TTS) gross margins. Over the past couple of days I have had discussions with some institutional investors interested in Tile Shop both on the bullish and bearish side. Based on my discussions I believe here are a couple of things which can be helpful for investors to better understand the company.
Margins
Fund Manager/Blogger John Hempton recently posed an interesting question for Tile Shop's shareholders trying to understand why its Gross Margins are higher than Louis Vuitton (OTCPK:LVMHF). Here's my answer.
Gross margin depends on two variables:
1. Sales/Pricing
2. COGS
Louis Vuitton enjoys high gross margins thanks to its premium pricing. But that's not the only way to achieve it. A company can also achieve improved margins by lowering its COGS by improving sourcing and removing intermediaries. Also, lower COGS doesn't necessarily mean lower quality. In fact, Indian Marble is one of the best in the world.
One fact that bears are missing about the company is that it used to enjoy mid 60s gross margins even in early 2000s - a time when, according to Gotham's allegations, CEO was trying to make margins look as low as possible due to his divorce proceeding. Also the company had low store count and sourcing capabilities (no employees in China/India) at that time and the economy was in post 9/11 recessionary conditions.
Inventory in transit
Another theory which some bears are trying to float is that there is some problem with the company's inventory in transit which stood at $10.8 million at the end of last quarter or 15% of the total inventory. What they are missing is the fact that the company sources most of its supplies from Asia. Lumber Liquidators (NYSE:LL) which also sources inventory from Asia and sells hardwood products had 22% of its inventory in transit at the end of Dec 31, 2012.
Also, the company had $62 million worth of inventory in its shops and distribution centers in the US. It's not like the Chinese fraud - it is a real company based in the US and physical inventory audit is not difficult.
Even before the recent attacks, high inventory level was one of the key issues which were raised by bears. While high inventory levels are definitely a big concern for apparel or electronics retailer and even for a wooden product retailer like Lumber Liquidator; we are talking about Stone Tiles in this case which doesn't wear off or becomes out of fashion in a year or two. For small shops which source their product locally, it does make sense to have faster turns. However, Tile Shop is using Asian sourcing for cost and quality benefits and if we look without our preconceived notions it is actually making a good business sense in this case.
I will be presenting more calculations on the company's margins and inventory levels in my upcoming articles. I believe bears are way off in terms of their understanding of Tile Shop. The stock has already corrected over 50% and the last leg down has come from a clearly inaccurate allegation regarding the company's Gross Margins by Gotham which does not make sense. At this point in growth cycle and macro cycle when the company is growing its store count by 20-25%, and housing recovery has just started 1.5-2 years back; the risk rewards is highly skewed on the upside.
Disclosure: I am long TTS. The analyst who wrote this article has a long position in Tile Shop Holdings. GS Analytics Pvt. Ltd. or any other employee/shareholder have no position in the company. We are recommending TTS as a long candidate to our clients.
Business relationship disclosure: GS Analytics is a financial research firm providing customized research services to US hedge funds. This article was written by one of our Research Analyst. We did not receive compensation for this article (other than from Seeking Alpha), and we have no business relationship with any company whose stock is mentioned in this article.