Editors' Note:This article covers a micro-cap stock. Please be aware of the risks associated with these stocks.
Life Stem Genetics Inc. (OTC:LIFS) is a name that I believe is currently the target of a penny-stock promotion scheme. It is my view that the stock's intrinsic value is somewhere near $0, and it is with conviction that I recommend that any investors currently in the name sell the entirety of their stakes immediately. Yesterday's drop could just be the beginning. I also believe that Life Stem Genetics Inc. is a stock definitely worth shorting. My track record of identifying and publicly exposing such highly overvalued equities is excellent:
| | | | | |
| --- | --- | --- | --- | --- |
| Ticker | Date of Publication | Price at Publication | Following Low | Percent Drop |
| | | $1.17 | .56 | 52% (early in pump, will end up lower) |
| | | $1.31 | 1.14 | 12% (early in pump, will end up lower) |
| | | $1.84 | $0.21 | 89% |
| | | $0.27 | $0.0027 | 99% |
| | | $1.42 | $0.15 (did hit $25 in an incredible short squeeze) | 89% |
| | | .33 | .01 | 97% |
Company Background
The company describes itself as a progressive health care company that focuses on healing with a patient's own Stem Cells. Stem Cells for years have been known to heal a variety of ailments successfully and now it is being offered as an efficient and painless way to treat many different illnesses ranging from orthopedic Injuries, neurological disorders such as Parkinson's, and Alzheimer's, Cancer, Plastic Surgery, Age Management, Arthritis, Diabetes, Cardiology, COPD, MS
Little Revenue. Debts. No Business. Bright Future?
As is usually the case with these types of hyped up scams, it takes only one quick glance at the balance sheet to realize that the $65M market capitalization that this equity commands is beyond ludicrous. With $105 in total current assets and $21,925 in current liabilities in recent quarter is clear they are not going in the right direction. They really can't keep operating like they are and it is my suspicion that the purpose of this company is not to succeed but to sell stock. The recent volume is due to overly bullish promotional mailers being delivered to people's homes.
Life Stem Genetics Inc. follows the typical pattern most shells do that end up getting promoted.
#1) Business taken public with no revenues.
#2) Seed shareholders given shares for next to nothing
#3) Change in control
#4) Name and symbol change
#5) Forward split while all the shares were insider owned
David Lubin was the attorney that helped Life Stem Genetics Inc. go public. David Lubin has been involved in taking multiple similar companies public, including the recently halted Biozoom. Inc.
Let's focus on what's even more important if you go through all the filings you come to a conclusion that there are 17,615,000 free trading shares at .00077 per share.
Most companies that end up being promoted usually tend to have little to no trading history. Life Stem Genetics Inc. is the same. Those seed shareholders cannot turn their shares into cash unless there are buyers. This is where they turn to stock promoters. Stock promoters get paid to send out overly bullish professional type mailers/emails to retail investors to lure them in. Let me show you what I mean:
Picture of LIFS Chart
You can see that trading in Life Stem Genetics Inc. really started trading 100k+ in volume on October 29, 2013. Michael Goode blogged about a Life Stem Genetics Inc. email that was being sent out with 300k budget. The company is the one that paid for the promotion. Then volume started to pick up November 4th when this landing page went up. Coincidence? Absolutely not.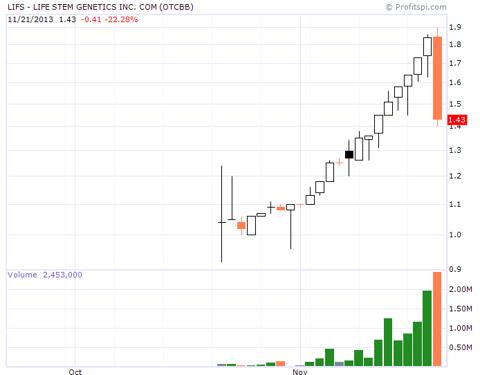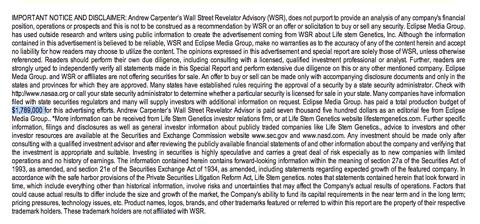 "Eclipse Media Group. has paid a total production budget of $1,789,000 for this advertising efforts. Andrew Carpenter's Wall Street Revelator Advisor is paid seven thousand five hundred dollars as an editorial fee from Eclipse Media Group"
You can see obviously someone is interested in increasing public awareness for Life Stem Genetics Inc. Most likely those seed shareholders with about 17.5 million free trading shares (who knows who owns what). Why else would someone spend $1,789,000 to increase public awareness? It is worth it to them because if they can bring in buyers and liquidate their shares around these prices that can mean about $25 million in profits! Running pump and dump schemes is a lucrative business and that is why we see it way to often. My job is to wake you up!
Promotional Page
My Recommendation
Yesterday's drop is just the beginning. If you own shares of this company, get out now. Do not hope that you can hang on to sell them to a greater fool. These shares are worthless. I have showed you that the reason for the promotional mailers indicates that the individuals behind this stock scam are trying desperately to unload their worthless shares onto the unsuspecting public and book a huge profit before the inevitable collapse. If you are a more sophisticated investor and can get a borrow on these shares, then I believe that shorting this name will be highly lucrative for you.
I called the company and went to a recording saying "We are either with a patient or on another call". Funny considering they have yet to have a single patient to date!
Disclosure: I have no positions in any stocks mentioned, and no plans to initiate any positions within the next 72 hours. I wrote this article myself, and it expresses my own opinions. I am not receiving compensation for it (other than from Seeking Alpha). I have no business relationship with any company whose stock is mentioned in this article.