On Wednesday, November 20, a survey from Wedbush estimated which retail chains might have an edge over their respected peers during the 2013 holiday shopping season. Although the list included names such as Pier 1 (NYSE:PIR) (in the retail hard-lines segment) and Gap (NYSE:GPS) (in the specialty retail segment), I actually wanted to highlight a number of reasons why I'm staying long on the one company that is expected to standout within the Footwear, Apparel and Accessories category, and that company happens to be none other than, Michael Kors (NYSE:KORS).
Recent Performance & Trend Behavior
On Wednesday, shares of KORS, which currently possess a market cap of $15.91 billion, a P/E ratio of 35.31, a forward P/E ratio of 22.77, and a profit margin of 18.90%, settled at a price of $79.09/share. Based on their closing price of $79.09/share, shares of KORS are trading 0.33% above their 20-day simple moving average, 3.62% above their 50-day simple moving average, and 21.08% above their 200-day simple moving average. These numbers indicate a short-term, mid-term and long-term uptrend for the stock which generally translates into a moderate buying mode for most near-term traders and long-term investors.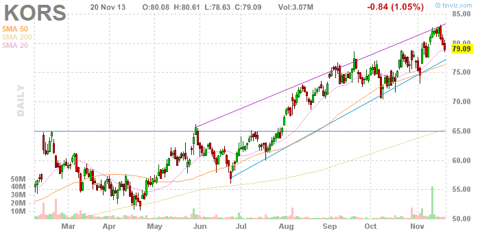 Click to enlarge
Recapping Michael Kors FQ2 Performance
On Tuesday, November 5, Michael Kors reported EPS of $0.71/share and revenue of $740.3 million for its FQ2. These results had surpassed both analysts' EPS estimates by a margin of $0.02/share and revenue estimates by a margin of $18.1 million. Some of the more positive notes to come out of the company's earnings announcement included but were not limited to a 23% increase in comparable store sales and a 31% increase in North American sales.
If the company can demonstrate a considerable increase (approximately 5% to 8%) in both North American and European sales as well as an increase in comparable store sales (approximately 2.5% to 3.5%) over the next 12-24 months, I see no reason why the company wouldn't meet or slightly surpass analysts' expectations for both FQ3 (estimates are calling for Michael Kors to earn $0.86/share on revenue of just over $858 million) and FY13 (estimates are calling for Michael Kors to earn $2.83/share on revenue of just over $3 billion).
Risk Factors
According to Michael Kors' most recent 10-K, there are a number of risk factors all investors should consider. These factors include but are not limited to the fact that the accessories, footwear and apparel industries are heavily influenced by general macroeconomic cycles that affect consumer spending, and a prolonged period of depressed consumer spending could have a material adverse effect on the company's business, financial condition and operating results and the fact that the markets in which the company operates are highly competitive, both within North America and internationally, and any increased competition based on a number of factors could cause our profitability to decline.
Conclusion
For those of you who may be considering a position in Michael Kors, I'd keep a watchful eye on a number of catalysts over the next 12-24 months as each could play a role in the company's long-term growth. For example, near-term investors should focus on the company's recent performance and trend behavior, while longer-term investors should pay close attention to the company's same-store sales growth, upcoming earnings performance and demand for its wide range of products and services during the upcoming holiday season.
Disclosure: I am long KORS. I wrote this article myself, and it expresses my own opinions. I am not receiving compensation for it (other than from Seeking Alpha). I have no business relationship with any company whose stock is mentioned in this article.