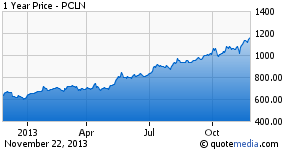 Priceline.com (NASDAQ:PCLN) continues to be a great performer after analysts at Goldman Sachs add to this year's momentum by placing shares on their conviction buy list. While the company's competitive position, growth rates and earnings are nothing but outstanding, I would be a bit more cautious given that I continue to believe that long term revenues and margins are unsustainable.
Share price momentum could continue, fueled by such an upgrade. Even so I would expect that competition will eat into margins at some point in time, leaving shares dangerously exposed to a bigger correction. As a short position in Priceline.com is very dangerous on the back of its strong momentum, I remain on the sidelines.
Goldman Puts Priceline On Conviction Buy
Analyst Heath Terry from Goldman Sachs added Priceline.com to the conviction buy list. The bank raised the price target from $1,260 to $1,500 per share, suggesting some 34% upside from Tuesday's closing price.
Terry sees increased upside potential from the already above consensus estimates. Priceline.com is expected to further benefit from a European recovery, strong mobile traffic growth and economies of scale in customer acquisition.
The mobile footprint, geographical mix and strong hotel relationships should drive its long term competitive advantage, according to Terry. The bank believes Priceline.com offers the most compelling risk/reward scenarios in the internet coverage.
Based on the upbeat guidance for the future, Goldman now sees 2015 revenues around $11.3 billion as earnings could come in around $3.2 billion for the year.
Third Quarter Results
Priceline.com reported its third quarter results about two weeks ago. Third quarter revenues came in at $2.27 billion, up 33.0% on the year before. Net earnings rose by 39.6% to $833.0 million.
Valuation
Priceline.com ended the quarter with $6.6 billion in cash, equivalents and short term investments. Total debt stands at $2.3 billion, for a net cash position of around $4.3 billion.
Revenues for the first nine months of the year came in at $5.25 billion, up 29.0% on the year before. Earnings rose by 33.9% to $1.51 billion.
Full year revenues are seen around $6.7 billion as GAAP earnings could come in around $1.8 billion.
Trading around $1,150 per share, the market values Priceline.com at $59 billion. This values operating assets of the firm just below the $55 billion mark. As such, operating assets are valued at 8.2 times annual revenues and 30-31 times GAAP earnings.
Despite the huge earnings, and strong financial position, Priceline.com does not pay a dividend at the moment.
Some Historical Perspective
There are only a few stock which performed better than Priceline.com over the past decade. Shares traded at just $20 in 2004 and traded as low as $50 in 2008. Ever since shares have seen steady gains, and after witnessing year to date returns of 85%, shares trade around all time highs at $1,150 per share.
Between the fiscal 2009 and 2013, Priceline.com is set to nearly triples its annual revenues to $6.7 billion. Net earnings could nearly quadruple to $1.8 billion.
Investment Thesis
While growth has been spectacular in recent years, it is to be noted that the majority of revenues and earnings derive from Priceline.com's European operations. With the economy showing early signs of a recovery, revenue growth could re-accelerate going forwards.
The great purchase of booking.com in 2005, has resulted in a European online powerhouse with over 360,000 listings, by far outpacing Expedia's (NASDAQ:EXPE) Hotels.com offerings. More recent deals to acquire Kayak has boosted the market share in the US as well.
Driven by the dominant market position and strong brands, Priceline.com feels like it is performing really well in a competitive environment. Despite this competitive environment, Priceline.com generated $2.27 billion in third quarter revenues on bookings of $10.77 billion, reporting revenues of $21 on every $100 in bookings.
Back in August, I last took a look at Priceline.com's prospects as momentum was on the verge to push shares over a $1,000 per share. I was wondering what would occur after shares breached this magical line. I noted that bookings growth remained very strong and now breached the $10 billion mark for the second time in its history, driven by the strong international activities.
Despite the very strong topline growth in terms of gross bookings and revenues, I continue to be concerned about the long term impact of competition. If consumers only realized that Priceline.com receives $21 for every $100 worth of hotels being booked on the website, they would look for ways to book hotel nights directly. By now, more people shop on Priceline.com, to then make direct bookings on the hotel website.
Very high net profit margins of 37% of total revenues could see severe pressure in such a scenario when revenues are being squeezed. After costs, Priceline.com now earns $8 for every $100 of hotels being booked on its websites. If competition would squeeze revenues in relation to gross bookings to about 15%, earnings margins have the potential to half.
I think Goldman is jumping on the bandwagon a bit late, but the strong historical performance and momentum makes a short position very risky as well. Therefore I remain on the sidelines. Note that the continued momentum results in the fact that the stock will be priced for perfection, and any negative news could send shares to levels below $1,000 per share overnight.
Disclosure: I have no positions in any stocks mentioned, and no plans to initiate any positions within the next 72 hours. I wrote this article myself, and it expresses my own opinions. I am not receiving compensation for it (other than from Seeking Alpha). I have no business relationship with any company whose stock is mentioned in this article.