Overview
There are numerous emerging market ETFs to choose from. The performance of the group of ETFs is relatively similar as a result of the benchmark index each fund follows. For the emerging market ETFs:
Dividend Yield
EEM: 1.279%
VWO: 3.852%
EDIV: 5.57%
GMM: 2.54%
EEMS: 4.64%
IEMG: n/a
EWX: 2.39% z
Average Daily Volume
EEM: 75M
VWO: 24M
EDIV: 147K
GMM: 38K
EEMS: 7K
IEMG: 400K
EWX: 91K
Expense Ratio
EEM: 0.68%
VWO: 0.18%
EDIV: 0.59%
GMM: 0.59%
EEMS: 0.69%
IEMG: 0.24%
EWX: 0.65%
Inception Year
EEM: 2003
VWO: 2005
EDIV: 2011
GMM: 2007
EEMS: 2011
IEMG: 2012
EWX: 2008
Market Outlook: Emerging Markets
So far this year, the emerging markets have suffered as a result of money moving into the US bull markets while international markets have lagged behind. As the global economy begins to rebound and the US markets skyrocket run slows down, the emerging markets will come back. The current pull back provides an opportunity to enter the emerging markets at a reasonable valuation compared to recent highs. Per capita income, for the 6 billion consumers, in the emerging markets has slowed but continues to rise. Conversely to the developed markets, where public debt is spiraling out of control, countries in the emerging markets are reducing their public debt.
Global GDP Growth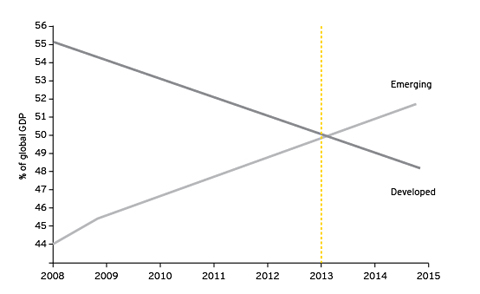 (EY.com)
Public Debt: Emerging Markets vs. Developed Markets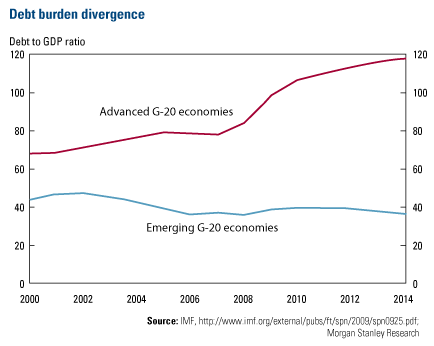 Recent Momentum & Looking Forward
The emerging have experienced a recovery over the past few months after reaching a low in July and again in September of this year. VWO has underperformed the S&P 500 over the past 2 year by almost 40%, even after the emerging markets recovery to positive territory. As the valuation of US equities continue to move higher, investors may consider reallocating their assets abroad and into the emerging markets to find greater value. As seen in the charts below, inflow of investments in the emerging markets leads to higher valuations of equities in those countries. With the exception of China, the other BRICS countries' net inflow for investments is relatively low compared to recent years. This is an underlying reason for the emerging markets valuation on the lower end of the spectrum and their recent underperformance. As capital is invested into emerging market' securities, the valuation of their equities will rise.
Portfolio Equity, Net Inflow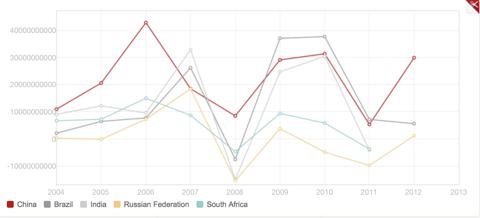 (World Bank)
Performance
4-Year Performance
| | | | | |
| --- | --- | --- | --- | --- |
| Symbol | 2010 Performance | 2011 Performance | 2012 Performance | 2013 YTD Performance |
| EEM | 14.80% | -20.36% | 16.9% | -3.04% |
| VWO | 17.43% | -20.64% | 16.54% | -3.76% |
| EDIV | 33.0% | -11.10% | 0.49% | -7.09% |
| GMM | 15.82% | -21.73% | 15.48% | -0.64% |
| EEMS | 27.17% | -26.54% | 14.81% | 3.85% |
| IEMG | 19.9% | -19.49% | 20.19% | -2.11% |
| EWX | 19.77% | -33.82% | 23.62% | 2.20% |
*YTD as of November 11, 2013 (Bloomberg)
VWO vs. S&P 500: 2-Year Performance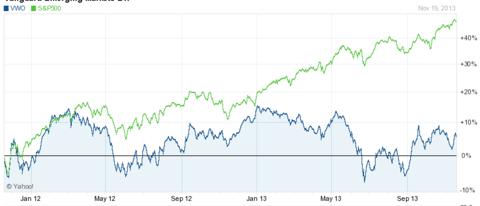 (finance.yahoo.com)
VWO vs. S&P 500: 2005-Present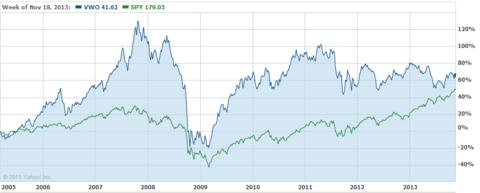 (finance.yahoo.com)
Holdings
Top Holdings
The following countries are represented in each ETFs top 5 holdings: China, Brazil, Taiwan, and South Africa.
Classification of South Korea
The most noticeable difference amongst the ETF's Indices is the classification of South Korea. EEM (MSCI) classifies Korea as an emerging market while, VWO (FTSE) and EDIV/GMM (S&P) classify Korea as a developed market.
Weighing in China
VWO, EEM, and GMM each have a substantial portion of the holding is China (between 19-22%) compared to EDIV which holds only 7.73%.
Summary
Overall View on Emerging Markets: Bullish
The future of the emerging markets looks strong. The high rates of growth are slowing but continue to be relatively high. Low levels of government debt and the high growth in GDP will continue to support these countries' economies. The emerging markets have lagged behind the United States in the aftermath of the economic downturns of 2008 but are in a strong position to make up the lost ground.
Recommendation for Emerging Market Exposure: VWO
Reasoning:
iShares' EEM and Vanguard's VWO are the clear leaders of emerging market ETFs, with Spiders GMM not far behind. The combination of VWO's high dividend (3.852%), high volume, and extremely low relative expense ratio makes it the best investment choice for an emerging market ETF.
Disclosure: I am long EEM. I may initiate a long position in VWO over the next 72 hours. I wrote this article myself, and it expresses my own opinions. I am not receiving compensation for it. I have no business relationship with any company whose stock is mentioned in this article.