IBM (NYSE:IBM) released Q3 2013 earnings in October. Total revenues dropped 4% to $23.7 billion, growth markets were down 9%, and revenues in the BRIC countries, namely Brazil, Russia, India and China, declined by 15%. IBM results have been far from satisfactory in Q2 2013 as well, with net income dropping to $3.6 billion, down by 12%, and total revenues dropping to $24.9 billion, down by 3% from Q2 2012. Obviously, both net income and revenues were below expectations in the last two quarters but on the upside, IBM rewards its shareholders with high dividends. Ginni Rometty, IBM chairman, president and CEO, states that "IBM's business model focuses on higher value and continuous transformation, which enables the company to deliver value to our shareholders in the form of dividends and share repurchases."
Why IBM underperforms?
IBM's weak operational performance is the result of a decline in the hardware segment in the growth markets, which drove 75% of the revenue drop. Especially in China, the company experienced a drop of 40% in hardware demand because China is in a transition period of developing its new economic plans. In addition, System x revenues declined 16%, storage hardware revenue dropped 10%, Systems and Technology revenue declined 7%. At the same time, IBM's cost-cutting strategy focuses on offsetting declining revenues. The company laid off contract workers and forced hardware personnel to take time off at 1/3 pay. The company also sold a low-margin customer-assistance outsourcing company to Synnex (NYSE:SNX), emphasizing the importance of IBM to become a higher growth, higher margin company.
In my view, margin growth and cost-cutting initiatives are likely to drive IBM's growth in 2014. This is not related solely to IBM's strategies but also to the changing IT environment that rips off the benefits of the global economy. By all means, all sorts of companies and governments need advanced IT services and products that can increase productivity at a low cost. For this reason, I believe that, if IBM effectively implements cost-cutting strategies, it has a strong chance for growth in 2014.
IBM Valuation
IBM's quarter after quarter results show a downward trend. Revenues declined, net income declined and despite the company's involvement in high growth opportunities in cloud and mobile computing, IBM's valuation is weak. Currently, IBM trades at a P/E ratio of 12.78x and its forward P/E is expected 10.27x (Dec 31, 2014). Compared to the industry average of 16.28x, IBM trades at a discount. Compared to Microsoft (NASDAQ:MSFT) and Accenture (NYSE:ACN), IBM is undervalued, which means that investors consider that the company has lower growth prospects than its direct competitors. In terms of market cap, IBM has a market cap of $200.31 billion, which is lower than Microsoft's. However, IBM currently trades at $185.25 whereas Microsoft trades at $36.74. This shows the growth/risk relationship, and IBM has a high growth potential with higher risk. (Table 1).
Table 1: IBM Direct Competitor Comparison

Market Cap:

200.31B

49.92B

48.05B

310.54B

290.31M

Employees:

434,246

275,000

331,800

99,000

1.39K

Qtrly Rev Growth (yoy):

-0.04

0.04

-0.08

0.16

0.09

Revenue (TTM):

101.36B

28.56B

113.13B

80.37B

579.34M

Gross Margin :

0.49

0.33

0.24

0.74

0.27

EBITDA :

25.94B

4.39B

13.58B

31.37B

27.95M

Operating Margin :

0.21

0.14

0.08

0.35

0.06

Net Income :

16.13B

3.28B

-3.16B

22.64B

N/A

EPS :

14.44

4.93

-1.63

2.67

0.2

P/E :

12.78

15.92

N/A

13.93

16.28

PEG (5 yr expected):

1.12

1.43

-1.56

1.98

1.43

P/S :

1.98

1.75

0.42

3.93

0.69
Source: Yahoo Finance
Besides, although IBM has lost 13.84% of its share price since May ($179.23 in November from $208.02 in May), it has a remarkable 67.68% trade volume increase (Table 2). This shows that IBM is becoming increasingly competitive and less volatile and therefore, investors are willing to put their money in IBM. If IBM trades at larger volumes, investors' confidence will be on the rise and eventually share price will go up. In my view, IBM's weak valuation makes the stock a possible buy. Indeed, IBM quarterly results in the second and third quarter were quite disappointing; however, this doesn't mean that the company does not have potential. IBM's long-term value is fine and given the weak IT spending in hardware and software, I think that IBM's problems are not lasting.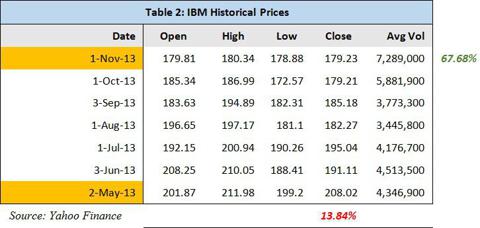 Future Outlook
I think that IBM will do much better in the near future for several reasons. First of all, the company focuses on growth and has identified high growth opportunities in the field of cloud computing, mobile computing and business analytics. Companies like NetApp in cloud storage, Splunk in data analytics and Imperva in security products can strengthen IBM's position through further expansion by the end of 2015.
Secondly, the broader IT environment seems favorable. Gartner estimates that world IT spending will reach $3.7 billion in 2013, up 4.2% on a year-to-year basis. Worldwide spending on PCs, tablets, printers and mobile phones is expected to increase 6.3% to $666 billion, whereas in the beginning of 2014, Gartner expects IT companies to spend more on big data and information management. These developments favor IBM's involvement in the big data market.
Conclusively, I would say IBM is a long-term "buy" mostly because the company has the potential to capitalize on its cloud computing initiatives in growth markets and boost earnings over the next quarters. Of course, fierce competition should be taken into account, as it may delay growth.
Disclosure: I have no positions in any stocks mentioned, and no plans to initiate any positions within the next 72 hours. I wrote this article myself, and it expresses my own opinions. I am not receiving compensation for it (other than from Seeking Alpha). I have no business relationship with any company whose stock is mentioned in this article.