Clothing and footwear makers Nike (NYSE:NKE), Under Armour (NYSE:UA) and V.F. Corp (NYSE:VFC) hope the holiday season will accelerate sales into year end, but with the U.S. still growing slowly and post-austerity Europe still struggling, is one a better buy than the others?
Signs of spending growth
Despite job growth in the United States being tepid and Europe's economy still struggling, there are signs consumer spending is growing not shrinking.
According to the Federal Reserve, the total consumer credit owned and securitized in the United States climbed to $3,051.7 billion in September, up from $2,877.60 billion a year ago.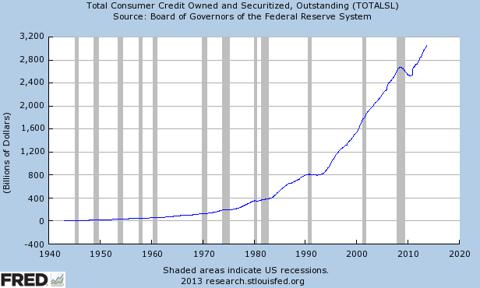 Click to enlarge
That increase in credit isn't limited just to improving auto sales. Credit card activity is showing signs of life too. Consumers right-sizing of personal balance sheets has made banks more willing to issue credit again, with the percentage of banks tightening credit card standards remaining negative all year.
The improving activity showed up in Mastercard's (NYSE:MA) Q3 results, with the gross dollar volume transacted through it increasing 9% and transactions climbing 16% from last year.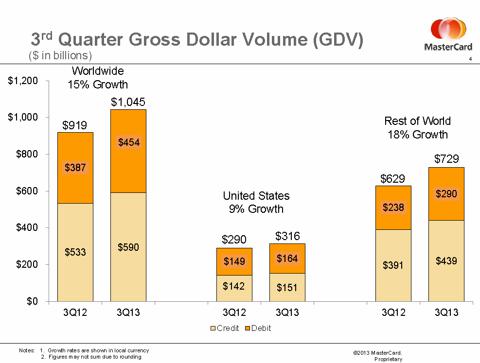 Click to enlarge
And, the pickup in card use hasn't been limited to the United States. Volume increased 15% worldwide in the quarter. That suggests markets in trouble spots, like Europe, may be turning the corner. A turn backed up by the OECD forecasting the United Kingdom's economy will grow 2.4% in 2014 -- the best since 2007.
That's good news for clothing, apparel & footwear
Europe has been a drag on Nike, Under Armour and V.F. Corp. But, the continent's headwind shifted to tailwinds in the third quarter. All three managed to notch solid growth in the region, suggesting ongoing recovery could be especially meaningful in 2014.
Nike's sales in Western Europe and Central & Eastern Europe grew 11% and 12% from a year ago, respectively. That outpaced the company's 9% North American growth and marked a stark contrast to Nike's 5% year-over-year drop in Western Europe from August 2011 to August 2012. Under Armour's international sales climbed 38% year-over-year to $44 million last quarter thanks to Europe. And, V.F. Corp noted European sales increased 7% from last year, led by Vans.
Debating earnings
Across all three, operating margins are improving this year. V.F. Corp has been especially good at delivering margin growth, with operating margin growing from less than 11% in 2011 to over 14% last quarter. That improvement helped it eclipse Nike's margin for the first time since 2009.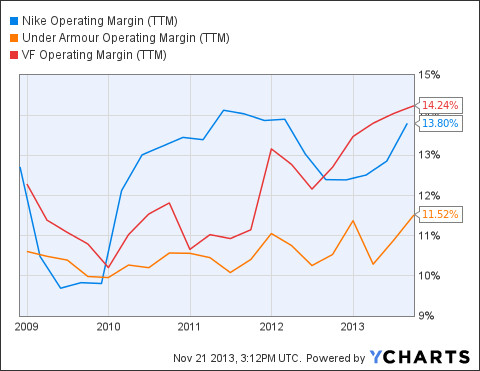 NKE Operating Margin (TTM) data by YCharts
Those improving margins are dropping to the bottom line, with earnings per share expanding for all three companies this past year.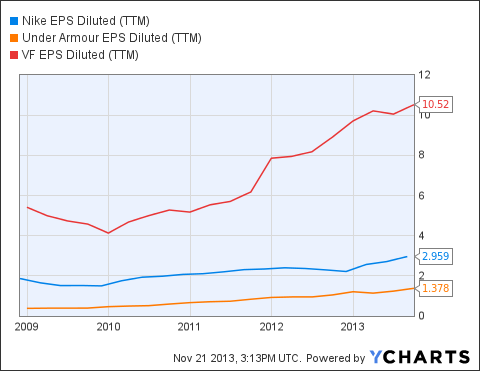 NKE EPS Diluted (TTM) data by YCharts
As a result, all three companies have outpaced earnings estimates in each of the past four quarters, with Nike posting the highest median percentage beat at 9.65%.
| | | | | |
| --- | --- | --- | --- | --- |
| Surprise % | 12-Dec | 13-Mar | 13-Jun | 13-Sep |
| NKE | 14.00% | 9.00% | 2.70% | 10.30% |
| UA | 2.20% | 133.30% | 14.30% | 3.00% |
| VFC | 1.30% | 11.00% | 8.50% | 3.40% |
Source: Yahoo! Finance
Despite the solid track record, analysts haven't dramatically moved their forecasts for earnings next year. The biggest increase in expectations has occurred at Nike, with analysts boosting estimates by 2.3% over the past three months. Interestingly, they've cut their outlook for Under Armour by 2.7%.
NKE

UA

VFC

EPS Trends

Next Year

Next Year

Next Year

15-May

14-Dec

14-Dec

Current Estimate

3.54

1.79

12.33

7 Days Ago

3.54

1.79

12.33

30 Days Ago

3.53

1.84

12.31

60 Days Ago

3.45

1.84

12.31

90 Days Ago

3.46

1.84

12.31

% Change from 90 Days Ago

2.31%

-2.72%

0.16%
Source: Yahoo! Finance
Debating valuation
Of the three, investors continue to pay the most for Under Armour's earnings. Their trailing 12 month P/E ratio of 57.4 is two times higher than competitors Nike and V.F. Corp. Importantly, investors are paying the most in five years for each dollar of earnings at all three companies, with the more diversified V.F. Corp being rewarded least.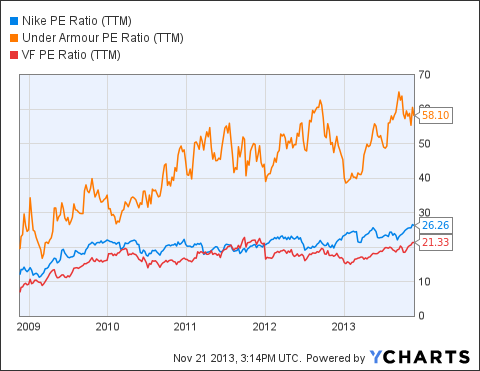 NKE PE Ratio (TTM) data by YCharts
If we assume the three companies will trade at the midpoint of their trailing and forward P/E's over the coming year, all three appear undervalued. Under Armour could potentially climb 14%, while Nike and V.F. Corp could gain by roughly 9%. However, if we use their five year average P/E ratios as our target P/E we discover all three are overvalued by at least 10%, with Under Armour's target price 18% lower and Nike's 11% lower.
That suggests investors will need better than expected earnings out of these companies to continue to support their historically high valuation. That earnings growth could benefit from lower input costs if cotton prices continue to trend lower. In October, "A" Index cotton prices (see link) fell to 89.35 cents per pound, down for a second consecutive month.
| | | | |
| --- | --- | --- | --- |
| Metrics | Nike | Under Armour | V.F. Corp |
| Trailing P/E | 26.17 | 57.51 | 21.3 |
| Forward P/E | 21.9 | 44.27 | 18.19 |
| Current Share Price | $77.74 | $79.71 | $223.78 |
| Forward EPS Estimate | $3.54 | $1.79 | $12.33 |
| Target P/E | 24.04 | 50.89 | 19.75 |
| Target Price Forward EPS * Target P/E | $85.08 | $91.09 | $243.46 |
| Potential Return | 9.45% | 14.28% | 8.79% |
Finally, the P/E to growth measure for Nike is 2.01. It's 2.57 for Under Armour and it's 1.84 for V.F. Corp.
Final thoughts
Over the past fifteen years on the sell-side, I've found it valuable to quantify different company characteristics to narrow thousands of ideas to an actionable few. As a result, my team screens the most widely traded equities every week, giving each a score based on the company's earnings beats, earnings growth, insider buying, money flow, short interest, valuation and seasonality.
This approach is designed to find the best ideas to own for the coming year and currently the system favors Nike, giving it a score of 105. This suggests Nike may offer investors the best balance of earnings and valuation.

Click to enlarge
Source: E.B. Capital Markets, LLC
As for timing, Nike also offers the best seasonality. Over the past decade it has traded higher in the 3 month period beginning November and ending in January 7 times, producing a median 4.9% return. That's significantly stronger seasonality than Under Armour, which has struggled to finish January higher than it begins November. V.F. Corp has neutral seasonality, but lackluster median return for the period.

Click to enlarge
Source: The Seasonal Invefstor Database
Across all these considerations, Nike appears to be the better bet for upside on ongoing recovery in the United States and early recovery in Europe this holiday season. V.F. Corp is also attractively balanced between earnings and valuations. And, Under Armour remains -- as it has for years -- priced for accelerating growth, which suggests it carries the highest risk of the three.
Disclosure: I have no positions in any stocks mentioned, but may initiate a long position in NKE over the next 72 hours. I wrote this article myself, and it expresses my own opinions. I am not receiving compensation for it (other than from Seeking Alpha). I have no business relationship with any company whose stock is mentioned in this article.