Compete recently completed an analysis showing early signs of the travel industry's recovery based on overall site traffic to industry websites. Compete's used its ability to identify unique consumers to calculate annual unique volumes from 2007 to 2009. In summary, hotel and cruise showed signs of recovery starting in early 2009, while the recovery for air and car rental first appeared mid-year.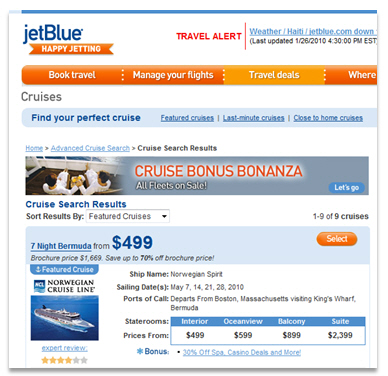 But there is another side to the coin. As travel industry companies look to manage through the recovery, many have started or are considering selling products and services outside their traditional core markets. For example, an airline could seek to offset lower air travel revenue by capturing a piece of cruise revenuer. Clearly Jet Blue (NASDAQ:JBLU) would like you to book flights with them, but also cruises. The result is that consumers may be more likely to shop across travel categories (so more likely to be counted as a consumer in multiple travel categories), creating somewhat of a false positive in terms of signs of a recovery.
To assess this, Compete compared the extent to which the travel industry overall is showing signs of recovery vs. individual travel categories based on average monthly site visitors all of 2009 vs. 2008. The overall industry look avoids double-counting consumers that researched across categories. The results show that three of the four categories (hotel, cruise, and car rental) show a greater year-over-year average growth than does the industry overall.
Change in Aggregate Average Monthly Unique Visitors, 2009. 2008, by Travel Industry Category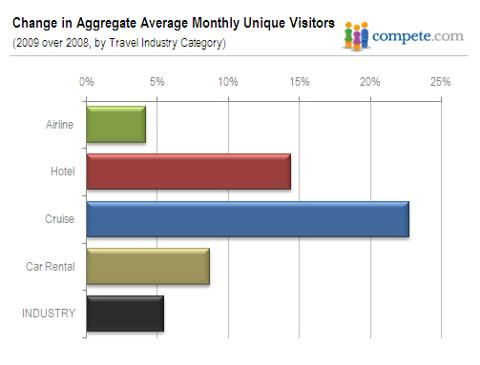 Some of the results are simply the result of lack of double-counting at the industry level, which is one of the benefits of being able to track individuals across sites and sessions. For instance, a consumer that visited a hotel website and a car rental website would be counted once in each of the category results, but only once in the industry results. To gauge category overlap over time, Compete created a travel category overlap index that represents relative overlap, and charted results over the past three years. The higher the index, the more often consumers visited sites across categories. An index of 1.0 would suggest no overlap. The index shows fairly linear growth in overlap, from 1.21 in 2007 to 1.30 in 2009.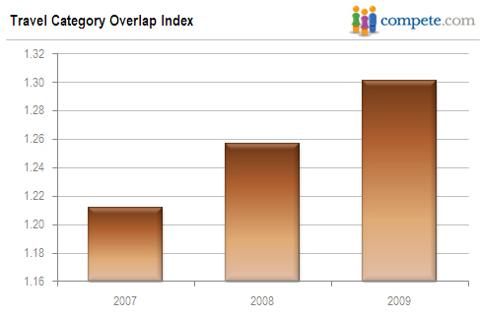 What does all this mean? The good news is that category growth means more consumers are visiting the websites of industries in those categories. More interest sets the stage for more bookings. The higher index can mean bad news or good news. The bad news is that consumers research across categories more, meaning every company's competitive set needs to get bigger. The good news is that the changes in consumer behavior revealed by index growth suggests consumers are more receptive to researching across categories, setting the stage for incremental, pan-category revenue for the most aggressive and successful companies.
Either way, all companies in the industry need to loosen the blinders and think out more of the box more in terms of whom they consider rivals. Hotels need to monitor and understand and evaluate airline online strategies and website tactics and the impact on consumer behavior; airlines need recognize hotel online strategies and website tactics; and so on. Most important is identifying the low-hanging fruit (places where consumers are already pre-disposed to cross-shopping categories) and pro-actively tracking encroachment from across categories. That's the best way to ensure that the positives seen by within-category growth to not turn into false positives as the result of across-category encroachment.