Advanced Semiconductor Engineering (NYSE:ASX) is the principal subsidiary of The ASE Group. It is the world's largest provider of independent semiconductor manufacturing services in both assembly, and assessment. Through direct services, as well as through the oversight and management of additional holdings, the company designs, manufactures, markets, and distributes, integrated circuit packages for computers and industrial applications. Since June of this year, monthly net revenues at ASX have grown from 563 million dollars (converted at a rate of .034/1 from the New Taiwan Dollar) to 704 million dollars in October.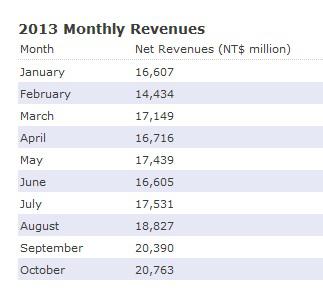 Furthermore, in addition to this 20% growth since early summer, the October revenues for 2013 represent nearly a 17% increase over those generated in 2012. These consistently rising revenues are reflective not only of a recovering global economy, but also of highly competent management, solidified corporate identity, and unique marketability. This article will contend that these facts, coupled with an insatiable consumer appetite for technology, create an investment opportunity with 30% upside and protected downside risk.
An Overview
ASX is a Taiwan-based conglomerate which maintains manufacturing facilities on three continents. They began providing semiconductor assembly services to customers in 1984, and inaugurated their semiconductor testing provisions three years later. Since then, the company has grown to become a global leader in nearly all semiconductor manufacturing processes.
The company also has a strong record of successful mergers, acquisitions, and joint ventures. Over just the last decade, ASX has made multiple corporate maneuvers to enhance their abilities and increase their efficiency. In May of 2004 they consolidated operations with an outright acquisition of ASE Japan. Three months later, they followed that up with further consolidations of ASE, Inc. and ASE Material Inc. In 2007, they acquired both ASE Assembly, and Testing of Shanghai, outright. They also created a new joint venture with NXP, B.V. named Suzhou ASEN Semiconductors. Then, in 2008, the company acquired Weihi Incorporated. In 2012, Power Technologies was merged into the company as well. In May of this year, the acquisition of Wuxi Tongzhi Microelectronics was also completed. An updated view of the company's structure and organization can be seen directly below;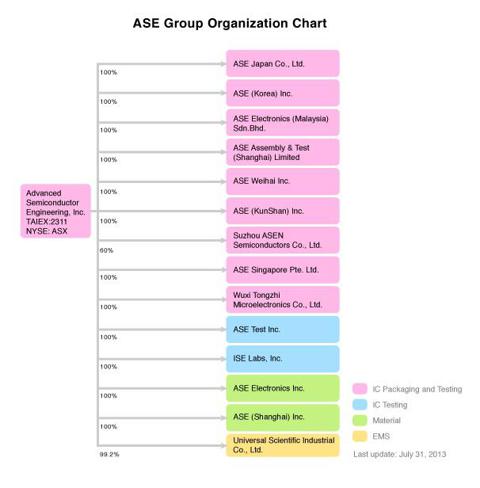 Most recently, the company announced a joint production and development agreement focused on further utilizing the thermal and electronic conductivity of copper in automotive micro controllers. The company has proven to be welcoming of change, expansion, and constantly evolving consumer demands. Moreover, the company's growing revenues allow them to venture into new markets and sectors in order to further stimulate future expansion and development.
Responsibility in the Face of Macroeconomic Change
In the Letter to Shareholders segment of the company's 2012 annual report, ASX Chairman and CEO Jason Chang briefly offered explanation to investors for the company's choice to exercise caution in 2012. He stated as follows:
"Global macroeconomic changes, including ongoing debt crisis in the European market and lackluster public spending worldwide, continued to impact our industry in 2012. Recovery has been slow, and this was particularly evident in key global economies, including the United States of America and China, where GDP expansion was more moderate than expected. Taiwan's economic performance was likewise affected, exacerbated by various policy reforms and challenges associated with a slowdown in imports and exports." He went onto say, "Given apparent macroeconomic and industry challenges, the company exercised caution in its business operations in 2012."
Despite ASX electing to opt for caution in 2012, their growth still outpaced the industry. According to the World Semiconductor Trade Statistics, global semiconductor sales fell by 2.7% in 2012 compared to 2011. However, at ASX, total combined revenues for 2012 grew by 4.7% compared to 2011. This, of course, represents a marginal outperformance for the company versus the industry of 7.4% YOY in 2012. This deliberate, responsible, and protracted approach to operations is paying off in others ways as well. Since the bottom of the global recession in 2008, the cash dividends paid per share have grown by over 100%.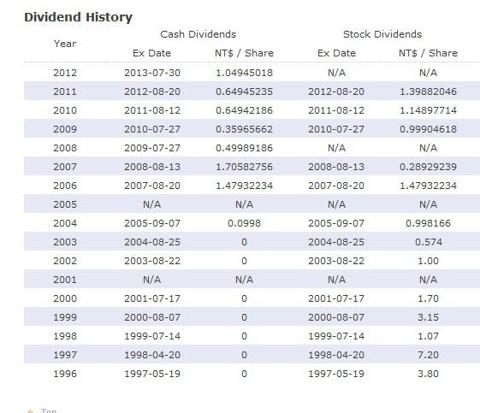 It stands to reason that as the global economy, the semiconductor industry, and the consumer spending trends move upward and onward, that ASX will thrive and grow at an even more compelling rate.
The Industry
The semiconductor industry is a cumulative collection of companies engaged in the design, production, testing, and distribution of semiconductor devices. It is a 300 billion dollar per year industry. It is widely recognized as a key driver for economic growth given its substantial role in the electronic systems value chain. The industry enables the creation and marketability of a combined 1,700 billion dollars in electronic systems and services. That exorbitant amount of money represents nearly one tenth of the global GDP.
More or less, nearly every computer, smart phone, and modern electronic device is dependent on semiconductor technology. Semiconductors allow electronics to interact, function, exchange information, and amplify and convert energy. Without semiconductor devices, quite literally, the world that we have come to know, and function within, would cease to exist. For example, the computers we use every day are reliant upon integrated circuits, microprocessors, random access memory, and read only memory. All of these technologies are semiconductor dependent.
However, the semiconductor industry is an investment vehicle largely considered to be one of high risk due to high volatility. The cyclical patterns of equitable performance are, for the most part, unpredictable. There is a need for companies to maintain a high degree of fluidity, flexibility, and innovation in order to continuously compete in the marketplace. Many of the products embedded with semiconductor technology have a short, momentum-fueled lifecycle. To some degree, this is due to competition among innovative technology designers. It is also a result of the consumer public's constant desire for the "next big thing". The inevitable outcome of these constantly evolving circumstances is that a company can be on top of the semiconductor world one day, and nearly insignificant the next. This volatility, and need for constant market evolution, affects not only workplace stability for employees, but also for investors and shareholders. It is understandable why many investors either avoid, or only short trade, the semiconductor industry. In the case of ASX however, many of these factors contributing to volatility are greatly reduced by the company's business model.
ASX as an Investment
ASX is not a chip designer. That is to say, its core business is not dependent on creating, developing, and marketing the "next big thing." Therefore, its margins are smaller, its volatility is lower, and its performance is more reliable. This allows the company to support a sustainable 3% dividend yield as a result. Furthermore, since their business model is largely focused on assembly, testing, and IC packaging, they are a viable partner for whomever the "hottest chip designer" is that day, that month, or that year. In other words, their revenue is not as dependent on innovation, as much as it is supporting innovation. For this reason, ASX is not only less affected by the volatility of the semiconductor marketplace, but they can, in many ways, profit and grow from said volatility.
Consider, by comparison, the consistency of ASX's performance when weighed against two companies existing in the same industrial space. These companies are not in direct competition with each other, but majority revenues are dependent upon semiconductor manufacturing. For the sake of this example, we will use two companies of varying size and market cap on either side of ASX, as not to be biased. We will also evaluate performance from the same point in time; late 2008, the bottom of the global recession. First, examine the performance of Axcelis Technologies (NASDAQ:ACLS); a respectable small cap manufacturer of semiconductor technology based in Massachusetts.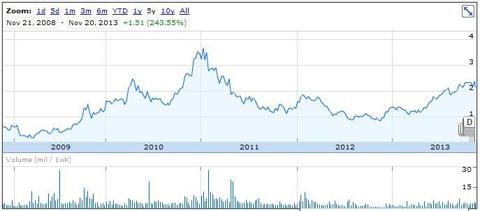 Since 2008 the company has, respectfully, seen three separate peaks and valleys in their PPS without having experienced any consistently sustainable growth. They have also not paid any dividends in that time. This is not a poor reflection of Axcelis as a company, but rather a performance indicative of global recession and industry volatility. Their business model is highly susceptible to the market conditions specific to the semiconductor industry.
Next, consider the performance of Applied Materials Incorporated (NASDAQ:AMAT); a high performing and well respected large cap company currently doing quite well.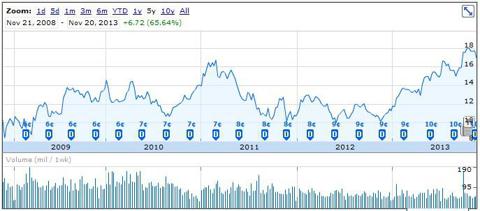 While Applied Materials has paid consistent dividends, and recently hit a 52-week high, one can see that not even this stalwart of industrial strength can avoid the relentless volatility specific to companies in the semiconductor sector. Their chart has more ups and downs than a plastic bag in a hurricane.
Now, while both Axcelis and Applied Materials are respectable companies with potential upside, the quantities of their business revenues contingent upon semiconductor design and manufacturing leave them open to considerable volatility. ASX offers investors a different way to invest in the semiconductor industry. ASX offers an investment vehicle in the space with more predictability, less downside, and consistent growth and income.
Take a cursory look at the performance of ASX since 2009; the same time frame represented by the charts for Axcelis and Applied Materials seen above.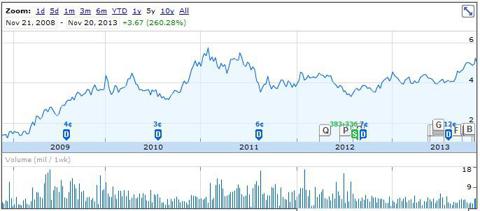 As can be seen, ASX has shown consistent growth since 2009, at a rate of over 260% since that time. In addition, despite one peak between 2010 and 2011, the company has paid increasing annual dividends since 2009 and been on a comparatively consistent upward trajectory. This is not an indictment of Axcelis or Applied Materials. As was previously stated, they are both respectable companies in their own right, mentioned herein only as a basis for comparison. Axcelis has shown comparable period growth of 240%. Applied Materials has shown comparable dividend support. However ASX shows less volatility, more consistent period growth, and a growing dividend. As an investment vehicle in the semiconductor space, ASX is a largely underappreciated entity.
Looking Ahead
ASX has managed to perform consistently, and ahead of industry average, despite a down economy and a conservative approach. Their success has been a result of tempered management, responsible expectations, and methodical business execution. Currently however, economic conditions are starting to improve. This should prove advantageous for ASX. Over the last fiscal quarter, exports from South Korea and Taiwan have increased 3.18% year to date. The rate of electronics exports specifically has outperformed that number by a factor of 2:1. In addition, the major international markets for ASX; the United States, China, and Western Europe, have seen signs of consumer spending growth. This has been especially so in the technology sector.
The global demand for advancement and innovation in the technology space has been obsessive for the last five years. The battle for consumer devotion in both the retail and commercial markets has been nothing short of corporate waged war. Companies like Apple (NASDAQ:AAPL), Google (NASDAQ:GOOG), and Samsung (OTC:SSNLF) are striving to outperform each other with unrelenting focus. This competition doesn't end with just them either. Nearly every competitive sector in the technology space is being fought for unremittingly. Contending entities want to produce the highest quality, most appealing, and most profitable products on the market. The most common denominator among these corporate rivalries is the need for pioneering semiconductor technology.
ASX isn't competing to produce the next chip capable of previously unrealized technological advancement. ASX is simply capable of supporting whatever companies are competing to do as such. An investment in ASX is essentially a wager that this competition will remain, and that consumer expectations will continue to rise. If recent times are any indicator, then those two possibilities are near certainties.
Risks
Despite the business plan in place at ASX which minimizes downside, the company remains in a highly volatile space. The semiconductor market, as mentioned herein, is one that is largely unpredictable and difficult to navigate. Furthermore, the global economy is not assured of continued progress. To depend on consistency in the market, or ongoing global economic improvement, would be a mistake.
Also, the semiconductor marketplace is highly competitive. While ASX doesn't currently have any direct competition for their full service semiconductor solutions exclusively, they do have competition in the individual segments of their business. Front end testing, packaging, design, manufacturing, probing, and assembly, are all highly contested markets. Furthermore, there is no promise moving forward that a new, full service, semiconductor assembly and testing entity will not emerge.
Conclusion
The semiconductor industry is shaping up for a significantly strong performance in 2014. Continued recovery, growth, and expansion are all expected. The industry has long been one to operate cyclically, with regular patterns of boom and bust. Consumer demand for technology that is smaller, faster, and less expensive fuel this cycle. The uncertainty of cyclical patterns often poses the following conundrum; does the technology drive the market, or does the market drive the technology? Currently, it may be reciprocal. Consumers want more, and the market is providing it. Whether one is the catalyst for the other, at this point in time, is irrelevant. What is known is that demand for technology seems to change upon delivery of supply. Demand is ever evolving. This bodes well for technology chain companies like ASX.
Forecasts indicate growth in the marketplace at an average of 10% per year over the next two years, leading to a possible cyclical peak in 2017. Jim Feldan, the founder of Semico Research, has made the following statement regarding the semiconductor industry:
"What we're really excited about is that what we've seen over the last 8-10 months is a very strong increase for the IPI, which gives us a very strong indication that next year, 2014, will be a much better year."
IPI, as referenced in the above quote, stands for "inflection point indicator", a mathematical model utilized to forecast industry performance. Assuming the estimated annual increase of industry growth in 2014 and 2015, coupled with ASX's three-year history of outperforming the standard by an average of 7.4%, it wouldn't be unreasonable to forecast a 34.8% growth in revenues for ASX over the next two years. This forecast, coupled with a strong and sustainable dividend, make ASX an attractive investment option.
Investing in ASX in order to capitalize on the semiconductor industry would be similar to investing in a drilling company in order to profit from the oil industry. It is an indirect way to invest in a more direct market. It is an efficient means to a profitable end. Considering the factors detailed herein, ASX appears more than capable of providing investors with steady growth, maintainable yield, and downside protection. It may not be the most tantalizing of semiconductor investment options, but it might well be the safest and most reliable. ASX should prove to be a responsible, sturdy, and dependable investment vehicle for the next 3-5 years.
Disclosure: I have no positions in any stocks mentioned, and no plans to initiate any positions within the next 72 hours. I wrote this article myself, and it expresses my own opinions. I am not receiving compensation for it (other than from Seeking Alpha). I have no business relationship with any company whose stock is mentioned in this article.