Yesterday (November 20th) J. C. Penney (NYSE:JCP) released its third quarter financials. As I detail below, I believe that the report was lousy, and confirmed my earlier contention that J. C Penney is circling the drain. Nevertheless headlines pointing to a phony recovery in the business seemed to prevail, and statements of rising same-store sales and improving gross margins from the company's conference call caused a short squeeze in trading.
I suspect that this bear market rally can continue--after all the stock has lost more than half of its value this year and the company's abysmal performance has attracted a lot of short selling. Nevertheless the company still faces the problems that I have been emphasizing for months:
The company is in serious financial trouble.
The company has a misguided strategy in attempting to revert back to the way it was in the pre-Johnson era.
The company is operating in a tepid retail environment that is especially brutal for those retailers catering towards the lower middle class.
In addition to these points, which I have discussed in the past (and on which I will update my views here) I am becoming more concerned about the company's accounting with regards to its inventory: despite management's attempts to reduce inventory through fire-sales, it is not marking this inventory down on its balance sheet. As I discuss below the company's inventory is skewing parts of its balance sheet--in particular its working capital and its shareholder equity--so that it looks far stronger than it really is.
1: J. C. Penney's Financial Situation
I have been following J. C. Penney's financial situation throughout the year and as I have predicted it has gotten worse despite positive headlines regarding the company's comparable sales and its gross margins. True, the decline in gross sales has decelerated, which is a positive development, and October figures were reported to be positive. But the strategy of deep discounting and begging customers to come back is only working to some extent on the top line while the company has a bottom line problem.
The fact remains that the company lost a whopping $489 million last quarter, a loss that dwarfed its $123 million loss from the third quarter last year. No matter how much gross sales have improved or stopped declining, the fact remains that J. C. Penney lost 18 cents on every dollar worth of sales it made, indicating that its deep discounting strategy may be getting customers in the door, but it is a lousy policy from a financial point of view.
The loss is enormous, having depleted roughly $330 million of the $786 million that the company raised in October. However this shouldn't surprise followers of the company. In a previous article I suggested that the company would burn through its newly raised capital in just 5 months, and so far this appears to be an accurate estimate. I said that the company's burn rate would increase from $130 million monthly to $170 million monthly just looking at estimates coming from the company. With a lost of $489 million in the third quarter my estimate of $170 million/month wasn't too far off from the actual $163 million. As a result I am going to reaffirm the claim I made in that article--J. C. Penney will almost certainly be accessing the equity market again within a few months. If not it could face liquidity issues, and potentially bankruptcy
2: J. C. Penney's Strategy Is A Failure
In the past I have criticized the company for attempting to go back to the pre-Johnson era and to recapture that customer base, when in fact it was having trouble defining its core customer the way that Costco or Nike can. Now it seems that management is pursuing a far more reckless strategy of attempting to gain market share by deep discounting. This may improve sales, and it may get customers through the door, but as the most recent loss indicates, it is not good business unless the company can get these customers back in the door without the ongoing discounting.
Furthermore this strategy can only be a temporary measure. As Mike Ullman claims on the conference call the company is holding a massive clearance sale on the Johnson-era merchandise, which eventually has to run out. So far as we have seen this has created positive comparisons in gross sales, at least in October. Putting the financial outcome of this clearance sale aside, will we still be seeing positive comparisons when the Johnson-era merchandise is depleted? Management seems to think so, but it has yet to demonstrate any interest in its products that doesn't come from deep discounting. As a result I cannot show any enthusiasm for the company's positive/improving comparisons; nor can I assert that the so-called turnaround is successful as evidenced by these comparisons.
Ultimately, the company has yet to define its customer beyond "bargain hunter," and this is a problem for which management offers no solution.
3: The Retail Environment is Still Tepid
Retail sales in the United States are growing year over year, but there is evidence of deceleration, as the following chart illustrates.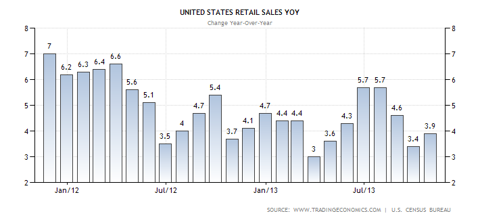 Yet there is more to the story than these figures suggest. The performance of other retailers indicates that lower-middle income consumers are not doing so well. The increase in consumer spending can be seen clustered in higher end retailers such as Michael Kors (NYSE:KORS) and Lululemon Athletica (NASDAQ:LULU), and it can be seen in lower end retailers such as Dollar General (NYSE:DG). Those who shop at the higher end retailers are probably not going to shop at J. C. Penney, and those shopping at low-end retailers are struggling economically and trading down--while they may be lured into J. C. Penney for its bargains there is enormous competition among low-end retailers, and as we have seen J. C. Penney is not in a position to profit from its deeply discounted items.
Furthermore if we look at J. C. Penney's peers--Macy's (NYSE:M) and Kohl's (NYSE:KSS)--both are reporting lackluster sales figures. Macy's shares responded extremely well to the most recent earnings release, but top line growth was only 3% and the market was more impressed by improving margins than by sales growth. Kohl's saw a 1% decline in year over year sales last quarter.
Thus not only is the bulk of retail sales growth found at the high and low ends of the retail spectrum, but there is essentially no growth coming from department stores.
4: J. C. Penney's Inventory
As I suggested above I think that investors need to view J. C. Penney's inventory in the context of the entire balance sheet with skepticism. J. C. Penney's most recent financial statement shows $3,747 million in inventory. This number is up quarter over quarter as the company stocked up in preparation for the holiday season. However I am concerned that the company is not representing its inventory appropriately given the large discounts it is offering to consumers.
If, in fact, I am right, and the inventory figure is artificially high, then this has significant ramifications for the rest of the company's balance sheet. First, The company's stated shareholder equity is $2,647 million. Depending on how we calculate the value of the inventory this figure can change dramatically. For instance, with all of the holiday bargains, if we mark down the company's inventory by 20% or $750 million, the company's shareholder equity drops to about $1.9 billion.
Second, while it is standard accounting procedure to count inventory as a current asset, the implication is that the inventory can be liquidated at the marked value with minimal delay. This is, of course, ludicrous. In fact it would probably take months to liquidate this inventory, and furthermore as inventory is liquidated the rate at which it is liquidated slows unless inventory is replenished, or unless it is marked down substantially. J. C. Penney's working capital is currently around $2 billion, but if we remove the inventory this figure turns negative. Even if we count some inventory in current assets J. C. Penney's working capital is effectively negative. For instance if we count 1 month worth of inventory (about $900 million by last quarter's standards) in the current assets portion of the balance sheet, J. C. Penney's working capital stands at roughly ($800 million), and this would theoretically be a situation that could force a fire-sale of assets and a potential bankruptcy.
Yet due to standard accounting practices management can come out and say that the company has ample liquidity. Those who have been reading my articles on J. C. Penney know that this is not the case, and I was proven right when the company issued nearly $800 million worth of stock despite comments from management claiming the company has ample liquidity. As a result I suggest that investors question the company's true value and its true liquidity situation that results from this highly optimistic representation of its inventory situation.
Conclusion
As I have argued before I believe that J. C. Penney is headed towards bankruptcy, or at least another large secondary offering. There is more reason than ever to hold this position.
Despite positive same store sales comparisons the company is bleeding capital, and deeply discounting its merchandise will only exacerbate this problem. I suspect that the company will be forced to issue more stock by March or April of 2014, or it may face bankruptcy.
Management has failed to adequately define its customer base. This problem may be temporarily masked by the fact that bargain hunters are coming to J. C. Penney, but this situation cannot last if the company wants to remain solvent.
The retail environment remains tepid, and the retailers who are benefiting from the small increases in national figures cater to the richest and poorest Americans. Department stores such as J. C. Penney fail to do this.
The company's inventory skews vital balance sheet metrics. Inventory is a major contributor to the company's positive shareholder equity despite the fact that this inventory hasn't been marked down to reflect discounting. Further, inventory masks the company's effective negative working capital situation. As a result while the balance sheet currently looks mediocre prior to incorporating these concerns, I would argue that it reflects a company nearing bankruptcy, or one that could perhaps be in bankruptcy should bondholders force the issue.
Given these points I think J. C. Penney shares continue to offer an excellent short opportunity. However there is currently a bear market rally taking place, which is not surprising considering the massive collapse that the share price has seen.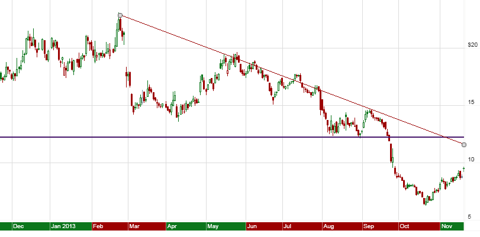 As bearish as I am from a fundamental standpoint I wouldn't be surprised to see the stock hit $12/share again, and for aggressive tactical traders a long position might make sense. But ultimately I am looking for an opportunity to get short at a higher price when some optimism enters the market. This has been the strategy I have recommended in the past and it has worked out extremely well.
Disclosure: I have no positions in any stocks mentioned, but may initiate a short position in JCP over the next 72 hours. I wrote this article myself, and it expresses my own opinions. I am not receiving compensation for it (other than from Seeking Alpha). I have no business relationship with any company whose stock is mentioned in this article.