Apache Corp (NYSE:APA) is reported to have completely eliminated its reliance on freshwater in the South Permian region. When drilling Wolfcamp shale wells, the company is meeting all its water requirements by taking brackish water from the Santa Rosa aquifer, treating it, and recycling frack waste water from its wells. It costs Apache around 29 cents/barrel to treat water, but $2.50/barrel to have it trucked away for safe disposal. Considering millions of gallons are often needed to frack a single well, this is a huge cost reduction on each well drilled and a strong catalyst moving forward.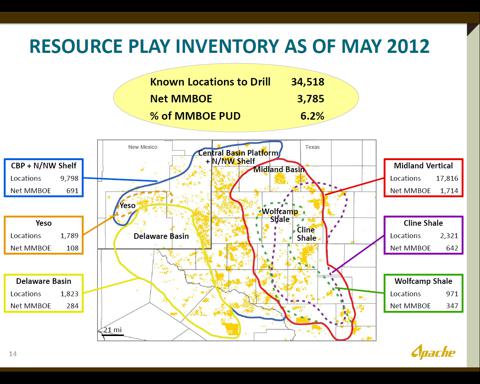 Click to enlarge
Apache is one of the largest producers and acreage holders in the Permian Basin. In a recent presentation at the Bank of America Global Energy Conference, the company showed it had an inventory of ~3,300 locations to drill in the Wolfcamp and Cline shale plays. But there's a problem: in the Midland-Odessa region, cities and towns have been under severe water rationing for years and drillers are scrambling to find new sources of water. Local reservoirs sit 95% empty. Yet there is a virtual ocean of brackish water under the surface across much of Texas. Hence, Apache's successful initiatives to treat and recycle brackish water.
Lucian Wray, production manager for Apache's South Permian region, said:
...we're not using freshwater out here. We are recycling 100 percent of our produced water. We don't dispose of any of it.
The IHS CERA consultancy said this month water costs can eat up 10 percent of a well's capital budget. A typical frack job can use 5 million gallons of water, or ~160,000 barrels/well. If Apache is saving $2/barrel with its treat and recycle method, that works out to a savings of around $320,000/well. With an inventory of 3,300 drilling locations in the Wolfcamp and Cline plays alone, that is a total potential savings of over $1 billion. So we are talking serious money here.
Indeed, at the same BofA conference presentation mentioned earlier, Apache highlighted its cost reduction efforts which have saved over $1 million per well in the Chine and Wolfcamp: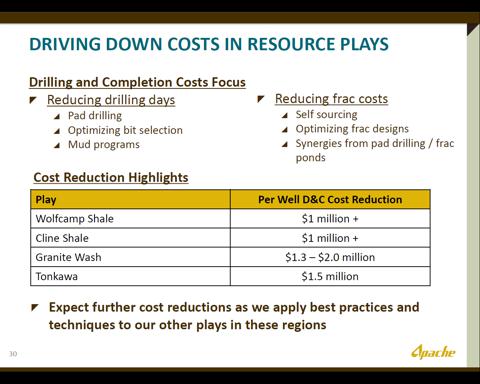 Click to enlarge
Considering the lack of fresh water in West Texas after years of drought, many other drillers in the region will be forced to adopt similar practices. If they aren't already, companies like Occidental Petroleum (NYSE:OXY), the #1 producer in the Permian, and Pioneer Natural Resources (PXD) will likely adopt brackish water treatment and recycle programs.

Investors should consider looking at a company like Ecolab Inc. (NYSE:ECL) which I profiled in the article Why Bill Gates Owns 10% of This Company. In July of 2011, Ecolab dramatically changed its profile with its $8.1 billion acquisition of Nalco, a water treatment and energy services business. A few months later Ecolab paid $2.2 billion to buy Champion Technologies, a specialty chemicals firm that treats fracking wastewater from oil and gas wells. Following the Champion acquisition, Ecolab said energy sector sales will account for ~25% of revenues.
Summary And Conclusions
Water supply is and has been a serious challenge for E&P companies that rely on fracking for profits. Apache Corp. has taken steps to substantially reduce costs in its Wolfcamp and Cline plays in the Permian Basin by using, treating and recycling brackish water for its fracked wells. The method is saving hundreds of thousands of dollars per well. A company like Ecolab will also benefit from this trend, for which most producers in the region are likely to adopt. But ECL isn't cheap:
Market Cap = $32.2 billion
P/E ("ttm") = 35.6
EPS ("ttm") = $3.00
Div (Yield) = $0.92 (0.90%)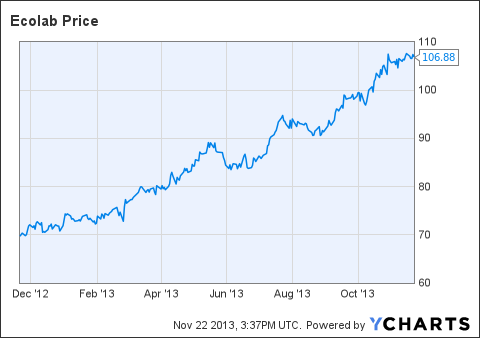 Disclosure: I have no positions in any stocks mentioned, and no plans to initiate any positions within the next 72 hours. I wrote this article myself, and it expresses my own opinions. I am not receiving compensation for it (other than from Seeking Alpha). I have no business relationship with any company whose stock is mentioned in this article.
Additional disclosure: I am an engineer, not a CFA. The information and data presented in this article was obtained from company documents and/or sources believed to be reliable, but has not been independently verified. Therefore, the author cannot guarantee its accuracy. Please do your own research and contact a qualified investment advisor. I am not responsible for investment decisions you make. Thanks for reading and good luck!