Mosaic (NYSE:MOS) produces phosphate crop nutrients and phosphate based animal feed ingredients under its phosphate segment. Recently, Mosaic signed an agreement with CF Industries (NYSE:CF) to acquire CF Industries' phosphate business for around $1.2 billion. CF Industries currently produces around 1.8 million tons of phosphate annually in Florida, which will add to the Mosaic phosphate segment's annual production of 8.2 million tons. This transaction is expected to complete in the first half of next year.
Besides this, CF Industries will also supply around 600,000 tons - 800,000 tons of ammonia to Mosaic, beginning in 2017. Ammonia is a nitrogen based product used as a raw material to manufacture finished phosphate products. CF Industries will supply ammonia for up to 15 years from its Donaldsonville nitrogen facility to be used in Mosaic's phosphate production. The agreement also requires CF Industries to supply ammonia to Mosaic from another CF Industries' ammonia plant. After the completion the sale of the phosphate segment, CF Industries is required to provide around 270,000 tons of ammonia annually to Mosaic for three years from its ammonia production plant in the Republic of Trinidad and Tobago.
This agreement is expected to bring significant cost savings for Mosaic. Prior to this agreement, Mosaic planned to construct a phosphate plant in Florida. The acquired phosphate business of CF Industries is very close to Mosaic's phosphate mine in Florida, and hence Mosaic cancelled the construction of this phosphate plant. This will save the company around $500 million. Besides savings from the phosphate facilities, the supply of ammonia from CF Industries is also expected to aid Mosaic with cost savings. Supply of ammonia will allow Mosaic to drop its proposed ammonia facility, which will allow Mosaic to save another $1.1 billion.
As depicted in the table below, Mosaic's phosphate segment revenue contribution has remained around 17%. However, in the third quarter of fiscal year 2013, this revenue contribution declined to 14%.
| | | | | |
| --- | --- | --- | --- | --- |
| Quarter (Fiscal Year) | Fourth quarter, 2012 | First quarter, 2013 | Second quarter, 2013 | Third quarter, 2013 |
| Revenue from phosphate segment ($ in millions) | 1,656 | 1,501 | 1,646 | 1,419 |
| As '%' of sales | 17 | 17 | 17 | 14 |
This decline is primarily due to a decrease in sales price of phosphate, as shown in the chart below. Greater supply from Saudi Arabia and China is the primary reason for this decline in phosphate's selling price.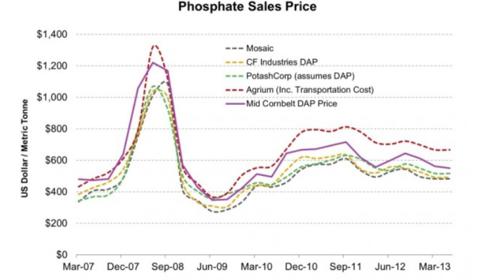 Click to enlarge
Source: Green Markets, Company financials
Despite this slowdown, Mosaic's phosphate segment is expected to grow in the long term with the company's investment in a Saudi Arabian joint venture and the above discussed agreement with CF Industries.
The agreement is a win-win situation for both companies. CF Industries reported in its third quarter report of fiscal year 2013 that the gross margin of its phosphate segment declined 56% year over year to $27.7 million. Lower global demand, especially from India, is the primary reason for this decline. With the sale of this loss making segment, CF Industries will focus on growing its nitrogen segment. This deal is expected to boost the fundamentals of CF Industries and its valuation parameters also support my reliance on the company.
CF Industries' trailing twelve months price to earnings, or PE, ratio is 8.29, significantly lower than the industry s PE ratio of 14.1. The company's price to book, or PB, ratio is 2.45, also lower than the industry's PB ratio of 3.7. The return on equity, or ROE, of CF Industries is 29.6%, higher than the industry's ROE of 20.7%. The stock valuation parameters and fundamentals of CF Industries indicate it is an attractive investment opportunity.
Competition
The biggest competitor of Mosaic in the agriculture chemical industry is Potash Corp (NYSE:POT). The trailing twelve months PE ratio of Mosaic is 10.9, lower than Potash Corp.'s PE ratio of 12.59. The industry s PE ratio is 14.1, which is also higher than Mosaic's PE ratio. Mosaic's PB ratio is 1.53, which is the lowest compared to Potash Corp.'s PB ratio of 2.73 and the industry's PB ratio of 3.7. Mosaic's price to sales, or PS, ratio narrates a similar tale. The ratio of Mosaic is 2.06, lower than Potash Corp.'s PS ratio of 3.5. All these valuation ratios support Mosaic's stock and indicate that it's currently undervalued.
On October 24, 2013, Potash Corp. announced its third quarter report of fiscal year 2013, stating that its potash segment's gross margin declined 58.84% year over year to $228 million.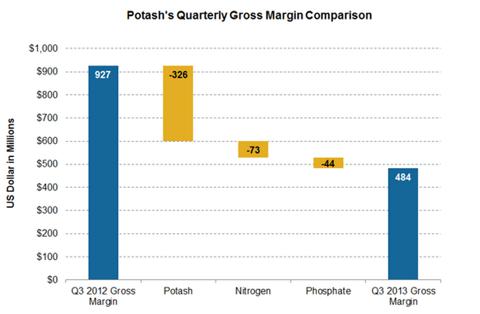 Click to enlarge
Source: Market Realist
This decline is due to the price war resulting from the breakup of the cartel. Going forward, potash prices are expected to decline next year, and Potash Corp., being the world's largest potash producers, will be most affected. To restore investor's confidence, Potash Corp. announced to repurchase its share for around $2 billion. The company is expected to buyback around 43.34 million shares over the period of one year, which commenced on August 2, 2013. All these factors lead me to recommend a hold on this stock for now.
Conclusion
Going forward, I expect MOS has significant upside potential, owing to the above discussed growth in its phosphate segment. Mosaic announced to pay a quarterly dividend of $0.25 per share on October 4, 2013. This dividend will be paid to shareholders on December 19, 2013. Besides these optimistic factors, the valuation of Mosaic also conforms to its growth fundamentals. I would advise investors to buy this stock.
Disclosure: I have no positions in any stocks mentioned, and no plans to initiate any positions within the next 72 hours. I wrote this article myself, and it expresses my own opinions. I am not receiving compensation for it (other than from Seeking Alpha). I have no business relationship with any company whose stock is mentioned in this article.