Most DIY dividend investors focus their attention mainly on "blue-chip," large capitalization stocks like Wal-Mart (NYSE:WMT) and McDonald's (NYSE:MCD), but small capitalization stocks should not be ignored. While small-cap stocks are widely viewed as relatively higher risk investments, the risk-reward tradeoff of this segment can be very compelling for even the most conservative investors. Generally speaking, smaller companies tend to be less financially stable than larger firms, which often leads to higher price volatility. However, smaller companies are often able to increase their earnings at a faster clip and therefore have the potential to deliver greater capital appreciation (since stock prices are a function of earnings growth).
In fact, over the past 5 years (see chart below), small-cap stocks (Russell 2000) have outperformed large-cap stocks (S&P 500) by a decent margin (+159.7 vs. 129.7%).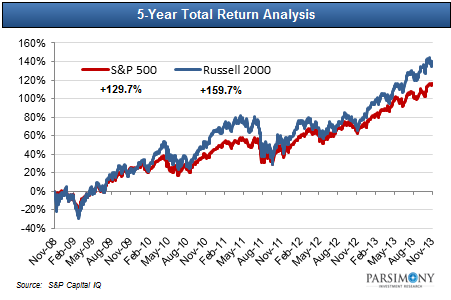 Note that year-to-date, small-cap stocks are up almost 30% (vs. a 25% gain for the S&P 500).
Small-Cap Dividend Stocks For Your DIY Dividend Portfolio
While proven large-cap dividend payers should make up the bulk of your dividend portfolio, we recommend that investors also consider selectively mixing in some small-cap stocks as well.
That said, we recently scanned our entire dividend stock universe and came up with our current "All-Small-Cap" Team. This team is made up of the 25 small-cap dividend stocks with the highest Parsimony Ratings (that also meet the parameters below):
Stock Price > $10.00
Market Capitalization < $5 billion
3-Month Avg. Volume > 100,000 shares
Dividend Yield > 2.5%
Parsimony Rating > 70
We have highlighted each of these stocks over the course of a five-part series. Below is a schedule of the entire series.
The All-Small-Cap Team: First Team
Our 25 All-Small-Cap Team stocks have an average market cap of $2.5 billion and an average dividend yield of 4.5%. In addition, these stocks have an average beta of 0.85x (despite the higher volatility stereotype) and an average 5-year total return over 300%. This article highlights the 5 stocks that made our First Team (stocks ranked #1-5). The tables below summarize some of the key data points that we analyze when ranking our dividend stocks.
#5 FutureFuel Corp. (NYSE:FF)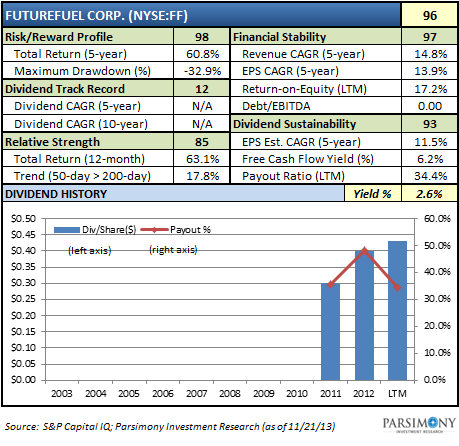 FutureFuel is a manufacturer of diversified chemicals and biofuels. FF is a relatively new dividend payer, but the company has paid a consistent quarterly dividend to its shareholders every quarter since going public in March 2011. Despite its short dividend history, we think that FutureFuel could become a great long term dividend stock as the company has very high ratings for Financial Stability (97) and Dividend Sustainability (93).
#4 Tupperware Brands (NYSE:TUP)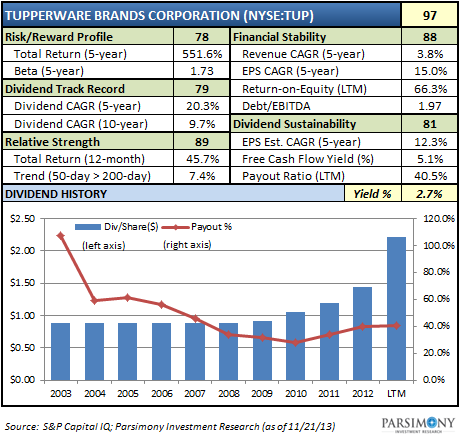 Tupperware is a another under-the-radar stock that has become a dividend machine recently. The company raised its dividend 72% this year and we expect TUP to offer another nice hike to shareholders next year. Tupperware's geographic diversity and focus on higher growth emerging economies will continue to help the company generate strong and stable cash flow in the years to come.
#3 HCI Group (NYSE:HCI)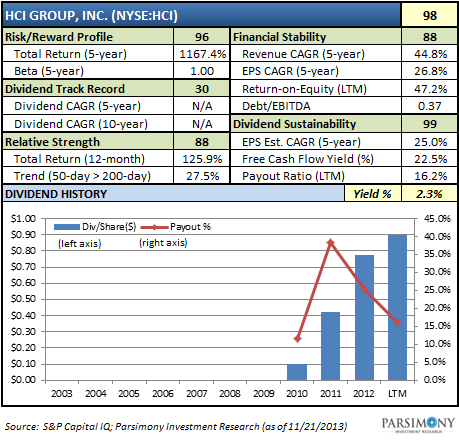 HCI provides property & casualty insurance products in Florida. HCI is also a relatively new dividend payor that has a great short term track record. Despite its short dividend history, we think that HCI could become a great long term dividend stock as the company has very high ratings for Financial Stability (88) and Dividend Sustainability (99).
#2 Sturm Ruger & Co. (NYSE:RGR)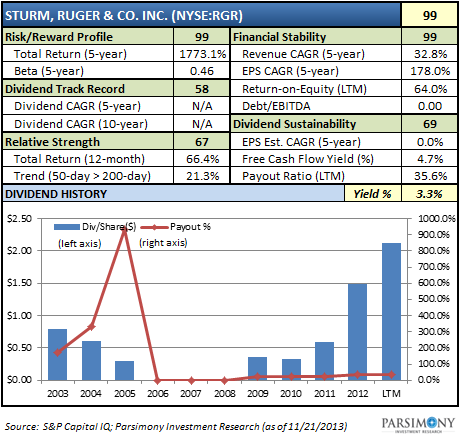 RGR is a firearms manufacturer and while the stock may not be for everyone, it has caught the eye of dividend investors over the past few years. Since going through a major restructuring during the recession, investors have been handsomely rewarded with a whopping 1,700% total return over the past 5 years. RGR has a dividend policy of paying out 40% of quarterly net income and net income has clearly been on the rise. Certainly another one to keep your eye on.
#1 Cracker Barrel Old Country Store (NASDAQ:CBRL)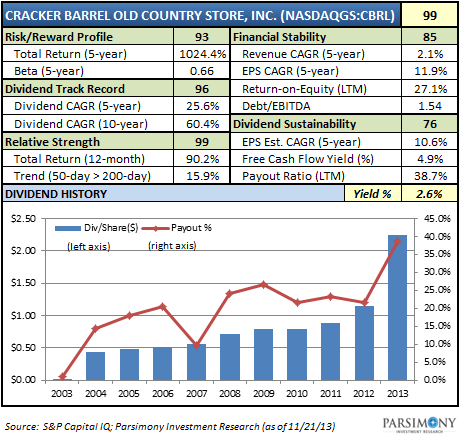 Cracker Barrel is one of only a handful of stocks in our universe that has a rating above 75 in all five sub-categories. To be completely honest, CBRL wasn't even on our radar until we developed our rating system, but we are glad that we found it! The company has increased its dividend in 3 of the last 5 quarters, including a 50% increase last quarter. CBRL should definitely be on your watch list if you are a dividend investor.
Summary
Selectively adding some well-researched small-cap stocks to your DIY Dividend Portfolio can offer both diversification and higher capital appreciation potential. Use this series as the starting point for your own due diligence.
Disclosure: I am long TUP. I wrote this article myself, and it expresses my own opinions. I am not receiving compensation for it (other than from Seeking Alpha). I have no business relationship with any company whose stock is mentioned in this article.