If you're anything like me then you tend to look for stocks that are currently underpriced and have significant room to run. I mean why else would you invest in something that has limited value or upside?
Groupon (NASDAQ:GRPN), a global leader in local commerce, has had a remarkable turnaround this year and investors have been rewarded. Looking back over the last year, shares of Groupon have more than tripled.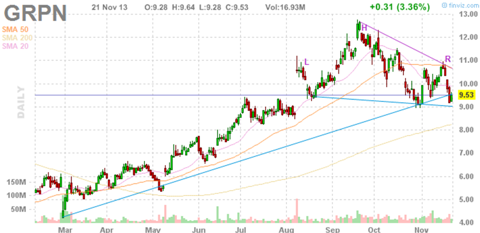 However, looking at Groupon's recent earnings report, I was disappointed with the results and believe that Groupon has very limited upside at this point. After earnings were announced, shares quickly tumbled before eventually recovering. Lets take a look at some of the positives as well as some of the negatives from the report.
Groupon's Earnings
Two weeks ago, Groupon reported sales of $595M vs $616M, far lower than what analyst's were expecting. Groupon did beat on the bottom line thanks to its share repurchase program. The Company earned two cents per share vs. estimates of a penny per share. So what were some of the highlights from the report?
Mobile: In September 2013, North America achieved a milestone, in which more than half of transactions were completed on mobile devices. More than 60 million people have downloaded Groupon's mobile apps, with more than 9 million people downloading them in the third quarter alone.
Active customers: Active customers, or customers that have purchased a Groupon within the last twelve months, grew 10% year-over-year, to 43.5 million.
Active deals: At the end of the third quarter, active deals in North America were estimated to be more than 65,000 on average, compared with more than 54,000 at the end of the second quarter 2013.
Sales: Revenue increased 5% year-over-year to $595M in the third quarter 2013, compared with $568.6 million in the third quarter last year.
Earnings Disappointment
While Groupon did have some nice quarterly highlights, not everything was fine and dandy for the company.
Groupon had negative free cash and operating flow this quarter, compared to positive cash flow from a year ago.
Operating income fell to $13.8 million (-46% year-over-year) in the third quarter, compared with $25.4 million in the third quarter 2012.
While Groupon continues to see an increase in users and customers, consumer spending continues to be on the decline.
While Groupon likes to point out the huge mobile growth the company is experiencing right now, it seems to have no influence on the spending habits of its customers. As we can in the table below, the average continues to go down every quarter. It's no secret that in order to make money, consumers first have to spend money. Groupon is going to have to find a better way if it wants to reverse this downtrend.
| | | | | | |
| --- | --- | --- | --- | --- | --- |
| | 3Q12 | 4Q12 | 1Q13 | 2Q13 | 3Q13 |
| North America | $148 | $152 | $151 | $156 | 155 |
| EMEA | $160 | $146 | $137 | $135 | 137 |
| Rest Of World | $133 | $126 | $116 | $108 | 102 |
| Total Average | $147 | $141 | $135 | $133 | $131 |
Groupon Overpriced
Groupon has had an amazing run this year as shares have more than tripled this year. One of the questions to ask yourself now is, how much upside is left in the stock and is Groupon really worth it at these levels?
One of the things that I look at when comparing companies are the P/E ratios of both forward and trailing. This helps show how expensive one company can be to the other.
Because of the losses Groupon has had in the past, it has no trailing P/E. However, now that it has crossed into the black, Groupon does sport a forward P/E of 38. So how does this compare to its peers?
| | | | |
| --- | --- | --- | --- |
| | Groupon | eBay (NASDAQ:EBAY) | Overstock (NASDAQ:OSTK) |
| P/E | N/A | 23 | 27 |
| Forward P/E | 38 | 15 | 24 |
As we can see, Groupon is pretty expensive when compared to its peers. If we give Groupon the market average (a forward P/E of 25), which is higher than its peers, shares would be worth $6.25. (0.25 [2014 EPS] X 25 [Forward P/E] = $6.25. Considering this, I believe Groupon is a stock that should be actively looked at by investors to short.
Right now shares are trading just under $10 a share. I don't know about you, but I know a fair amount of companies that are growing revenues by more than 8% year-over-year that sport a forward P/E of less than 38. Because of this, I believe that Groupon is overpriced and in the short term upside is very limited.
| | | | |
| --- | --- | --- | --- |
| | May 8, 2013 (1Q) | August 7, 2013 (2Q) | November 7, 2013 (3Q) |
| Share Price | $5.59 | $8.72 | $9.50 |
| Share % Change | -7% | +56% | +9% |
| Revenues | $601M | $608M | $595M |
| Revenue Growth Year Over Year | 8% | 7% | 5% |
As revenue growth continues to slide year-over-year, the share price continues to go up. It makes perfect sense right (sarcasm)? One of the reasons why shares have gone up is because of the company's share repurchase program. In the latest earnings report, the company bought back over 770K shares at an average price of $11.67 per share.

That leaves the company with up to $291M that it can use to buy back shares. The program is intended to offset dilution from employee stock grants that terminates in August 2015. With shares currently trading two dollars less than what the Company originally bought back shares for, investors better hope the Company manages its funds better. It's not the best sign if the Company continues to overpay for shares. There are plenty of things you can do with cash. Remember, cash is king and shouldn't be wasted.
Don't get me wrong, Groupon is a nice company and all, but there are many plays out there in the market that you could do more with. Let's not forget either that insiders continue to sell shares at a high rate.

Over the last six months, insiders have sold more than 40 million worth of stock. So where are all of the insiders buys? If management believed in the company you would think they would be purchasing shares at these levels. Instead they are using the company's own cash to buy back shares. While you shouldn't base your entire investment strategy on what insiders are doing, it's certainly something that should be taken greatly into consideration.
Knowing who you can trust in the market is very important. That's why I'm providing you with my track record and other particular stocks that I like. The link provided will show you all of my picks, how they have fared, and where I think they will be going in the near future.
Disclaimer: Investors are always reminded that before making any investment, you should do your own proper diligence on any stock mentioned in this article. Have a great day and as always, I look forward to hearing your thoughts or questions that you might have.
Disclosure: I have no positions in any stocks mentioned, and no plans to initiate any positions within the next 72 hours. I wrote this article myself, and it expresses my own opinions. I am not receiving compensation for it (other than from Seeking Alpha). I have no business relationship with any company whose stock is mentioned in this article.