Intel: The poor results continue
Intel (NASDAQ:INTC) shares have been rallying quite briskly since its recent earnings release. The shares exhibited signs of positive momentum and with the upcoming investor meeting, hope sprang eternal that management would deliver some early holiday cheer. Alas, it was not meant to be as INTC investors were left disappointed yet again. The article below will highlight some of the key points made at the investor meeting.
| | | | | |
| --- | --- | --- | --- | --- |
| Year | 2010 | 2011 | 2012 | 2013 |
| Revenues in millions | 43,623 | 53,999 | 53,341 | 52,960 |
| Earnings per share | 2.05 | 2.39 | 2.13 | 1.90 estimate |
| Capital spending per share | 0.94 | 2.15 | 2.23 | 2.25 |
| Shares outstanding in millions | 5511 | 5000 | 4944 | 4950 |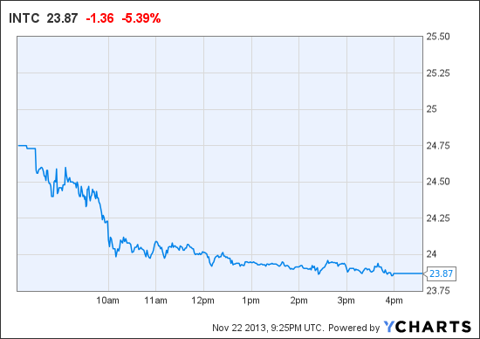 The primary take away from the meeting was INTC declaration of flat revenue for the calendar year 2014. To say the least this was a major disappointment to existing shareholders, many of whom were hoping the company would begin to show signs of growth. The main culprit in my opinion for the continuing decline in sales revolves around the continuing contraction in PC sales. INTC is highly exposed to this market and unfortunately for its shareholders has suffered with the continuing impact of weaker PC sales. Management mentioned it still envision the PC market contracting next year at a low single digit rate.
While flat revenue growth is certainly a disappointment the real danger in my view is management's comments concerning gross margins. The CFO stated a target range of in between 55 to 65 percent which upon initial inspection seems rather robust. The problem I see is the margin has been shrinking the last two quarters and very well may contract further. Gross margins for the third quarter came in at 62.4 percent with an expectation of 61 percent for the fourth quarter of 2013.
As we can see from the table above, INTC revenue has declined for three straight years coinciding with the demise of PC sales and the rise of the popularity of mobile devices. The real danger here is for earnings to come in less than 2013 which would mark a third straight year of earnings declines. To put things in perspective, INTC is earning the same now as it did in 2010 with roughly 10% less shares outstanding and over 9 billion more in sales.
On in my view a positive note, the company is willing to do more foundry work for customers including those who use the ARM chip architecture. I view this as a positive from the company and a strategic move that should pay dividends in the future. The problem for existing shareholders is the results will take time to materialize.
INTC will have quite a steep learning curve to overcome as it transitions some of its foundries to contract work. It will have to prove it is able to produce the end products required in the time expected. I view manufacturing as one of INTC's key strengths so I don't expect this to be a problem. The much harder part will come in trying to beat established foundries such as Taiwan Semiconductor (NYSE:TSM) for customer contracts. I don't view this as an insurmountable obstacle however one that will take time to play out.
In summary, INTC recent investor meeting can be summed with one word, disappointing. I exited my position in INTC in July, and have not regretted the decision yet. The announcement of actively seeking new foundry work can become a positive catalyst for the company going forward, however I suspect more pain is ahead. I would be interested in initiating a position in INTC under $20 a share and may get a chance next year, especially if the company has another disappointing earnings release. Thank you for reading and I look forward to your comments.
Disclosure: I have no positions in any stocks mentioned, and no plans to initiate any positions within the next 72 hours. I wrote this article myself, and it expresses my own opinions. I am not receiving compensation for it (other than from Seeking Alpha). I have no business relationship with any company whose stock is mentioned in this article.
Additional disclosure: Investors are always reminded that before making any investment, you should do your own proper due diligence on any name directly or indirectly mentioned in this article. Investors should also consider seeking advice from a broker or financial adviser before making any investment decisions. Any material in this article should be considered general information, and not relied on as a formal investment recommendation.