Kinder Morgan Energy Partners, L.P. (NYSE:KMP) is the largest midstream energy company in North America. Kinder Morgan has an interest in or operates nearly 70,000 miles of natural gas pipelines and 180 terminals and is structured as a master limited partnership.
Pipeline MLPs are essential in providing the oil- and natural gas industry with transportation- and storage assets. In order to get energy commodities to where they are needed (refineries, storage facilities, export hubs) pipeline companies have indispensable value. Strong exploration activity in the shale areas of the US, the core focus of KMP, should accelerate earnings-, cash flow- and distribution growth in the coming years.
The distribution streams from KMP and other pipeline MLPs are highly attractive and make the companies valid additions to income-driven portfolios. More importantly, KMP's share price has somewhat corrected over the last few months, which could make an investment, or the addition to an existing position, even more relevant.
Share price consolidating
KMP has been somewhat in a trading range over the last two years. While I generally do not care too much about volatility, I like to take advantage of it. I am holding KMP in my long-term income portfolio and I use dips in the share price to the $80 range to add to my position.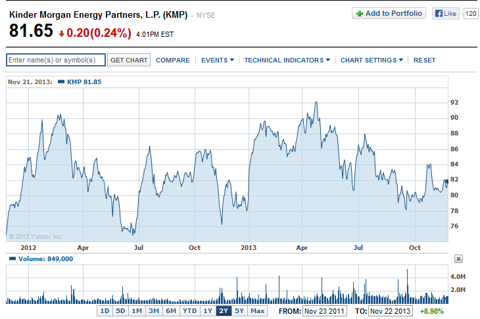 Click to enlarge
KMP has returned 9% over the last two years although the majority of gains will have come from distributions.
KMP has been almost flat over the last year while other pipeline companies have taken the high road. When benchmarked against peers, Kinder Morgan Energy Partners holds the red light: Every other company in the peer group has performed better. The peer group below consists of Atlas Pipeline Partners (NYSE:APL), Cheniere Energy Partners (NYSEMKT:CQP), Enbridge (NYSE:ENB), Energy Transfer Partners (NYSE:ETP), Magellan Midstream Partners (NYSE:MMP) and Plains All American Pipeline (NYSE:PAA). Underperformance in itself is rarely a reason to shun a company. Quite the opposite is true: Lagging performance gives companies the chance to make up for ground lost and catch up in valuation.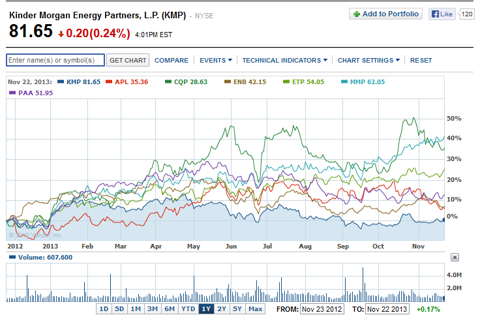 Click to enlarge
Distributions attractive for income investors
I am basically running two portfolios. One consists of controversial contrarian positions in beaten-down companies. The other one is an income-oriented equity portfolio in which I hold KMP as a cornerstone investment.
KMP has increased its distributions from $0.63 per unit in 1996 to an estimated $5.33 per unit in 2013 which translates to annual distribution growth of 13%. This is an outstanding performance. What is even more relevant for investors to recognize, is, that the company consistently increased distributions independent of fluctuations in the business cycle, macroeconomic uncertainty, high- and low energy price periods and the financial crisis. The company has proven that it can deliver value for shareholders in variety of economic scenarios which is one of the main reason I am comfortable in adding KMP at regular intervals.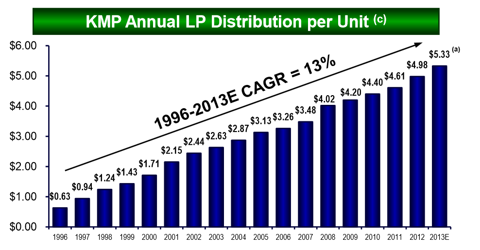 Click to enlargeAs an income investor I am not only looking for a decent current distribution yield but for two other characteristics as well: Non-seasonality and consistency.
Non-seasonality basically requires that cash flows/distributions are either flat or growing but not affected by the cyclical nature of the business cycle. This is a very important issue for investors who rely on income streams from their portfolios to match liabilities or pay their (increasing) living expenses. Rising distributions, therefore, have a build-in inflation protection which is highly important for long-term investors as well.
Secondly, I need to see a distribution record of consistency. Rising distributions over a long period of time are a strong indicator. And so is a company's guidance. The table below shows that KMP has outperformed its distribution target in 12 out of 13 years. The company has slightly missed its budgeted distribution in 2006 by $0.02.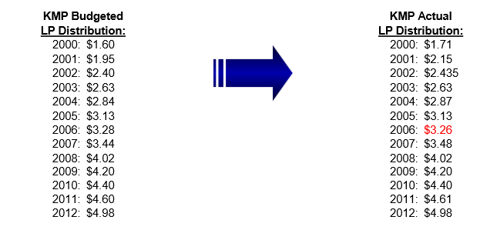 Click to enlargeOutperforming self-selected distribution targets indicates that the company can keep its promise to unitholders. It also makes its predictions and distribution guidance highly credible and adds reliability to the income stream.
Distribution yields limits downside risk
KMP currently fetches a distribution yield of 6.5% which is still a very attractive entry yield. Investors can reasonably expect, given the consistent and rising historical distribution stream from KMP, that future distributions will likely continue to rise leading to higher prospective annual yields.
More importantly, KMP's distribution yield limits the downside risk of the units. Assuming KMP holds its yield steady at the current level of 6.5% and business risk doesn't change, buyer interest will provide support to the units. Declines in the unit price are likely to be met with increased buyer demand because of higher initial distribution yields.
Valuation
A distribution discount model is applicable in the case of KMP (same as a dividend discount model) since unitholders are likely to receive the majority of earnings. In the base case scenario I estimate that KMP's 2014 full year distribution will be 6% higher than in 2013 (2013 has an estimated full year distribution of $5.33 per unit which is 7% higher than the distribution in 2012).
Considering an estimated distribution of $5.65 per unit in 2014, capital costs of 12% and a terminal growth rate of 6%, the straightforward constant growth model indicates an intrinsic value of $94.17 per KMP unit. The estimated growth rate of 6% is conservative and substantially below the 13% annual distribution growth rate achieved by KMP in the past. KMP units currently trade at $81.65 giving them immediate 15% upside potential.
Summary
At nearly $82 per unit Kinder Morgan Energy Partners remains great value for income-oriented investors. Investors with a long-term mindset might very well be handsomely rewarded especially after the concept of compounding unfolds its magic.
An oscillating unit price offers investors the chance to purchase KMP unit opportunistically at a higher initial yield. I think Kinder Morgan Energy Partners makes a great long-term holding for investors who desire rising distributions. The long-term economics (higher oil- and gas production as well as higher transportation- and storage needs, more export opportunities) also support an investment in KMP. Kinder Morgan's pipeline network connects the most relevant shale plays in the United States (Eagle Ford, Marcellus, Barnett, Utica, Haynesville). The ongoing domestic shale oil- and gas boom should provide tailwinds for KMP's business and further distribution growth. Strong long-term BUY on distribution history, above-average current yield, upside potential and extensive asset footprint in exploration hotspots.
Disclosure: I am long KMP. I wrote this article myself, and it expresses my own opinions. I am not receiving compensation for it (other than from Seeking Alpha). I have no business relationship with any company whose stock is mentioned in this article.